It's time to gear up for the holiday season! For some of us, the holidays are accompanied by travel, unpredictable temperatures, flexible schedules, and food. So. Much. Food. For these reasons, in this edition of Steal, Spend, Splurge we are bringing you versatile items that will travel well and provide comfort without sacrificing style!
Crush It, Pack It, Wear It Again I won't say it's a must-have, but the idea of having a chic hat that I can crush at the bottom of my suitcase, that will return to its original chic-ness upon arrival at my destination: genius! It's equally perfect for the carriage ride to look at lights or the backyard turkey fry at Uncle Billy's farm! Paired with a flowy dress or jeans, a T-shirt (may we subtly suggest one of these >>), and a cute jacket, it's an effortless update.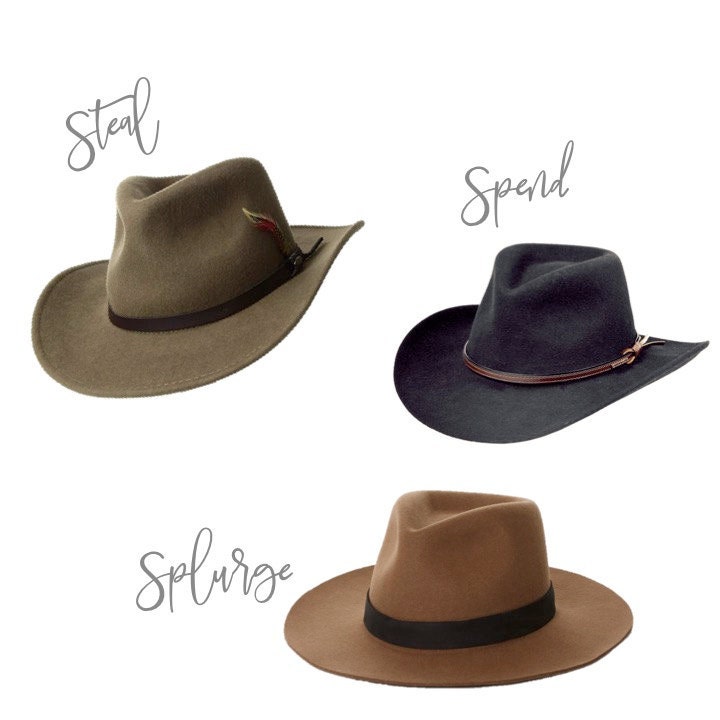 SOURCES: Steal / Spend / Splurge
That's a Wrap (and a Blanket!) This is one of my go-to items for the months of November-March, not to mention it travels so very well. The oversized scarf can wrap around your neck in a traditional manner or you can drape it over your shoulders like a poncho. I like to throw mine over the shoulders of my denim jacket for a little extra warmth and a layer that magically goes with everything! Traveling by plane? This scarf can double as a blanket on a frigid flight.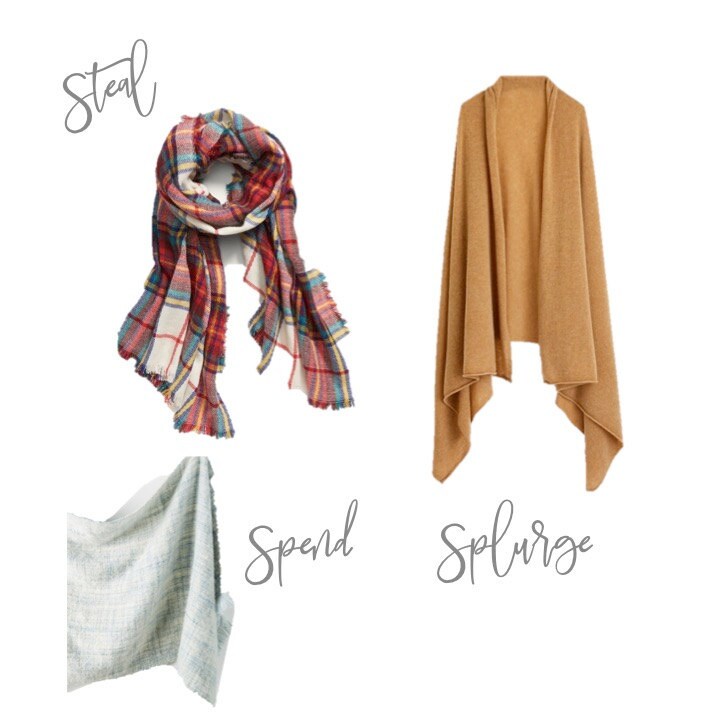 SOURCES: Steal / Spend / Splurge
Why Yes, I Can Run in These Heels! For some of us, Thanksgiving Day lasts from 11 a.m. - 11 p.m., and it's not exactly a casual affair. Why suffer the day in stilettos? Be ready for anything in these easy-to-wear footwear options. Jeans, jumpsuits, or a little more frill; these shoes can take you from the early lunch with grandmother to the high school girl reunion after dinner at your local haunt.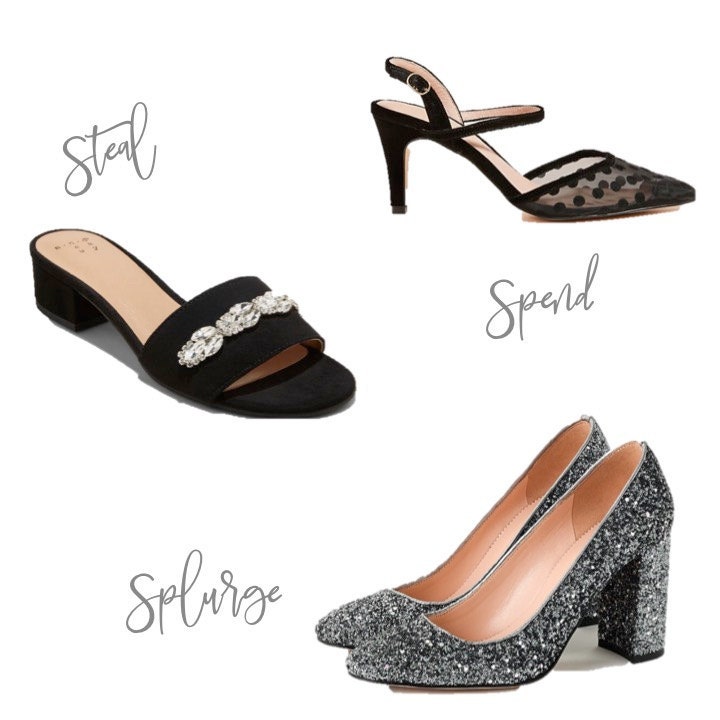 SOURCES: Steal / Spend / Splurge
Weathering in Style Some days the weather does not consult our wardrobe before deciding to be absolutely terrible.  An all-weather bootie is something every girl-on-the-go needs in her arsenal. I like to stick with black because it's more versatile. Specifically, the Blondo (spend option) booties are insulated and waterproof and most have a heel or a wedge. I own a pair of these in black suede, and they have walked all over NYC in the winter, London in the rain, and both snow and rain storms in my own hometown. They've been through it all, and still look brand new!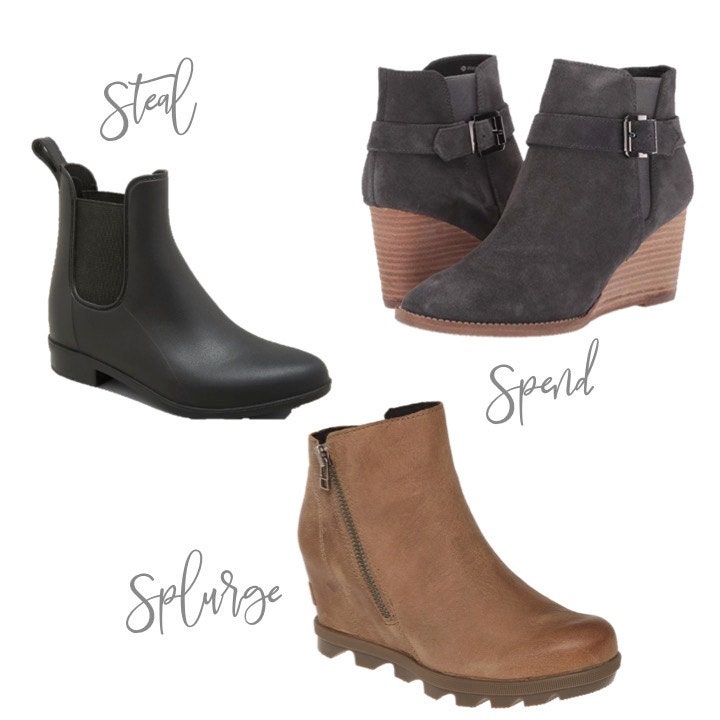 SOURCES: Steal / Spend / Splurge
The Go-Anywhere-And-Eat-Everything Dress! Let's be honest, one reason we love the holidays is the food and the fact that we get to eat it all. Don't limit your efforts with a form-fitting shift dress! You can look fabulous and have your pie, too.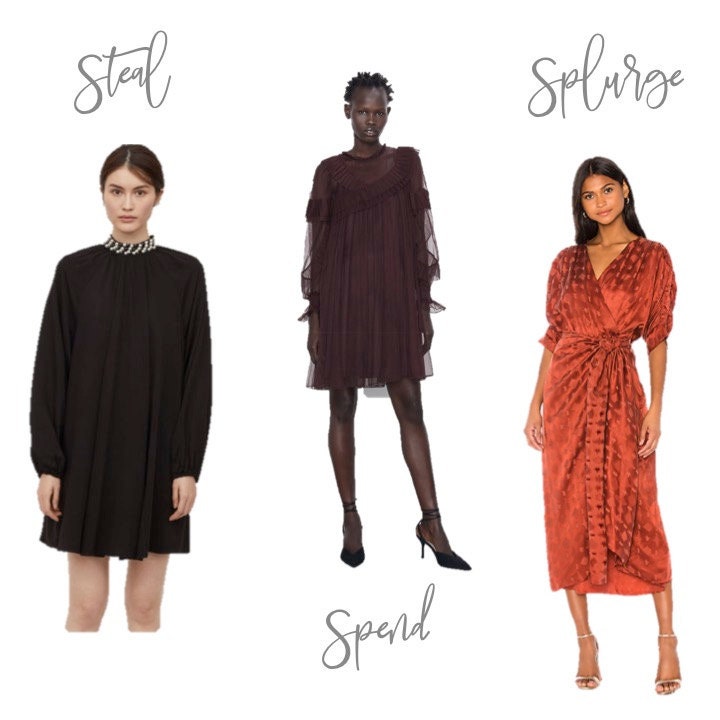 SOURCES: Steal / Spend / Splurge
Enjoy the beginning of your holiday season as we gear up for giving thanks and preparing our hearts for Christmas! And don't forget about your beloved joggers that provide all the grace and comfort after a big, family holiday meal. You don't have to tell them, they know they are Thanksgiving's true MVP.
- by Amy // @apeeples