'Tis the season! We launched our holiday tee collection last Monday, and you guys overwhelmed us with support! All of the designs sold out not long after our launch, but we're not going to leave you hanging. This Wednesday, November 6 at 8 a.m. CST, we're opening up pre-orders for ALL the holiday tees. Just like the last round, these tees will also be sold in limited quantities, so set a reminder, write it on a sticky note, or tie a string around your finger—whatever you gotta do to get your favorite. And, if you're having trouble choosing a favorite, today I'm sharing the inspiration behind each design.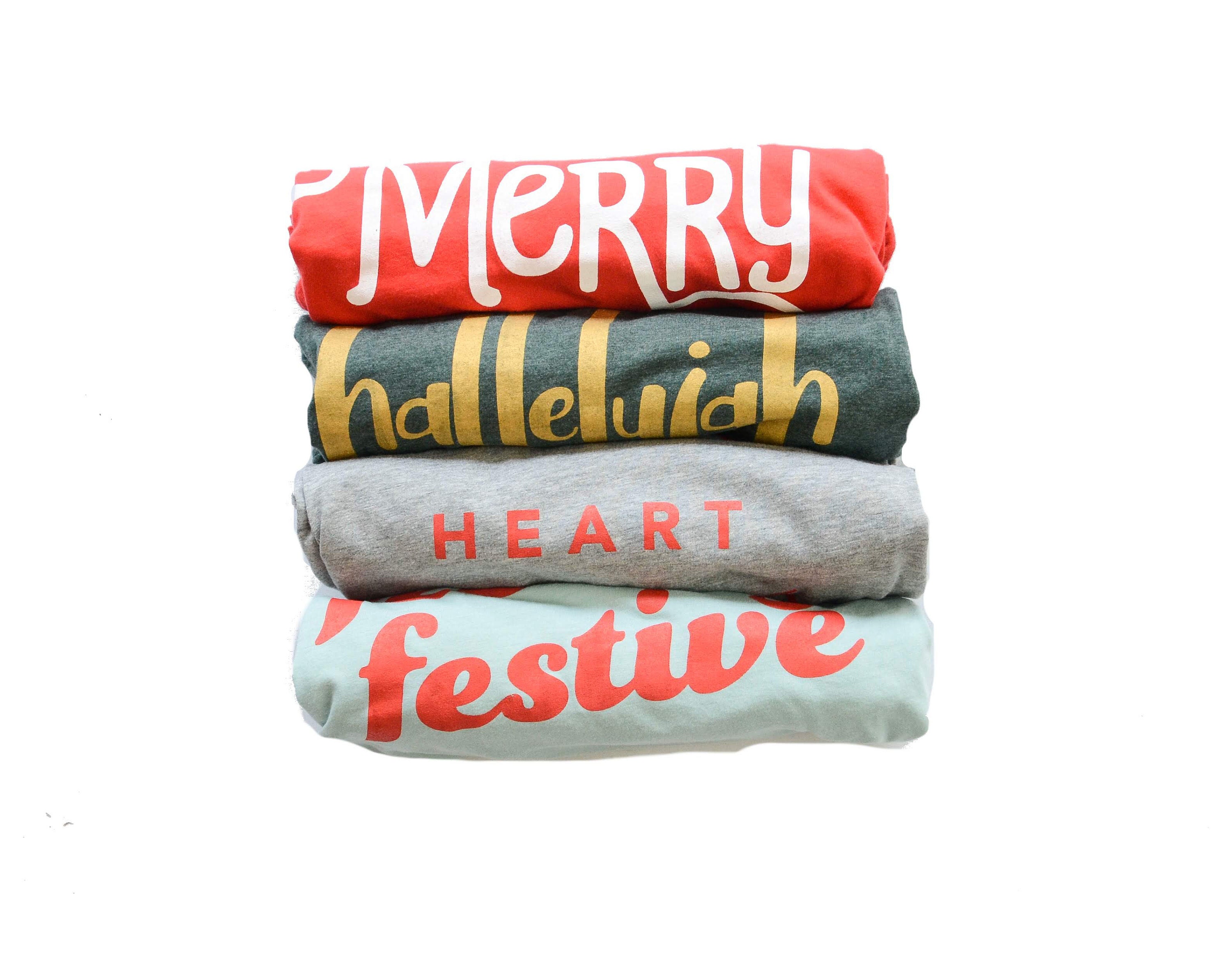 Each new collection I create comes together in a unique way, and with this one it was all about the colors. I started with a palette—you'll see traditional red and green but also a fun retro teal and pink—and took it from there. One thing I tried to do this year was to offer a variety of styles and colors, so there is something for everybody! Read on to learn more about each style.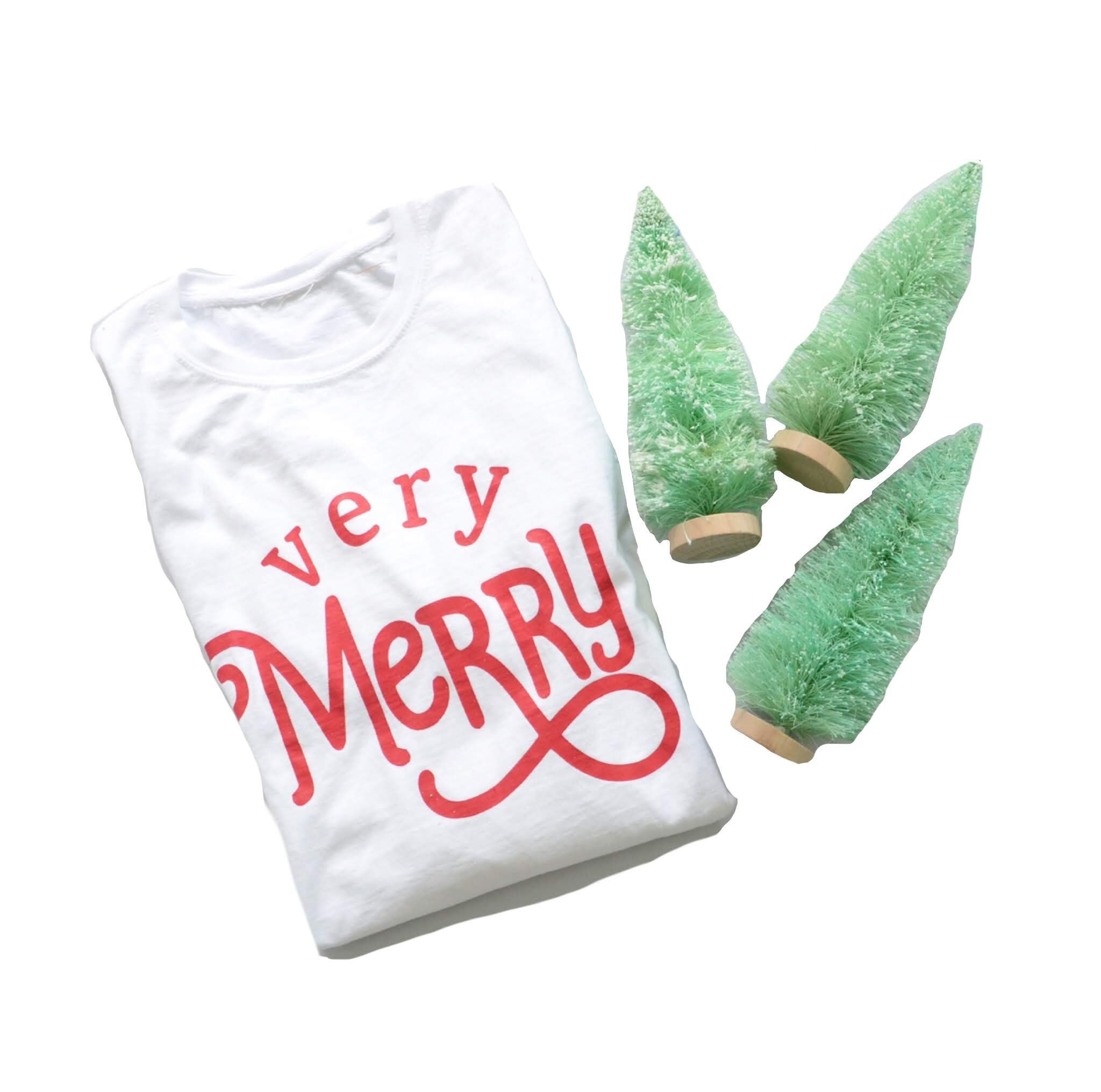 1/ Very Merry
This design is back again from 2018 and available in two new styles and colors—a red short-sleeve V-neck and a slightly oversized white long-sleeve style. The red is the perfect shade of Christmas red, and we are always fielding requests for more V-neck options, so I think you'll love this combo for the season. The white is a nice, 100% American-grown cotton loose fit tee and is just begging to be paired with some joggers or PJ pants for Christmas morning but also looks great with jeans at the kids' cookie swap.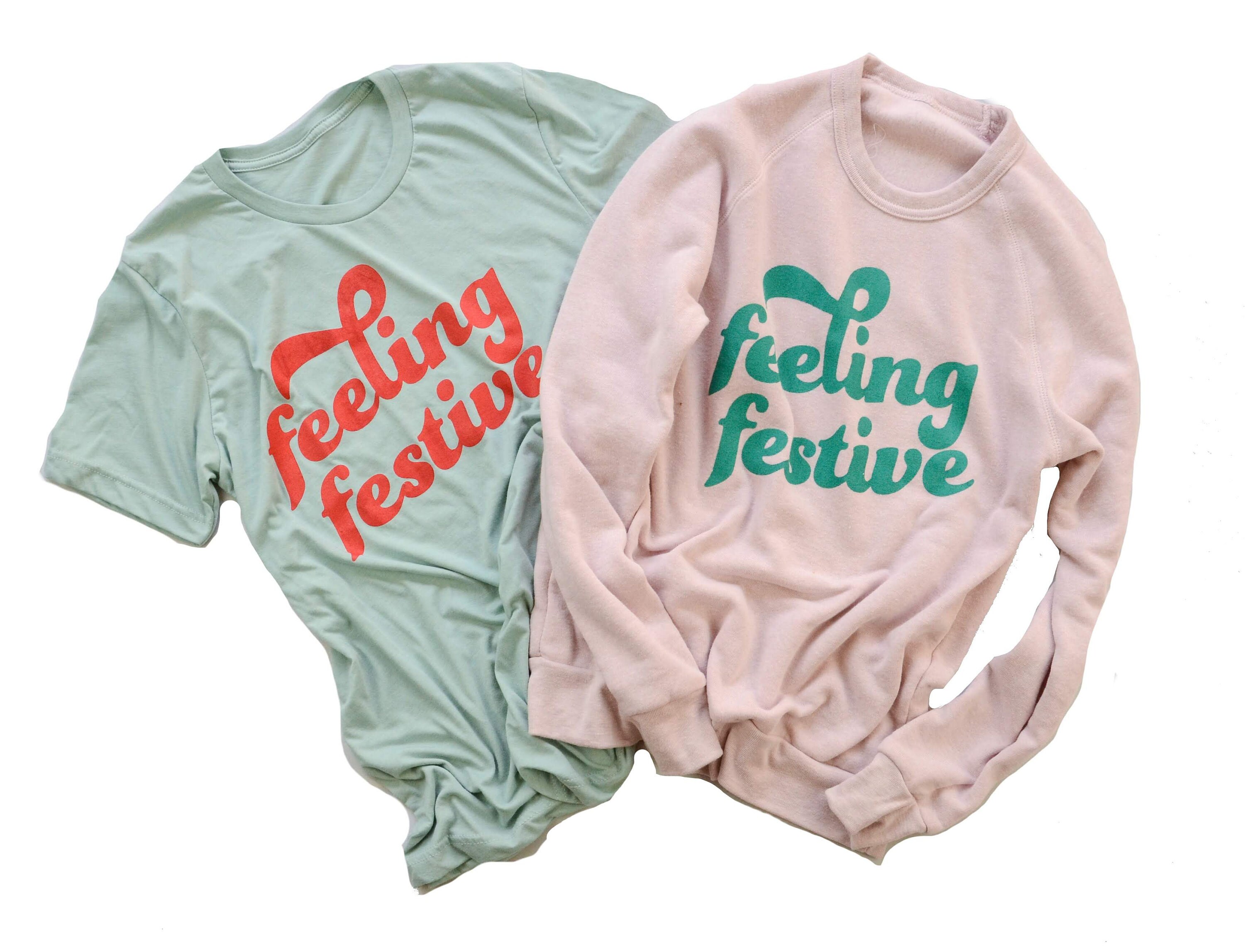 2/ Feeling Festive
This fun, whimsical design is also available in two styles and color combos. I love the unexpected colors that still fit the season and seem to say hey, you stand out from the crowd! The sweatshirt is ultra cozy and made of the softest tri-blend material that's lightly lined in fleece for extra comfort. It's printed in teal on the perfect shade of faded, rosy pink, which I think is the perfect play on standard red and green. The tee, which is printed in red on teal (because how can you not love blue and red together?) is also a soft tri-blend material, great for layering under a cardigan or jacket.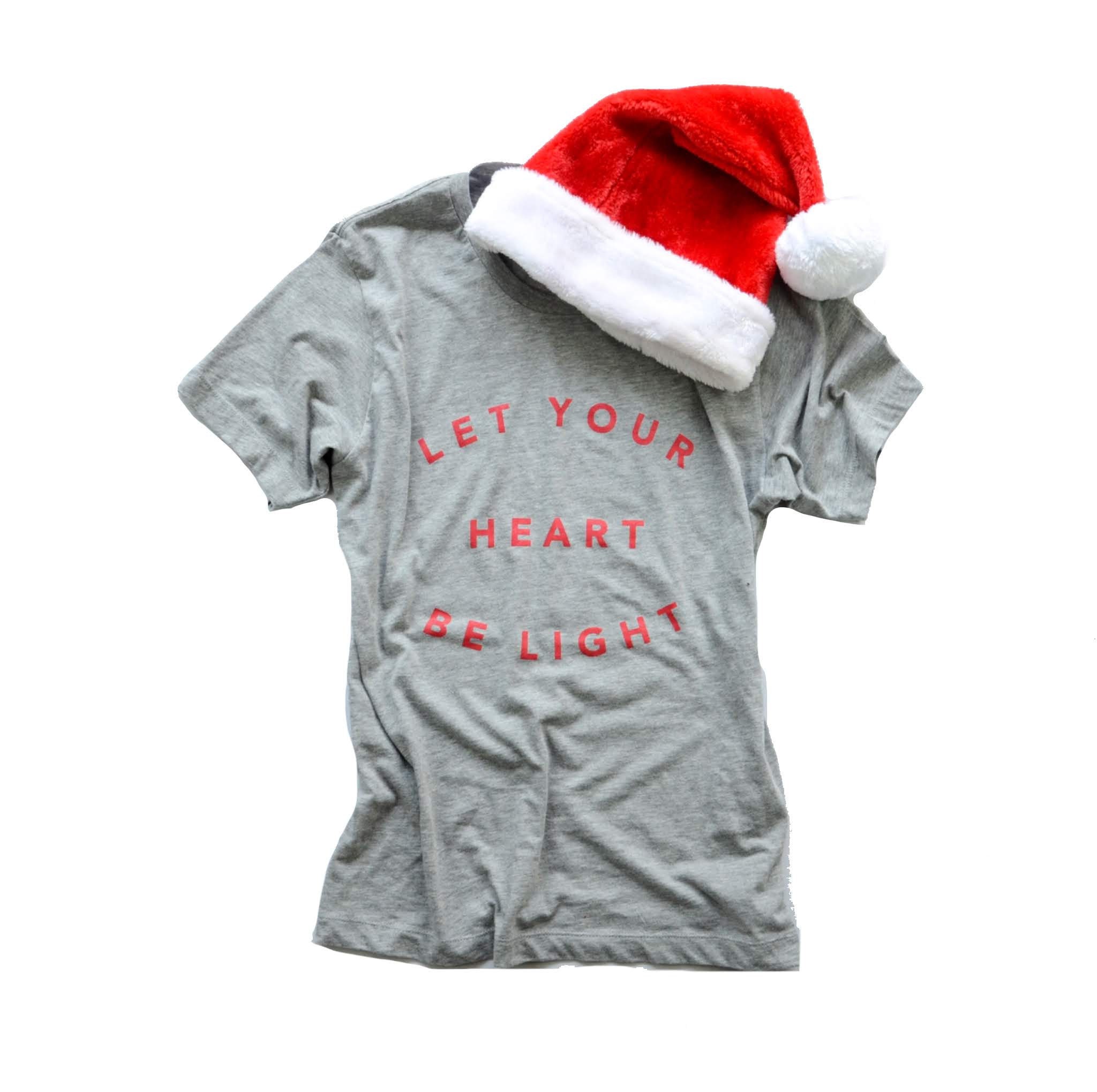 3/ Let Your Heart Be Light
Have yourself a merry little Christmas! This one is simply stylish at its finest: a simple statement, simply designed, on a simple gray tee. Taken all together, it adds up to big style! Plus, it's easy to make it your own depending on how you wear it. For example, dress it up with a satin midi skirt, heels, and sparkly earrings, or wear it with jeans and a cozy-but-cute teddy bear jacket for a more casual look.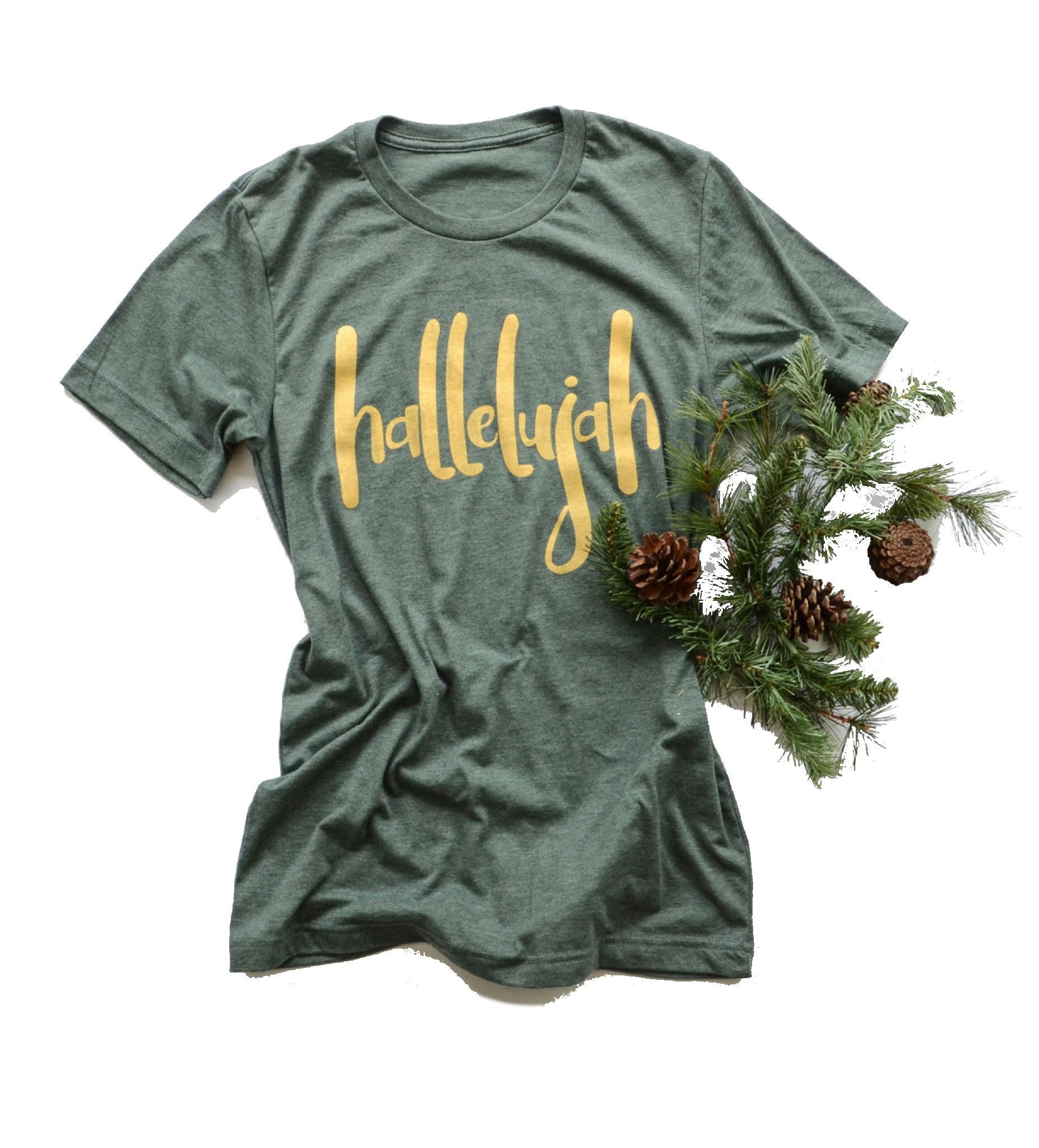 4/ Hallelujah 
Hallelujah, God be praised! What better message to share with the world this Christmas season? We've changed up the color combo on one of our best-selling designs just for the holidays. Available on both a tee or a nice, loose-fitting sweatshirt, both in the same gorgeous, always timeless combo of gold on heather forest green. Pair the sweatshirt with your favorite black leggings, or wear the tee with jeans and boots for effortless holiday style.
I hope you found a favorite in the group! Don't forget to check back here and follow us on Instagram (@milkandhoneytees) for tips on styling these shirts for holiday parties, family outings, and more!