It may sound cliché but fall is for pumpkin spice. Even though I'm not in love with pumpkin-spiced lattes, I am all about pumpkin-spiced baked goods. Give me your breads, your muffins, your pancakes—I'll take them all! Which is where these cookies come into play. I have been making a pumpkin chocolate chip muffin recipe for breakfast for years, and my kids absolutely love them. These cookies are a great way for me to mix it up. They're a little bit sweeter and are such a yummy after-school treat. 
I tweaked the recipe from one I found on Nestle's Very Best Baking site. And, a word to the wise: do not and, I repeat, DO NOT SKIP THE GLAZE. It really makes this cookie, and you won't regret the little bit of extra time in the kitchen.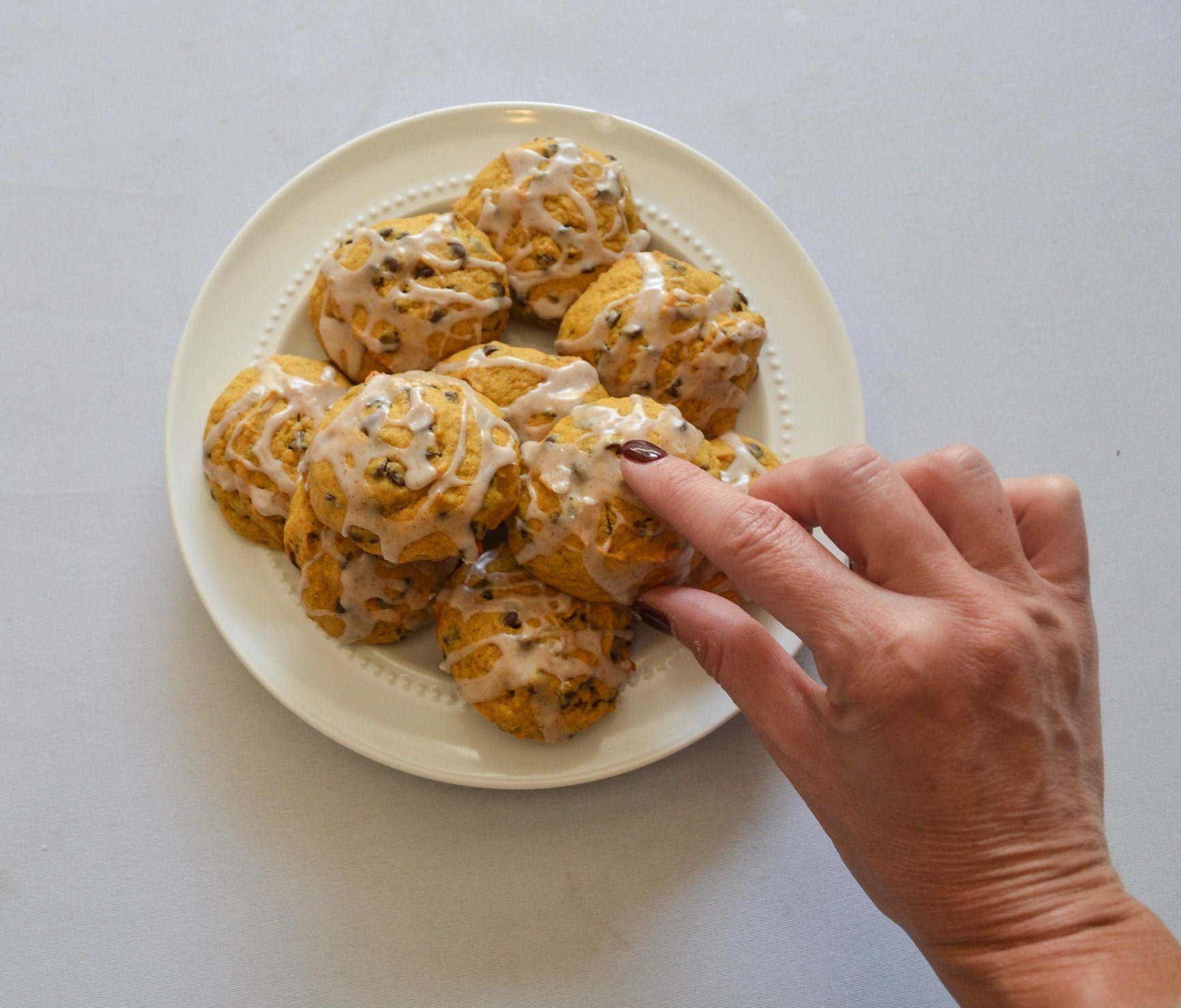 Glazed Chocolate Chip Pumpkin Cookies
INGREDIENTS
COOKIES
2 ¼ cups all-purpose flour
1 ½ teaspoons pumpkin pie spice
¼ teaspoon nutmeg
1 teaspoon baking powder
½ teaspoon baking soda
½ teaspoon salt
2 sticks butter, softened
1 cup sugar
1 (15 oz.) can pumpkin
2 eggs
1 teaspoon vanilla extract
2 cups mini chocolate chips
GLAZE
1 cup powdered sugar
1 to 1 ½ tablespoons milk
½ teaspoon vanilla extract
INSTRUCTIONS
Preheat oven to 375℉. Spray baking sheet and set aside. 
In a medium-sized bowl, mix together the first six ingredients. Set aside. In a separate, larger bowl, beat butter and sugar until creamy. Add in the pumpkin, eggs, and vanilla extract, beating to combine. Gradually add in the dry ingredient mixture until well combined. Stir in the chocolate chips.
Drop by the spoonful onto cookie sheets. I use a small-sized scoop for perfect little bite-sized cookies. Bake for 15 minutes or until lightly browned around the edges. When you take them out of the oven, transfer the cookies to a wire cooling rack with a sheet of parchment paper underneath it.
While the cookies bake, make the glaze. Put the powdered sugar, 1 tablespoon of milk, and the vanilla extract in a bowl and mix together, adding more milk as needed to create the perfect consistency for drizzling. Drizzle the glaze over the cookies on the cooling racks.
And, in case you missed it, we love cookies around here. Check out two of my other favorites: Red Velvet White Chocolate Chip Cookies (which I made for V Day last year) and Candy Cane Kiss Cookies (which are the best holiday treat).  
Enjoy!
-by Mandy // @milkandhoneytees