Warning: You might want to go shopping after reading this.  
We know you know the trends and how to wear them. We also know money doesn't grow on trees. Our Milk and Honey team has broken it down, giving you some statement pieces at different price points to carry you through the fall season and compliment all your simply stylish tees. We did the legwork, so you can make educated decisions. You're welcome. 
Get Low Y'all 
I'm a Texan, so it doesn't take much to get me into a cowboy boot. Imagine the joy I felt when I saw that the short western style boot my older sister wore in the 80s was making a powerful comeback. Let me assure you that this trend is easy to wear and far more versatile than you would think. For instance, you can wear a shortie western boot with skirts, dresses, jeans and your new , and even with a cocktail dress to add a little interest at the party.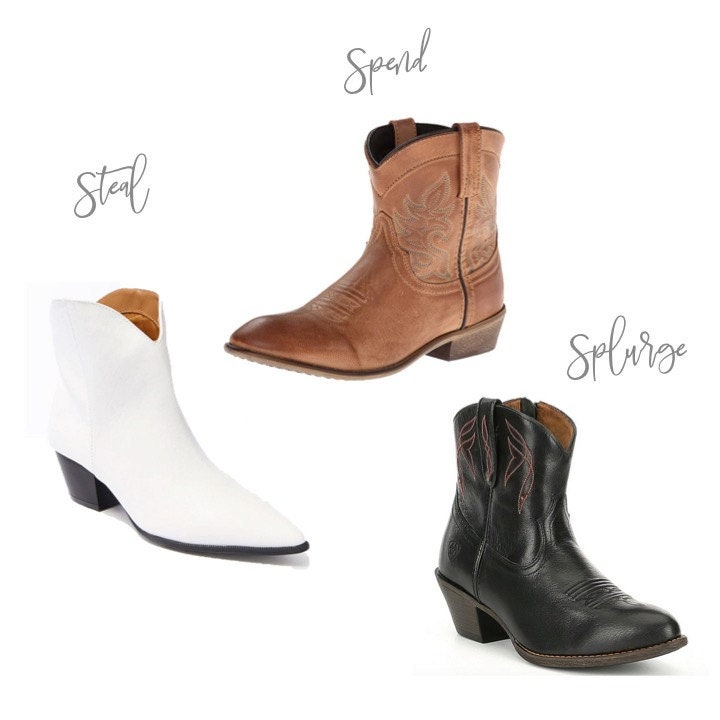 SOURCES: Steal / Spend / Splurge
Purrrfectly Neutral in Every Way 
It's no secret how much I love a leopard print. If done appropriately leopard can go anywhere at any time and pair with nearly anything. We have already fallen in love with the so lets show a little love to the skirt. A skirt gives you the freedom to steer your look in any direction. Add a sweater and boots for a cozy work or date-night look. Pair a skirt with a tee and sneakers for an all-day uniform or with a silky camisole and a simple heel for a night on the town!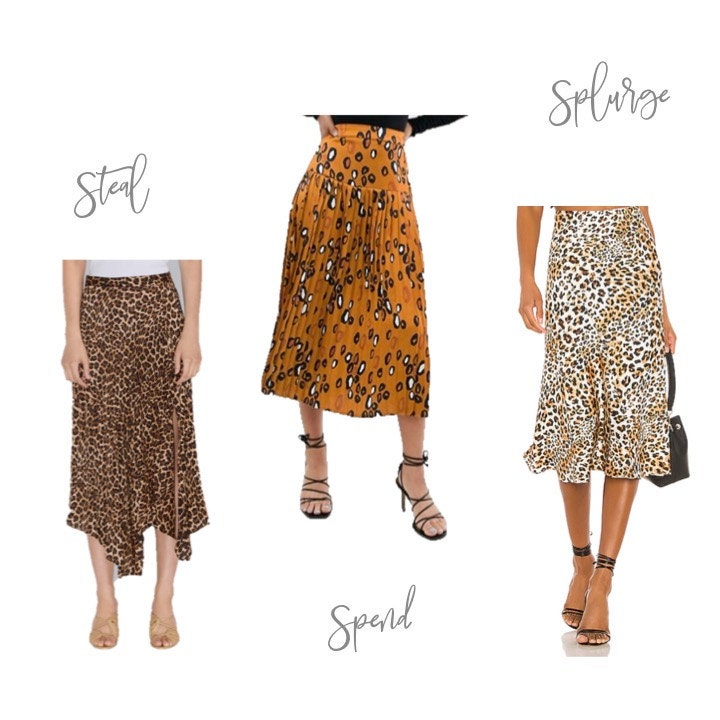 SOURCES: Steal / Spend / Splurge
Cozy and Cute All in One 
You know the dress. The dress you can throw on and not even have to look in the mirror to double check if you're feeling it that day. This is a go-to dress. This is a dress you call your best friend and tell her she needs in two colors. This is a dress you do your best to only wear once a week. For fall and even into winter, the "it" dress is happening in a knit. A sweater dress with sneakers, boots, or mules will be your best friend no matter the hour or destination. *Pro tip* Consider ordering a size up due to the clingy nature of these fabrics, the oversized look of a sweater dress gives you a chic, effortless appearance.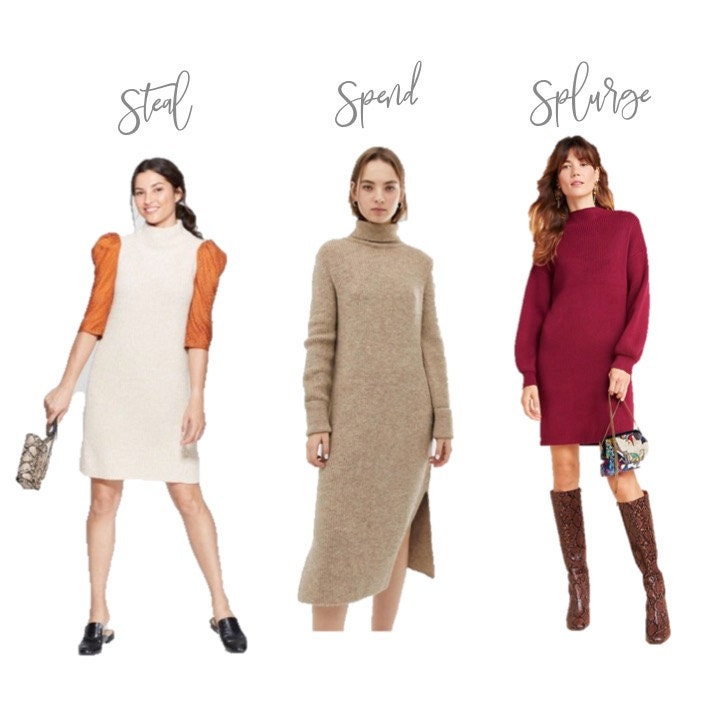 SOURCES: Steal / Spend / Splurge
Where There's a Waist, There's a Way
Ok, people. If you are not already on board with this trend, I need you to go there with me. Leave the 'fanny pack' on the side of the road and make room for the BELT BAG! This bag is the crossbody bag's best friend. They go all the same places, hold all the same things, and bring all the same joys. This bag will amp up your " and take you to the mall, the field trip, the concert, the football game…wherever it is you go these days. The belt bag is taking you there and leaving you hands-free and looking so very current.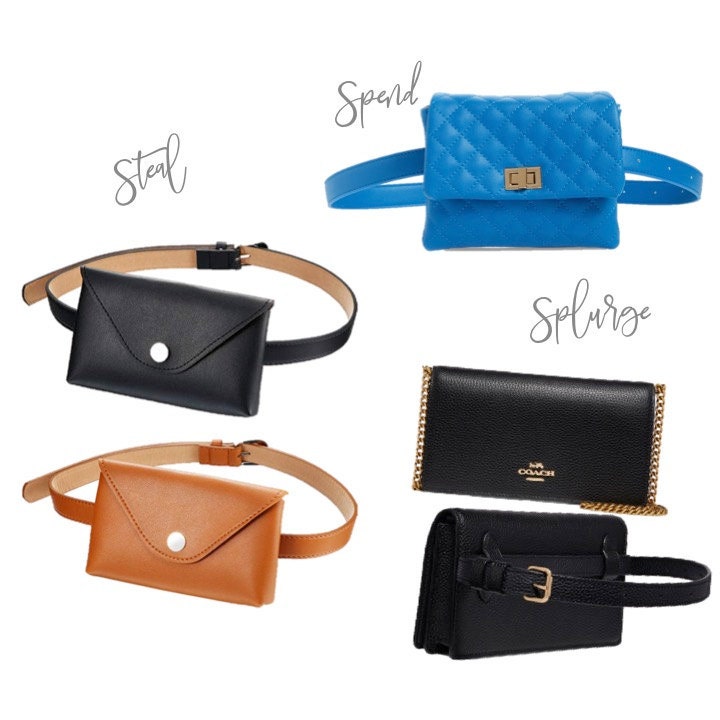 SOURCES: Steal / Spend / Splurge
The Cherry on Top
As we approach slightly less sweaty temperatures, let's invite our hair back into our look. Save the topknots for 'day 4 hair.' Instead, let your hair down, and let it have a moment. Headbands and hairbows were all the rage last year, and they have lasting power. And guess what, this is something that goes with absolutely everything. You might be enjoying the or out , all the while letting your inner girly girl have a moment!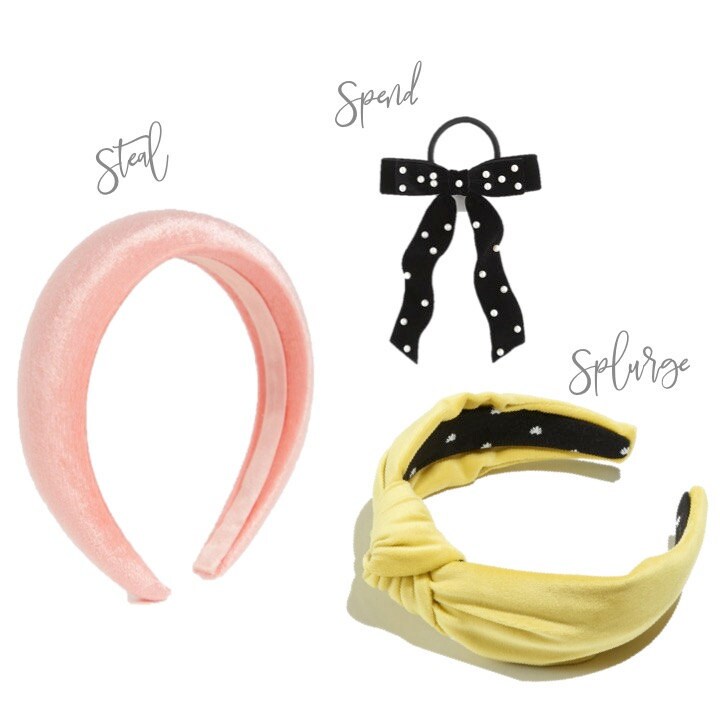 SOURCES: Steal / Spend / Splurge
Fashion doesn't have to be hard, and it definitely doesn't have to be expensive! Have fun getting dressed and showing off your fabulous self!
-by Amy // @apeeples