School has started, football is just days away, and we can almost taste the pumpkin spice. Fall is coming, or at least that's what the calendar is saying. For many of us, myself included, the heat is here to stay for another month—at a minimum. We've never done a fall "transition" collection, having always jumped straight from summer to fall, but this year I wanted to do something that felt more "in-between." The colors, textures, and styles of these tees all invoke feelings of fall but they can easily be worn before the weather actually cools off. They can also been worn in lots of different ways—layers, dressed up, super casual; it's one of our most versatile collections—and it's also meaningful. 
Wondering where all these designs came from? Here's a behind-the-scenes look at how I came up with our fall transition collection and what each tee means to me. AND, be sure to check out our Instagram post today to win $100 shop credit!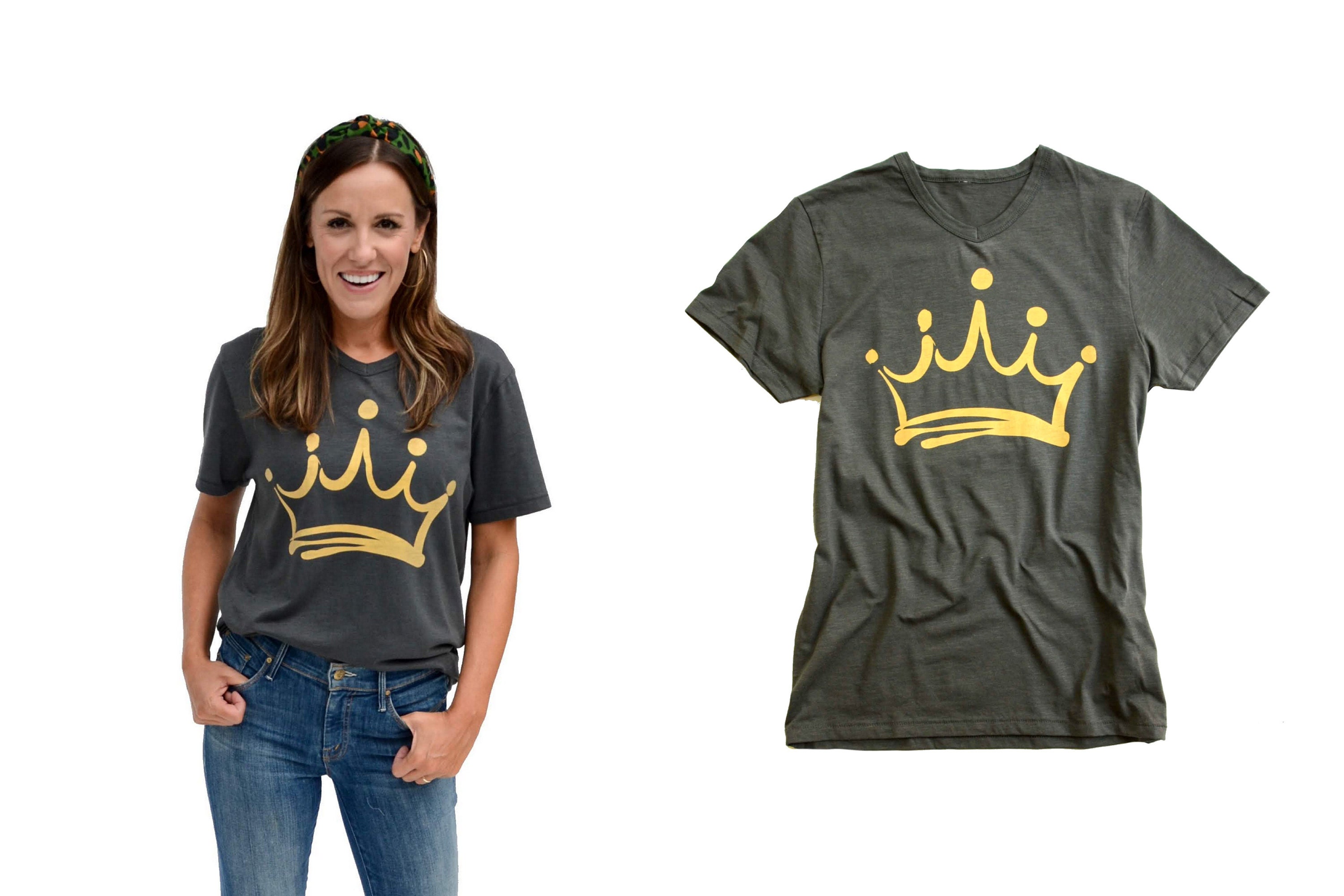 "You shall be a crown of splendor in the Lord's hand…" - Isaiah 62:3 
He "crowns you with steadfast love and mercy" - Psalm 103:4   
Our crown design from a few years ago was hugely popular, and I've been excited about giving it a fresh, new look. The color scheme and, of course, the meaning behind the design hasn't changed, but the crown now has more of a casual, hand-drawn look. It's printed on a weathered slub tee, so it's an easy one to dress up, dress down, or throw on under your moto jacket when it gets chilly outside.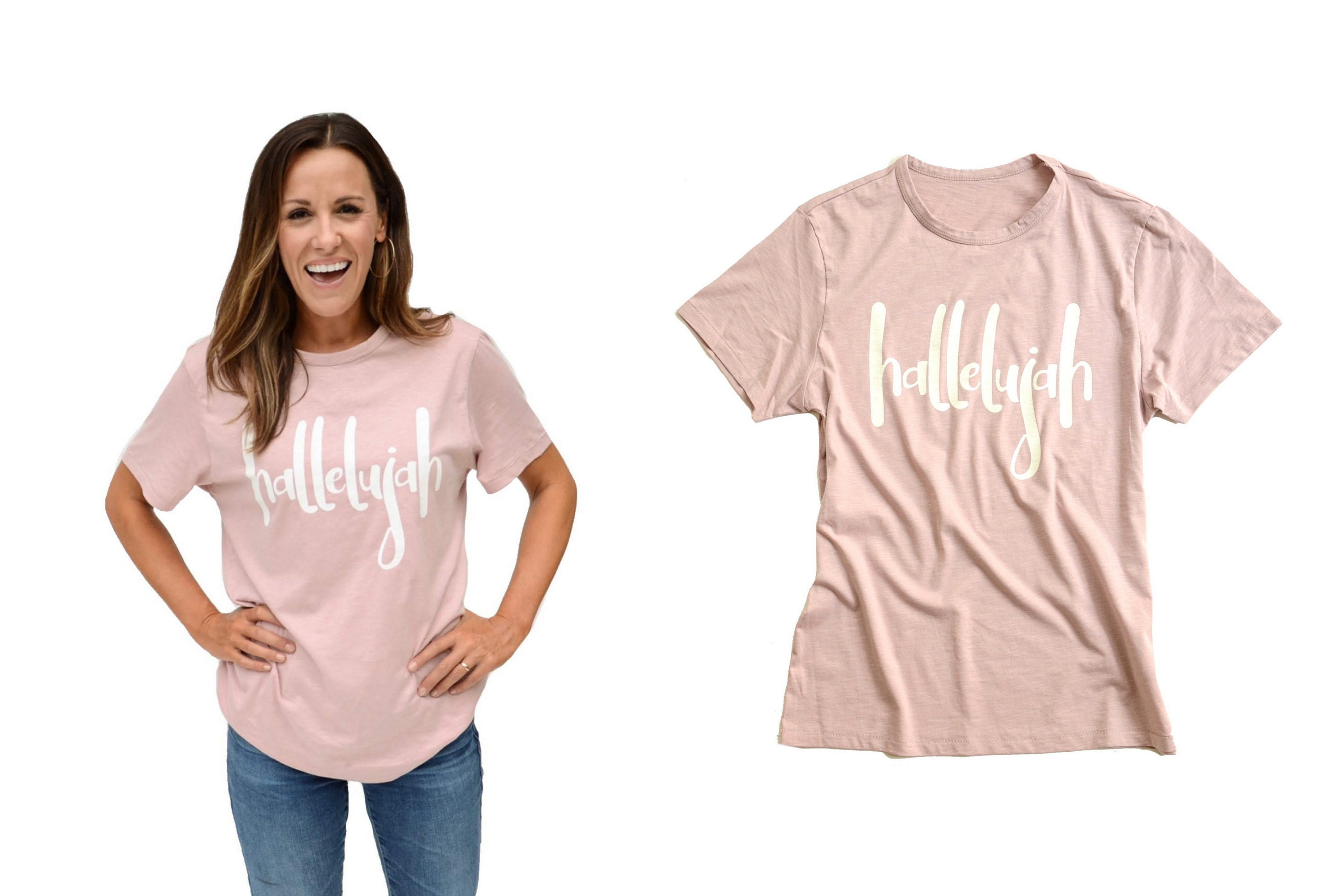 This is another old favorite that we're bringing back for 2019; this time in a new color-scheme and on an updated, fashionable shirt style. I have always loved the simplicity of the hallelujah design, and I love the word itself, which means "God be praised!" Lately one of my favorite worship songs has been "Raise a Hallelujah" by Bethel Music, which inspired me to bring this one out of retirement. The dusty rose color is a nice balance between the brights of summer and the warmer hues of fall.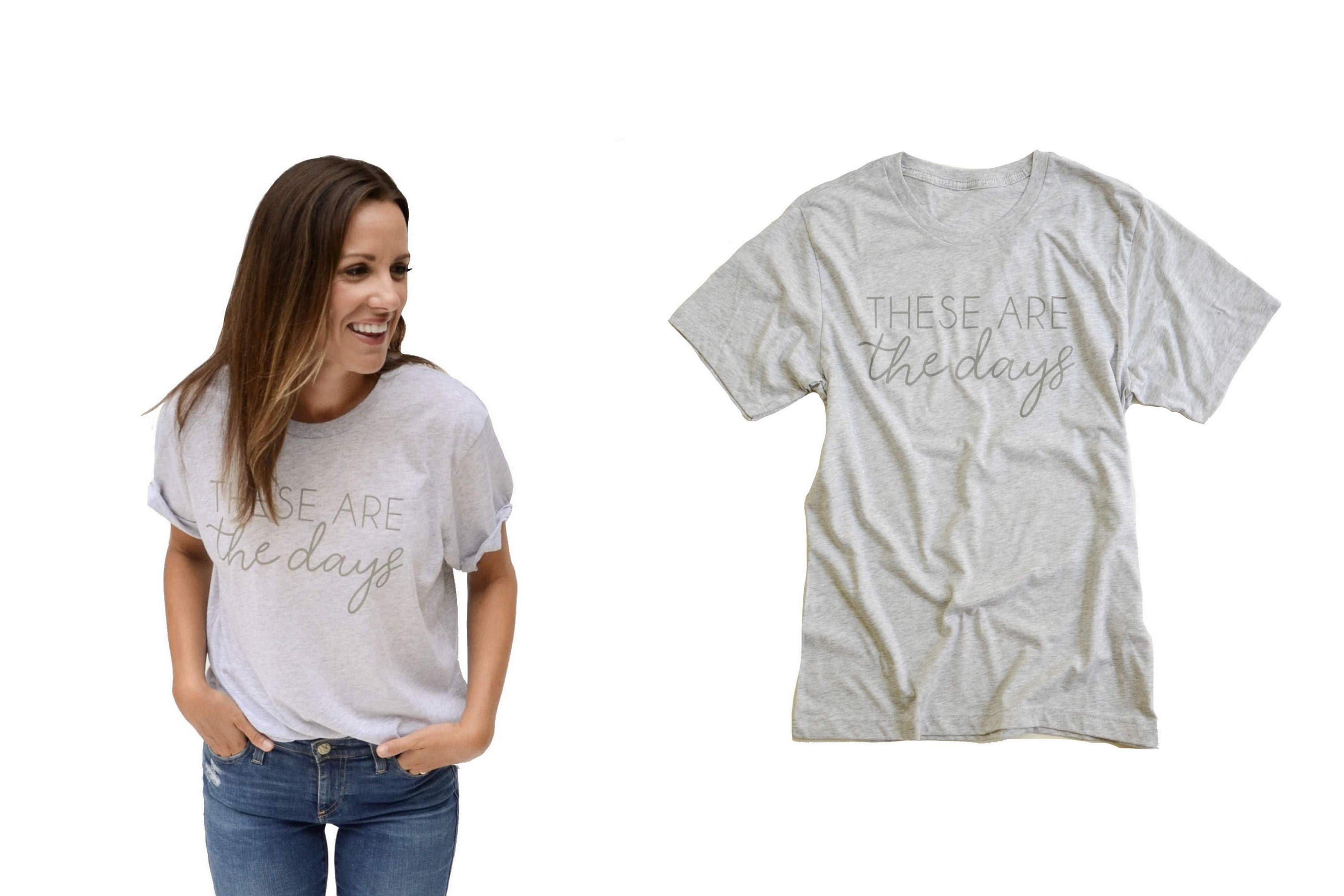 This one is a brand-new design for 2019. I'm learning over time that whatever season I happen to be in, those really are "the days." You know that heart-wrenching quote from The Office: "I wish there was a way to know you're in the good old days, before you've actually left them." That gets me every time! To me, recognizing that "these are the days" is all about enjoying whatever moment or season I am in at the time, because before I know it those days will be gone! As for the style, I'm slightly obsessed with tone-on-tone design, and as much as I love color I am always drawn to gray tees, so I especially love the gray-on-gray look.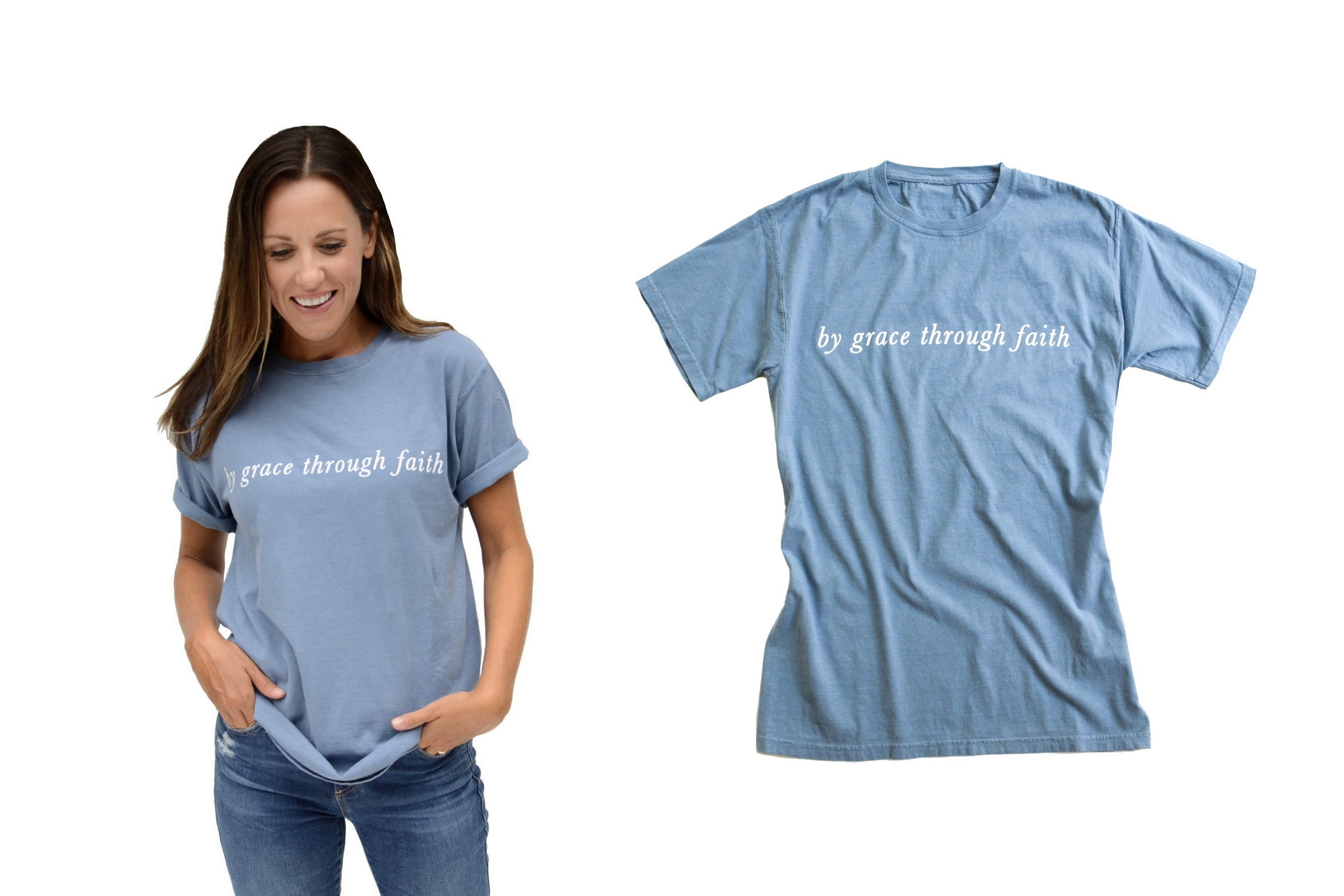 "For by grace you have been saved through faith. And this is not your own doing; it is the gift of God, not a result of works, so that no one may boast." - Ephesians 2:8-9   
This is another new design for the season with sweet words from Ephesians. I love this "simply stylish" way to share the gospel, and I imagine this one inspiring some meaningful conversations! I wanted the design to be simple because the words speak for themselves, and I love the pop of white on the gorgeous muted blue tee. This one is a garment-dyed cotton tee that has a slightly more oversized fit for comfort and style.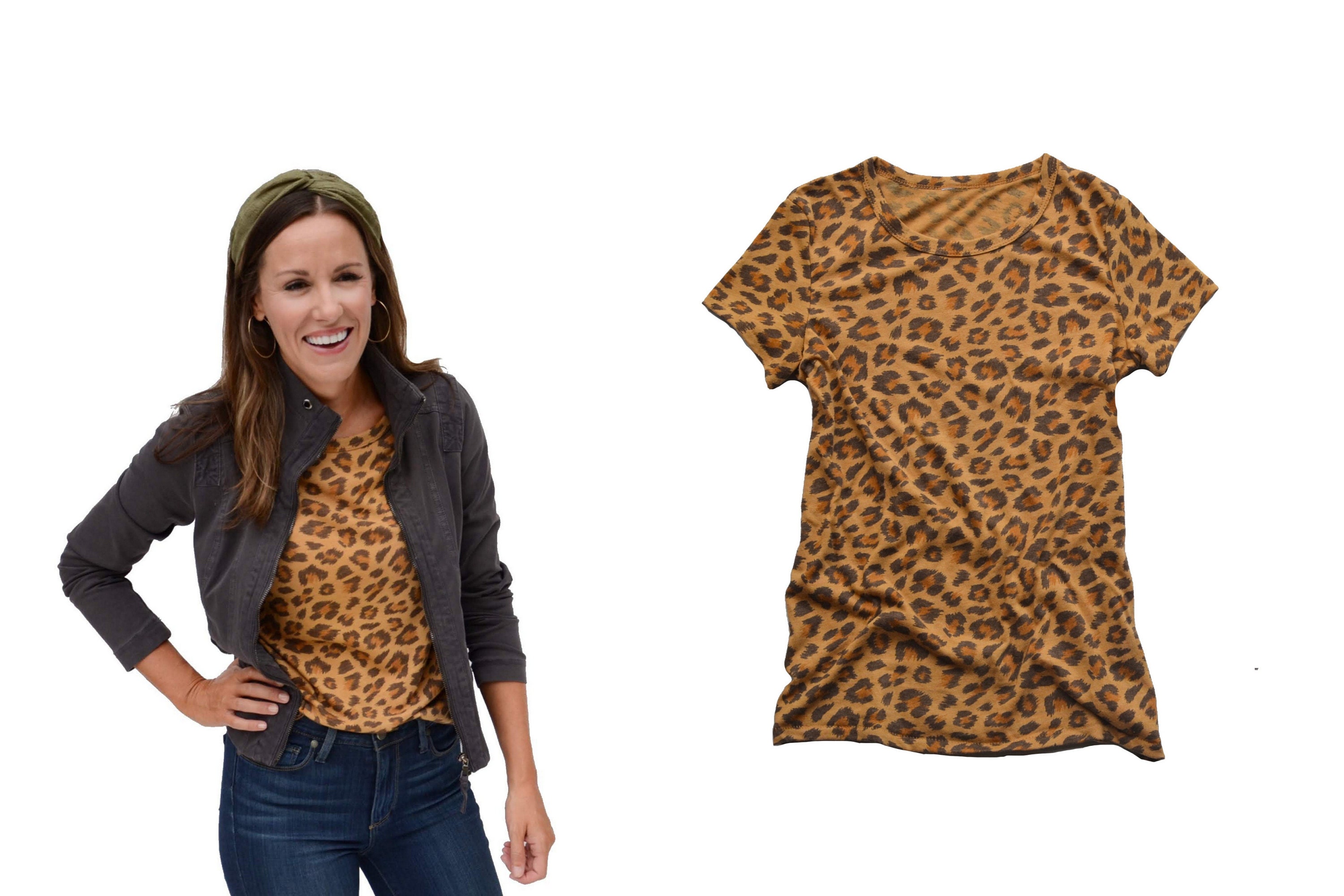 Leopard print mixes in perfectly with the colors and textures in this new collection. Animal prints are a huge trend for this season, but honestly leopard never goes out of style. I actually consider it to be a classic neutral. Stay tuned on Instagram because we'll be showing you tons of ways to style this ultra-soft feminine-fit tee for any season.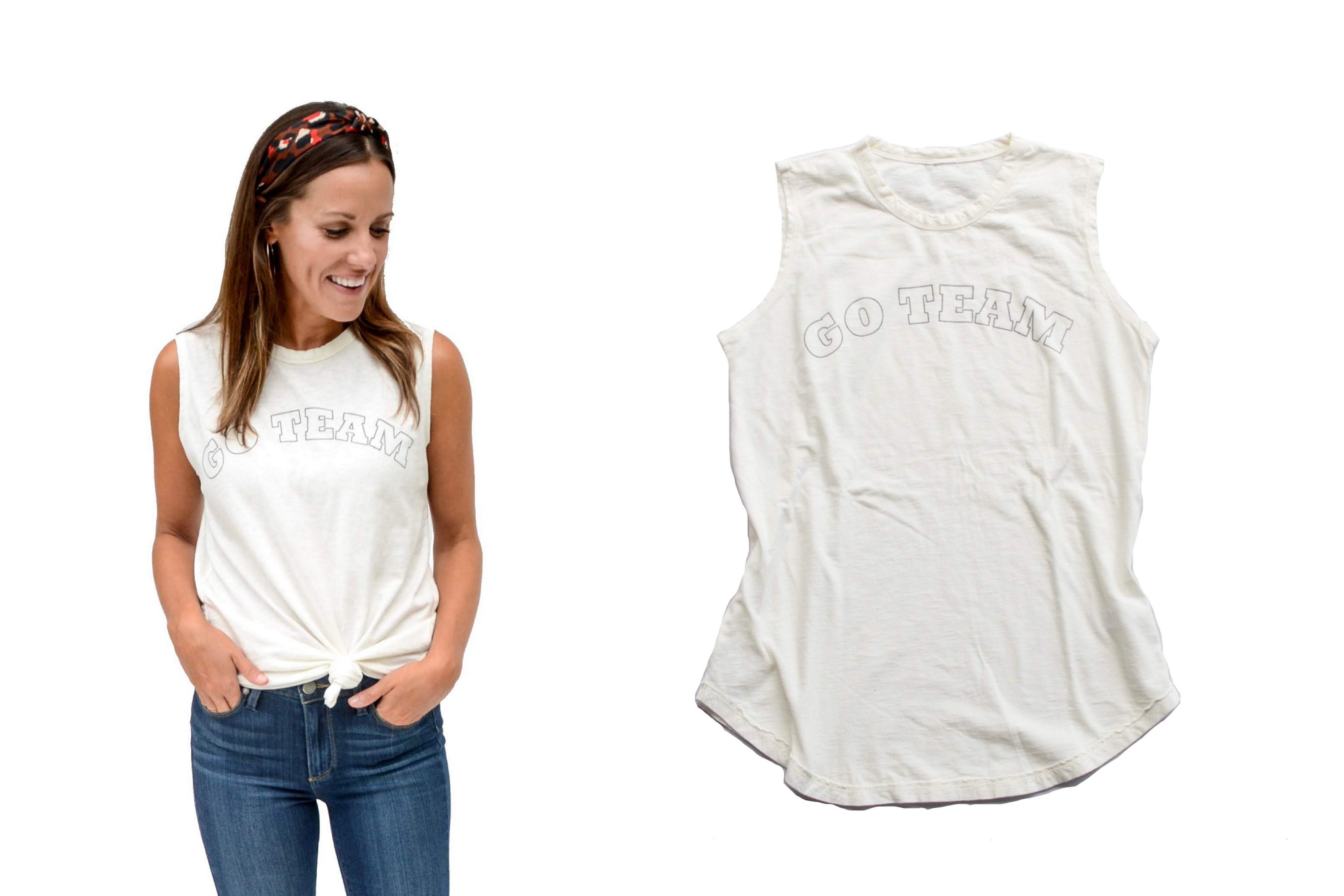 'Tis the season once again: football season! Can I be honest? I'm actually not a huge football fan. It's not that I don't like it; it's just that I've never made it to that borderline obsessed level that so many others have. I'm happy at the tailgate, or the concession stand, or at the watch party by the snack table. With that thought in mind, I created this design for every type of fan. For me, it's more of a "Sure, go team. Beat that other team." But for someone else it can be a heartfelt "Go team!" and it works no matter who you cheer for. Wear it on Friday night at your local high school field, to your son's Saturday morning game, at the college tailgate, or on Super Bowl Sunday! The tank is great for layering while the French terry pullover is a cozy option, especially if you live in a climate where fall temps are already settling in. And PS—This designs works for ANY sport!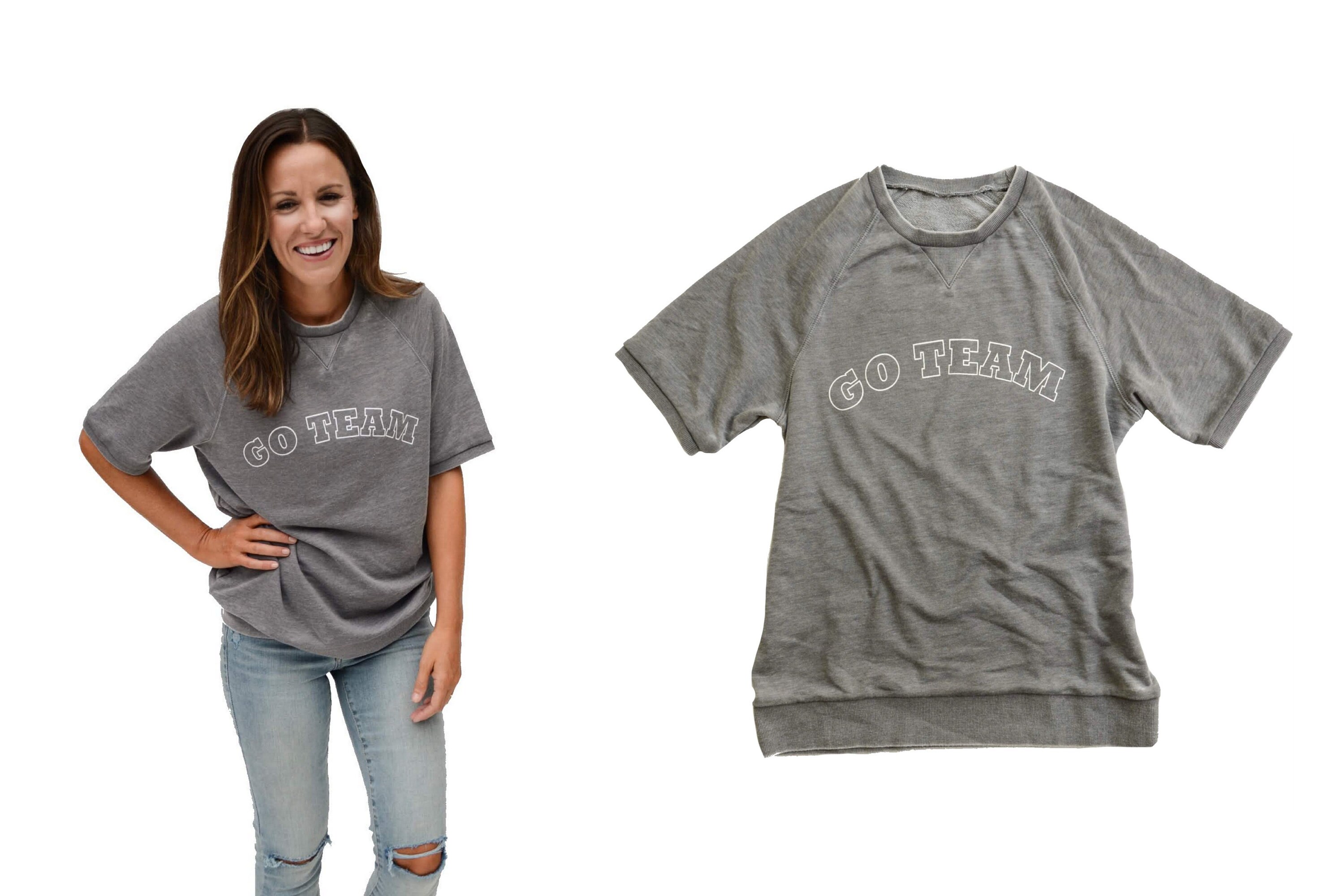 So there you have it—our fall transition collection! Shop them all on our site now. Now head over to our Instagram for your chance to win a $100 shop credit to purchase your favorites!    
-by Mandy // @milkandhoneytees