In life, we don't always set out to pursue our passions—sometimes they pursue us. For artist Lindsey Meyer, painting was a pastime that turned into a color-filled career. "I really did not set out to be an artist, but always knew I was good at being artsy," she says. I'd paint for fun and to fill our walls when we first got married. While working for an interior designer in Dallas, she painted a huge canvas one afternoon and her designer friend ended up calling a client to come see it. "That's how I started selling art," she says.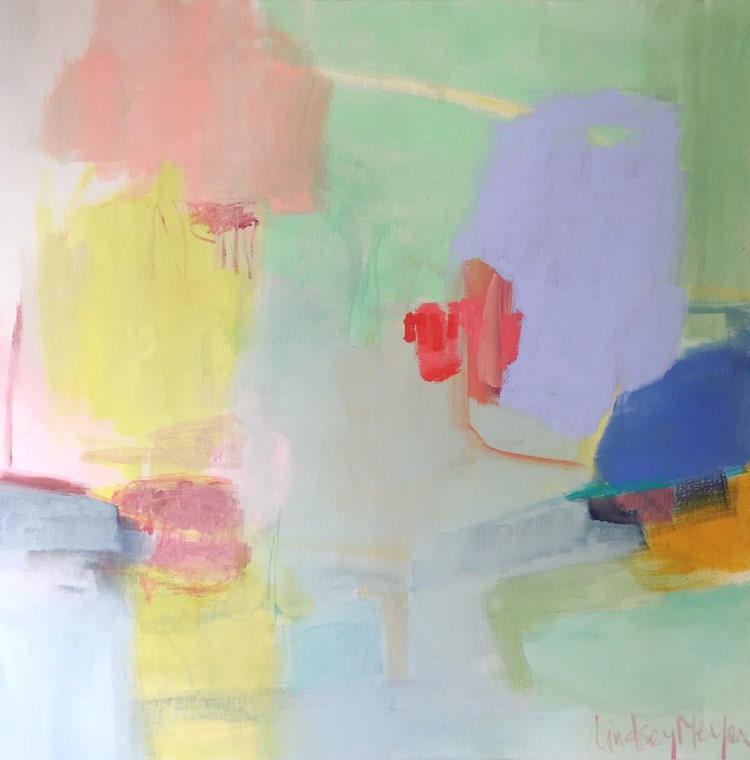 Today, she creates abstract works that fill the walls of her clients' homes around the country. "About 50% of my work is made up of clients commissions…the other half is whatever I feel like doing," she says. "I love the freedom of abstract art. For me, it's all about color and the movement of a piece mixed with the relationships of space. I like to paint my mood and bring the thoughts and feelings of the day into my art. I usually start by asking Lord to be in and guide my work that day. I turn on some loud music, pop a Topo Chico and get after it," she says.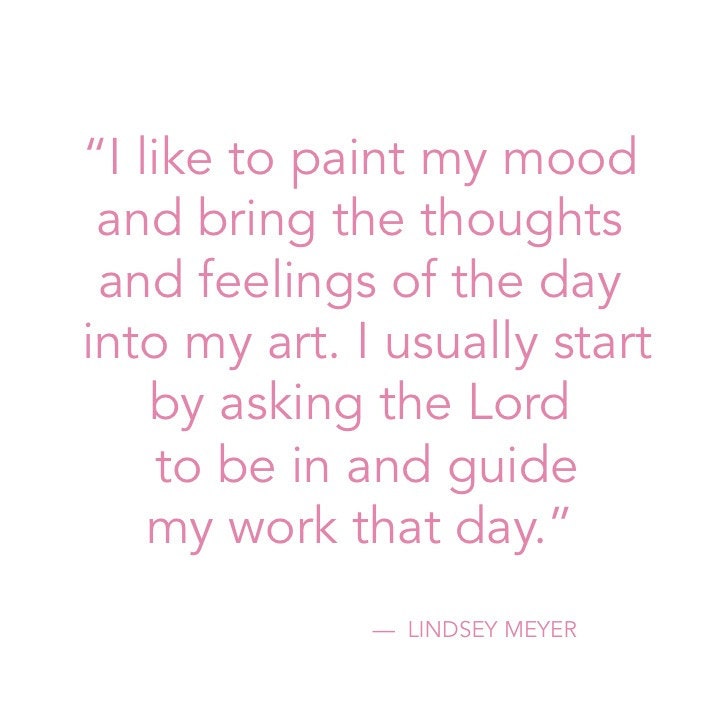 Recently her work appeared on the cover of Made for This: 40 Days to Living Your Purpose by beloved Bible teacher and author Jennie Allen. "Jennie called me one day in a bit of a panic…she needed a design for her new book within the hour," Lindsey recalls. "She asked if I would care if she used one of my paintings for her cover, and I was thrilled to say yes.   
In addition to her paintings, Lindsey also has a rug business where she designs Oushak rugs and has them custom crafted by artisans overseas. The rugs have the same happy palettes you'll find in the rest of her work. "There is a quote from Keith Crown that says, Color is a language of the poets. It is astonishingly lovely. To speak it is a privilege. I could not agree more. It's almost like color is God's love language to me." Read on to get more insight into Lindsey's day-to-day routine and what floats her boat.   
1/ Tell us who all lives in your home. Kirk, Shepherd, Winnie, Mary Charlotte and Lily our teacup Yorkie.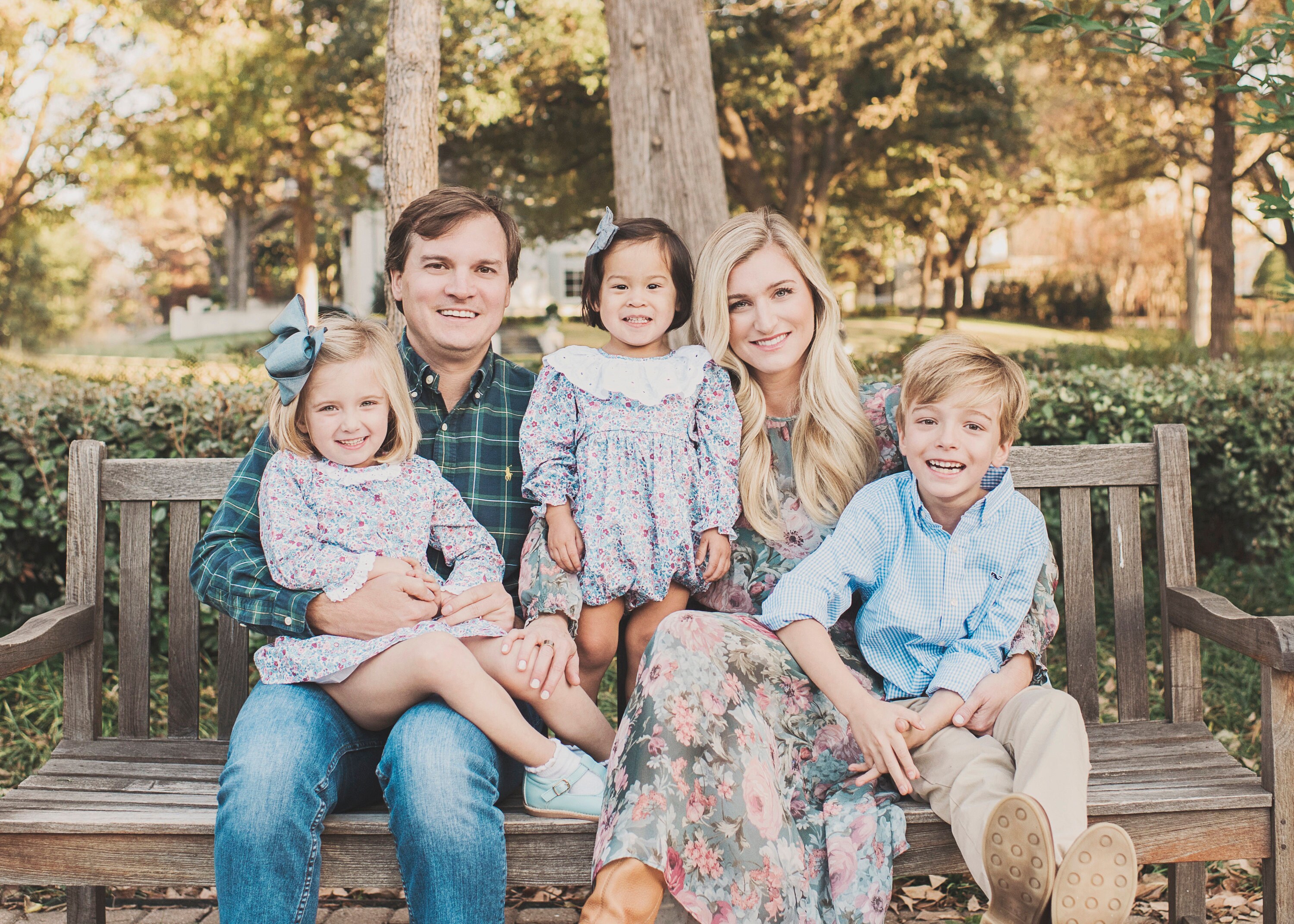 2/ Favorite city? NYC  
3/ What would you eat if you knew it was your last meal? This might be a little embarrassing…a big piece of lasagna, caesar salad, my own bread loaf, and giant brownie al a mode. Keep the champagne coming. 
4/ Wide open spaces or city streets? Both. I'm from a small town in Arkansas and love a good back road. But, I am a city girl now and LOVE the energy and buzz. 
5/ What's your favorite thing in your closet right now? Leopard + gold sneakers with mini skirts.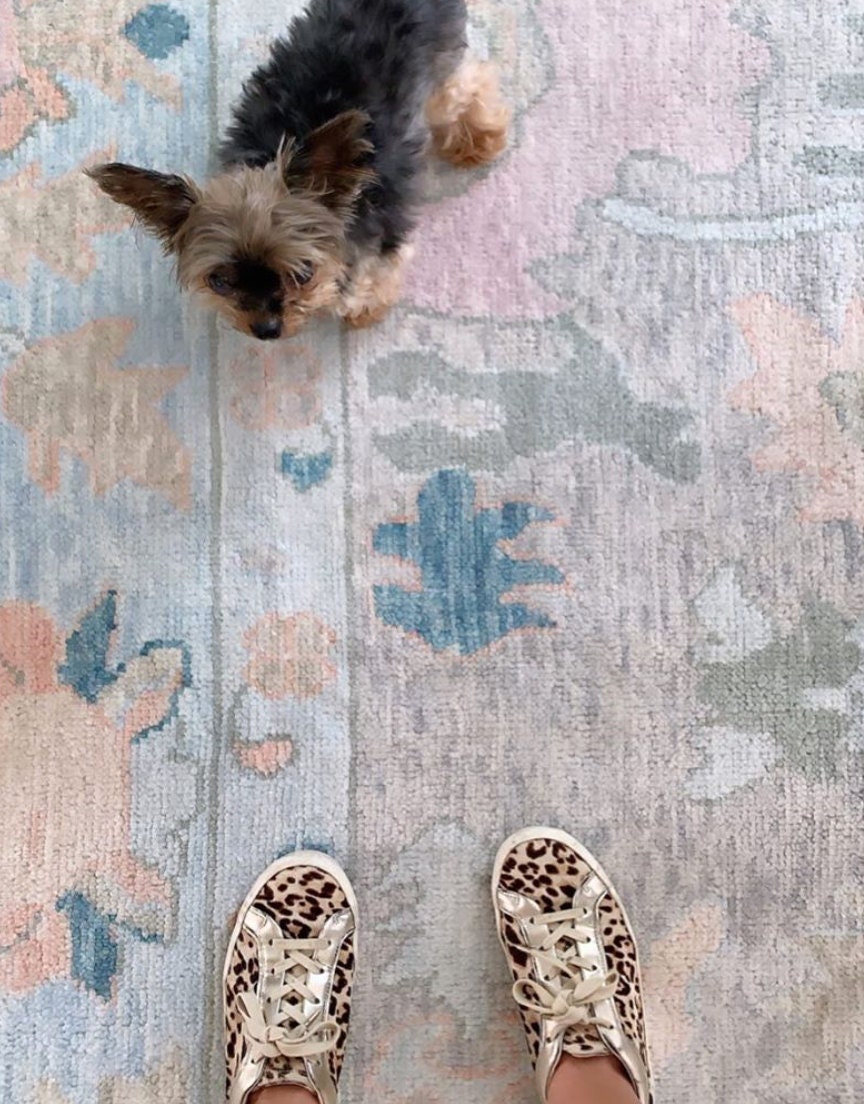 6/ Neutral hues or bright colors? I am attracted to both, but if I had to choose I'd pick color. 
7/ Snickers or Starburst? Snickers, it really satisfies you. :)  
8/ Who would play you in a movie of your life? I love Sienna Miller. 
9/ Favorite all-time movie. "While you Were Sleeping"  
10/ Who has influenced you the most in your life? My parents. I adore and respect them so much.  
11/ What's on repeat on your playlist?  "Talk" by Khalid, "Greenlight" by Jonas Brothers and unfortunately "Old Town Road" because my kids are obsessed. 
12/ We're putting in an order for pizza. What's on your half? Pepperoni and mushrooms. 
13/ Who is the last person you texted? My friend Jessica Zimmerman! 
14/ How do you recharge? I love to be alone as much as I love people. Getting cozy in bed is amazing, but I also love a long dinner with fun people around a table. It doesn't get any better than that. 
15/ Jeans or skirts? Both!  
16/ Describe your style (for fashion or home) in 3 words. Fresh, Feminine and Chic  
17/ What achievement makes you the most proud? I am so grateful for a job that is flexible and allows me to be a present mom and wife, but also feeds my soul as a creative. It has been such a joy and privilege for me to be able to use my gifts to give back to organizations that I am passionate about. After the adoption of our daughter four years ago, I have had the desire to give to organizations that help the needy and marginalized. It has taught me so much and given my work an immense purpose.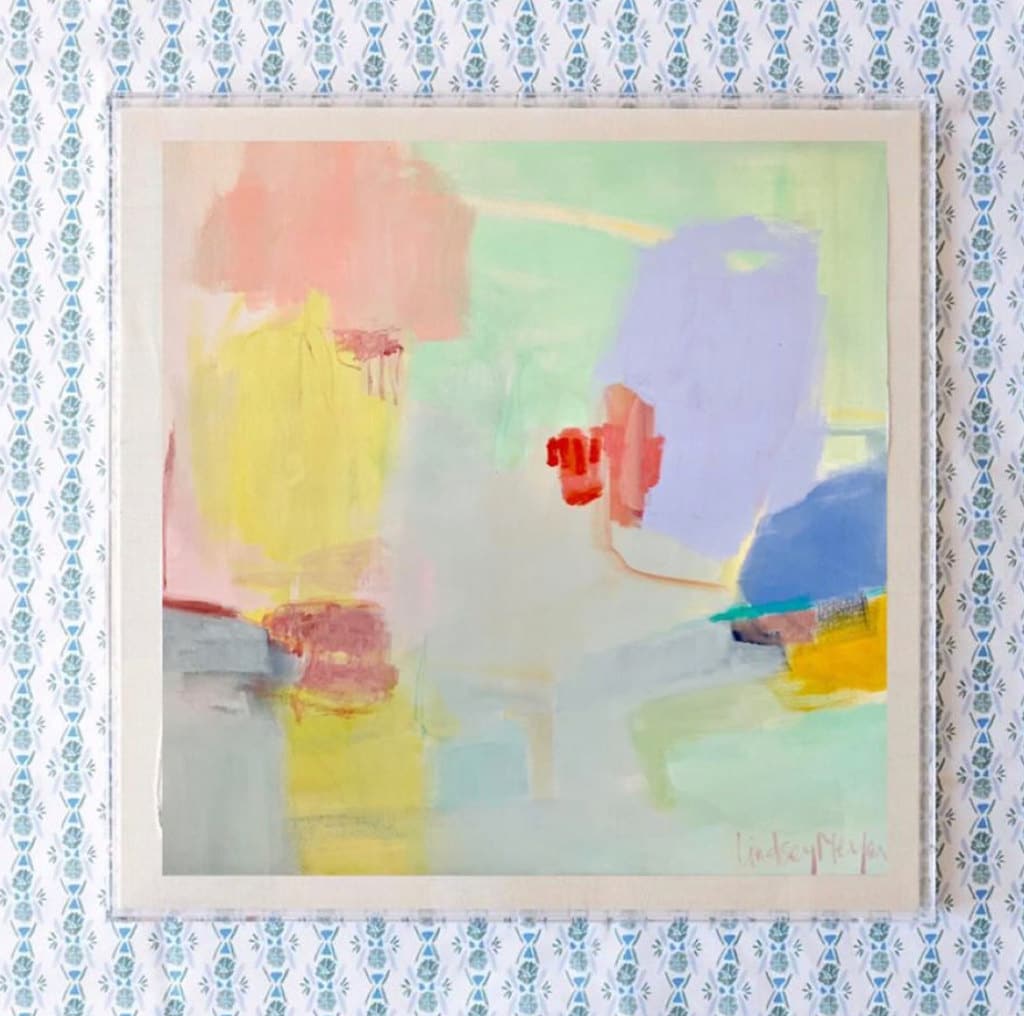 18/ Favorite verse?  Psalm 17: 6 - 8   "I call on you, my God, for you will answer me; turn your ear to me and hear my prayer. Show me the wonders of your great love, you who save by your right hand those who take refuge in you from their foes. Keep me as the apple of your eye; hide me in the shadow of your wings."
19/ Time your alarm clock goes off. 5:30 - UGH!   
20/ Are you an introvert or extrovert? Very much both. Very confusing.   
21/ What's your favorite Milk and Honey design? I'm loving the Eyes Above the Waves muscle tank!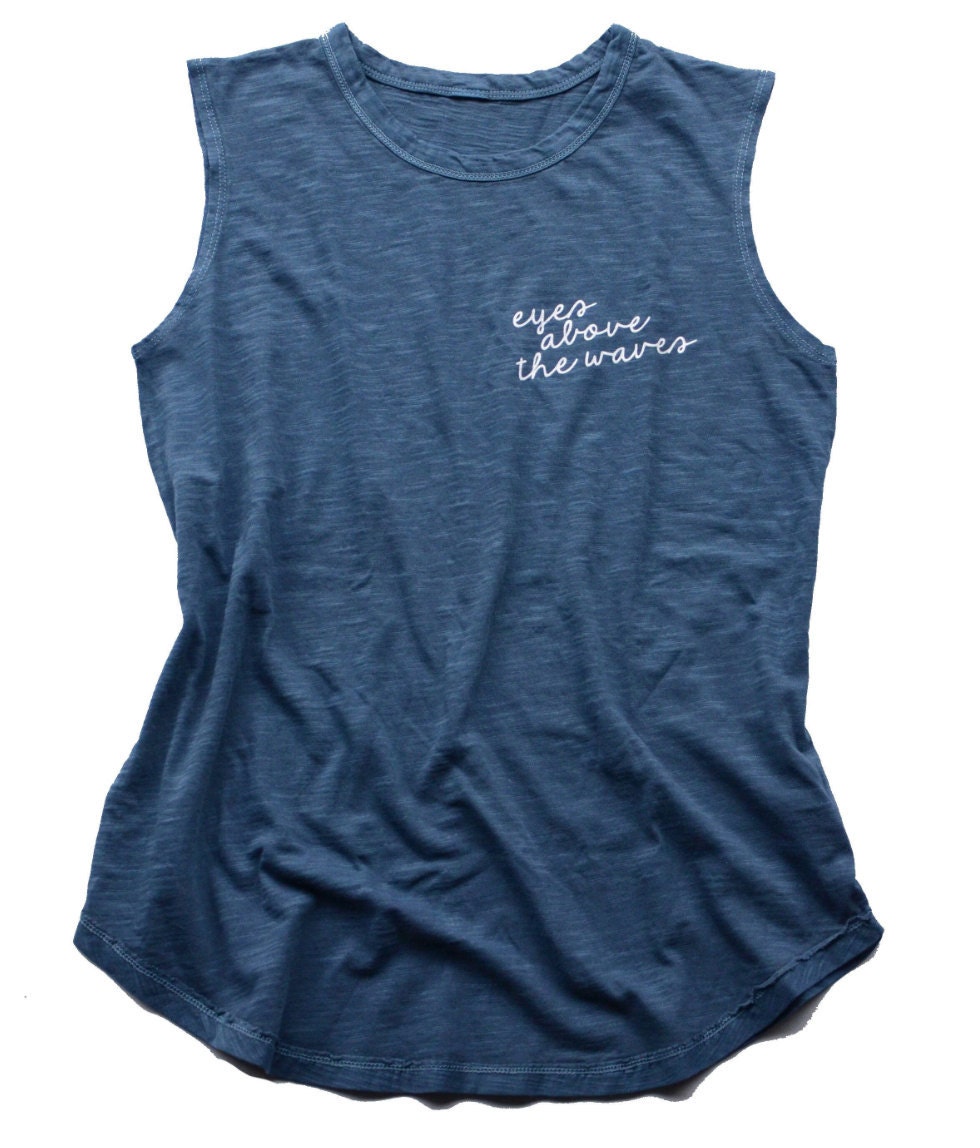 22/ Cats or dogs? Dogs   
23/ What's on your nightstand? My Bible, a book, and my mouth guard.    
We loved having Lindsey join us for On the Spot! Be sure to check out her work (and shop her art and rugs!) at lindseymeyerart.com and follow her on Instagram (@lindseymeyerart) to keep up with the latest.     
-by Tiffany // @tiffbadams