Today is a yucky rainy day in the town where we live, and all we can do is dream of the sun. I feel certain those days will come again because I happen to know a little bit about science; eventually the sun will come out and shine on us again. You know what you'll need when that happens? That's right: sunglasses…sunnies…shades…whatever you're prefered nomenclature, they are absolutely a must. Just after sunscreen of course (I hear you, dermatologists)!
When it comes to your shaded eyewear, don't be afraid to try new shapes, colors, and tints. I have never claimed to be low maintenance or a "one note" type girl, so naturally I have a pair of sunglasses for every mood. Feeling preppy: classic wayfarer. Feeling edgy: black cat eye. Slightly moody and needing a boost: bright pink mirrored. Headed to tennis or out for a run: sporty. 
If you're looking for something classic that you will be wearing for years, don't be afraid to splurge a bit. Places like Sunglass Hut are great for this purchase because the people that work there actually know a lot about fit and frames and polarized lenses and such. They can have your frames steamed to fit your face better and will do so for free even after your purchase, or if the frames have stretched out over time.
For the trendier purchase, I recommend staying close to or below the $50 mark. I love a good tortoise heart-shaped shade but I'll stick with a $25 pair. I'm not into fortune telling so I'm unsure about the longevity with this one.  
Play with clear, colored, and metal frames to find what suits you best. Oversized is always fun because it adds some drama. Those pairs can also be your early-morning carpool lifesaver because they hides half your face—meaning, no concealer required.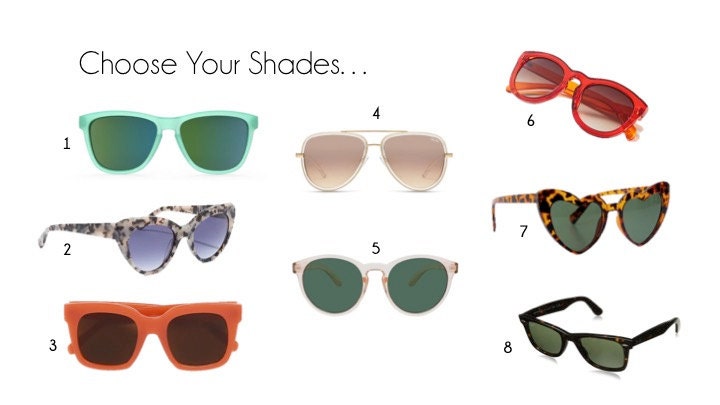 SOURCES: 
Summer days are rapidly approaching, whether we are ready or not! Don't simply keep your retinas from burning up; do it in style. Life is too short for strictly functional eyewear.
-by Amy // @apeeples