If you've been following Milk and Honey for a minute, you know we're big fans of Jamie Ivey. As the host of "The Happy Hour," she brings listeners a new faith-filled podcast each week. Not only does she get her guests to open up, she'll likely have you laughing out loud or crying (or both!) at some point and maybe answer a few questions you have about life, marriage, kids, church—you know, all the big ones—along the way. 
Last year, Jamie released her first book If You Only Knew. In it, she shares stories of her past (which she refers to as "the mess I am so good at creating in my life") in a fully transparent way and shows readers how God's grace has redeemed her story.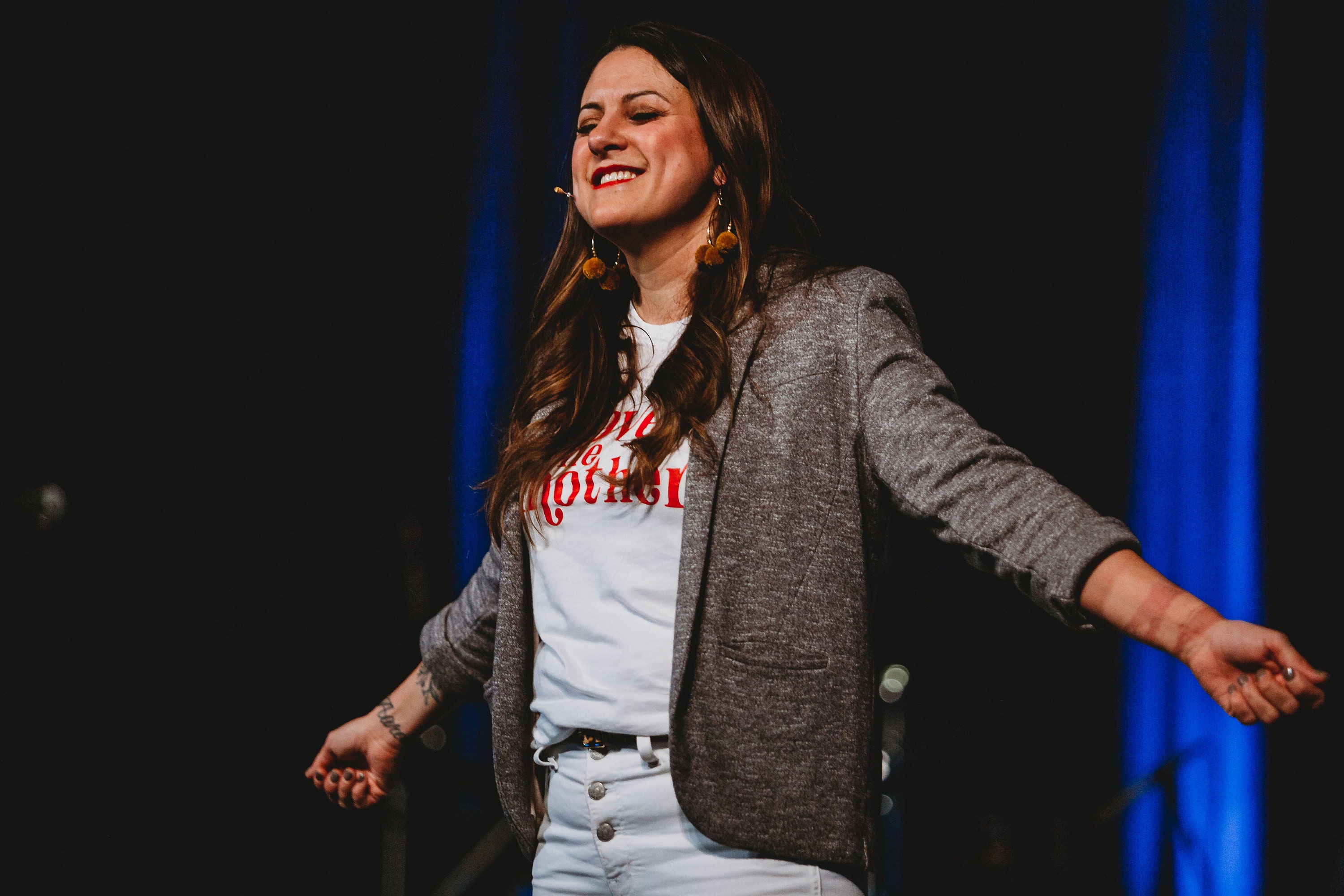 Jamie also speaks to women around the country and hosts her own "Happy Hour Live" events in her native Austin. In fact, her 12th and 13th live events are coming up just next week! 
Did we mention she's a pastor's wife and mom to four? In short, she's a busy lady with a meaningful message. So, we wanted to put her "On the Spot" today to find out more about what's going on in her world and what really makes her heart happy (spoiler alert: she's a dog person!). 
1/ When did you start The Happy Hour? I started The Happy Hour in May of 2014. My first guest was my best friend Amy, and I was confident only my mom would listen to the episode!
2/ In a nutshell, tell us about the purpose and mission of "The Happy Hour." I created my show to replicate conversations that my girlfriends and I might have over an actual happy hour. Conversations that would cover all the important things in life—your favorite jeans, what God is currently teaching you, what book you are reading, and what your kids recently did that you can't even believe. With every episode that comes out, we want three things to happen. We want to encourage women, inspire them, and always point them to Jesus. If those things have happened we are confident in the show.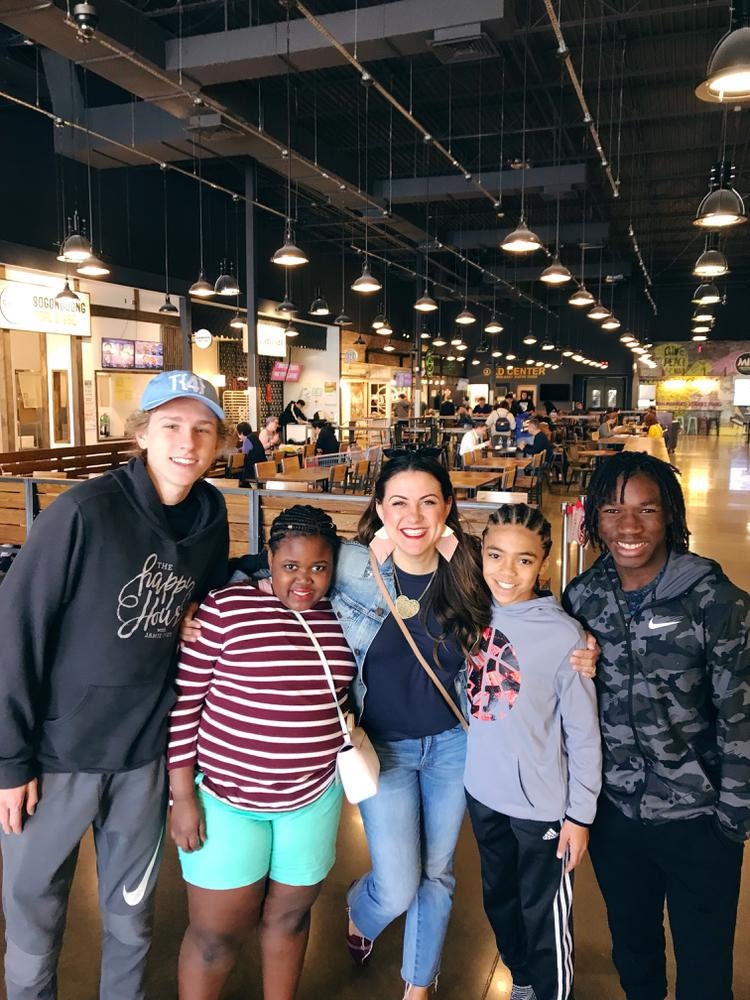 3/ Tell us who all lives in your home. The favorite person in my home is my man Aaron. We've been married for almost 18 years, and there's no one in the world I'd rather hang out with. Seriously, he's my favorite. Then we have four kids that we're responsible for. Our oldest is a freshman in high school, two in middle school, and then one in 5th grade. We also have a Labradoodle named Landry, and a Goldendoodle named Marfa, who may or may not sleep in our bed every night!
4/ Favorite city? Austin, Texas. I truly love where I live. The food, the culture, the vibe, the people. All of it is my favorite.
5/ Wide open spaces or city streets? This is difficult because I truly am a favorite of both. I think it depends on what season of life I'm in when I'm exploring. If my life at home is crazy then the only thing I want is wide open spaces for sure. If life isn't too crazy at home, then take this girl to the city and let's explore non-stop for days. 
6/ What's your favorite thing in your closet right now? I have never called myself a shoe girl, but I recently bought myself some New Balance shoes that I can't get over. They are the perfect shoes to wear all day long and they look so cool and hip. So good that I have been stopped several times recently by complete strangers to tell me how much they love them. I only tell you that because I've told this story many times to try and convince my kids that I might have a tad bit of coolness left in me.
7/ Snickers or Starburst? Snickers 100%. Unless it's a red or pink starburst. I'll eat those, and exchange my Snickers for a Reese's Peanut Butter Cup.
8/ Who would play you in a movie of your life? Sandra Bullock for sure. She ages well, and that's important—because I want to age well!
9/ We're putting in an order for pizza. What's on your half? Black olives, green olives, extra cheese, tomatoes, and mushrooms. 
10/ Who is the last person you texted? My man. I'm traveling as I type this and since neither one of us are phone talkers, texting works just fine for us!
11/ Jeans or skirts? Jeans. 100%. 
12/ Time your alarm clock goes off. 5:45 am and I hate it every single morning.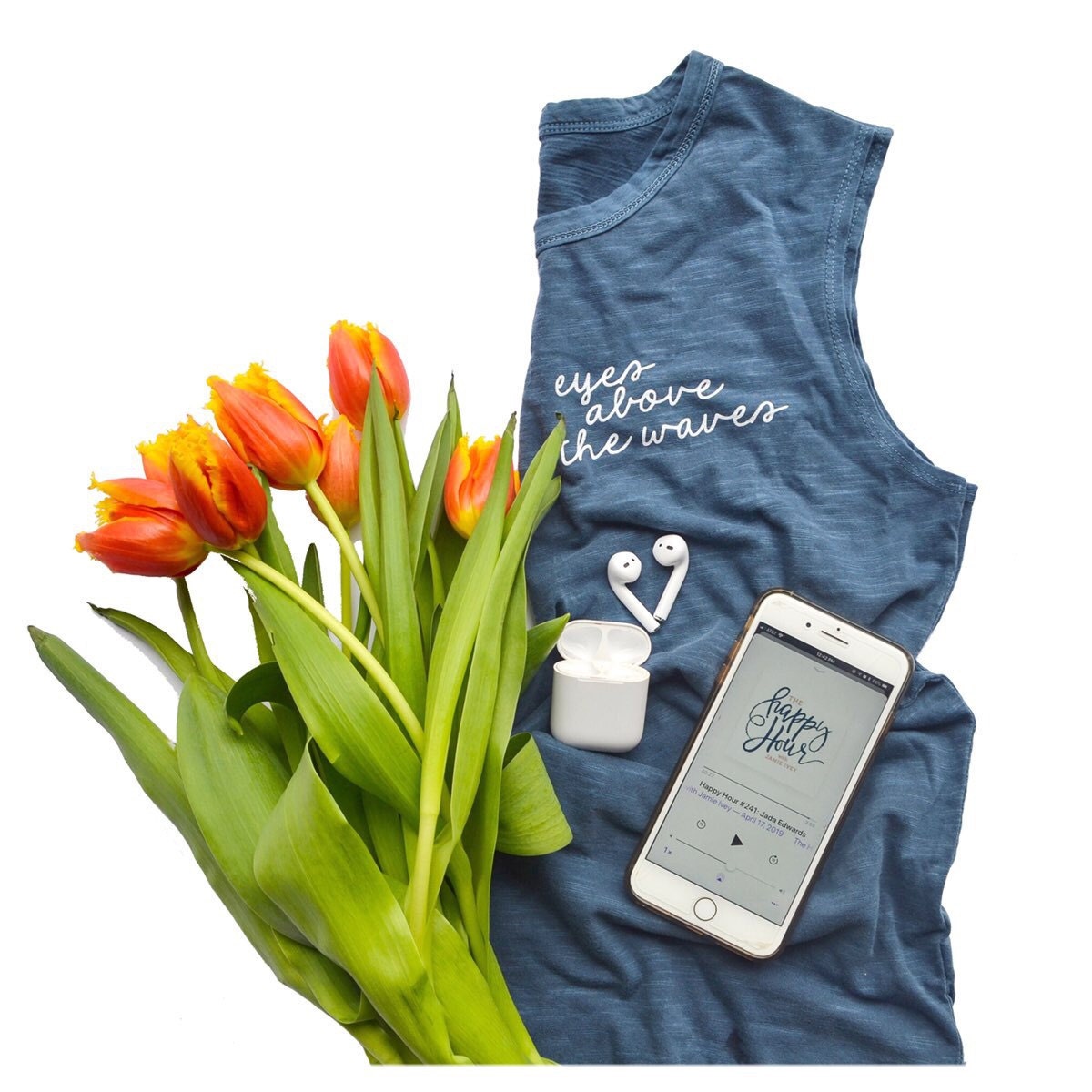 13/ What's your favorite Milk and Honey design? I'm currently loving my Love One Another tee, but as soon as it's warm outside I'll pull out my vintage Eyes Above The Waves tee! 
14/ Cats or dogs? Dogs all the way. We have two (as I mentioned above), and we all adore them and treat them as if they are actual members of the family and not merely animals. Landry is our Labradoodle, and she is named after one of our favorite characters from Friday Night Lights. Marfa is our Goldendoodle, and she is named after one of our favorite towns in west Texas.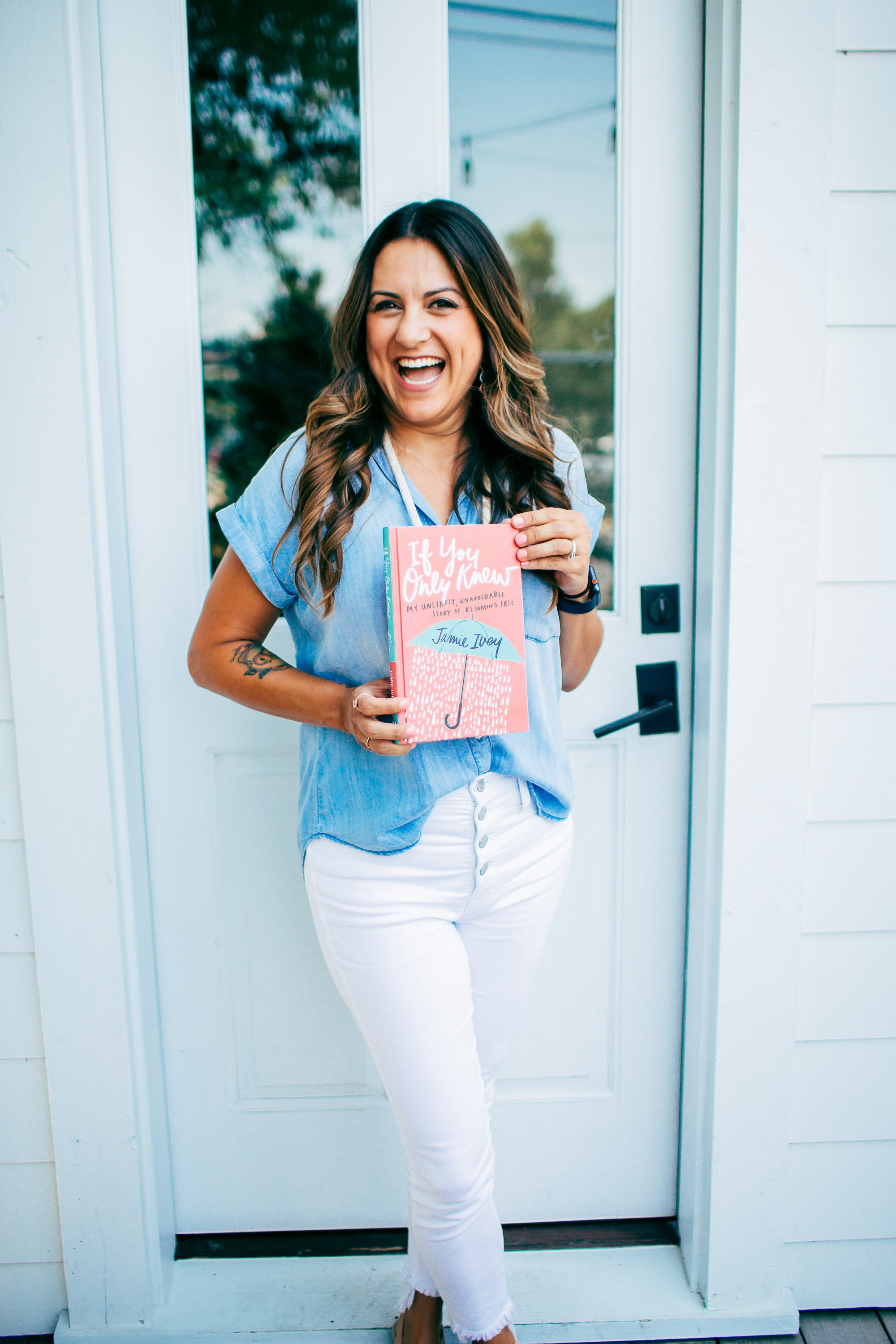 15/ What one thing do you hope readers take away from your book, If You Only Knew? One of my biggest prayers for the readers of this book is that they wouldn't close the book knowing more about Jamie Ivey, but they would close the book knowing more about how great God's love is for them. That they would be confident in the knowledge that God's love for them is stronger than anything they have ever done in their entire lives. 
16/ Anything else in the works you want to tell our readers about?? We're dreaming up some fun new stuff for YouTube, I'm working on book number two, and my man and I are working on a project together! So much goodness ahead!
Head over to JamieIvey.com to listen to her podcasts, find out where she's speaking next, and order her book. You can also follow her on Instagram to keep up with all the happenings! And...don't miss Jamie's Milk and Honey *GIVEAWAY* happening today! Watch our Instagram feed for a chance to win.