Have you ever felt like you were really killing it? I mean nailed it; best. day. ever.  For moms, that may look like a peaceful morning, a finished homework assignment, quality time with no agenda, or even a vacation where everyone gets along. Today's On the Spot guests (yes, we have two for you!) are on a mission to show moms that their role is a valuable and important calling, and that with God's help it is possible to do more than just survive the chaos of raising kids. Kara-Kae James and Ali Pedersen are the founders of Thrive Moms, a ministry dedicated to helping you thrive in motherhood—no matter what stage you are in currently. Through bible studies, an app, and even local groups where you can connect with other moms, they are encouraging and empowering mothers everywhere!  
We recently partnered with them to create the exclusive "Thriving in the Chaos" tee, which is for sale in our shop through the end of May. (PSST! Thrive Moms is giving one away right now on Instagram.)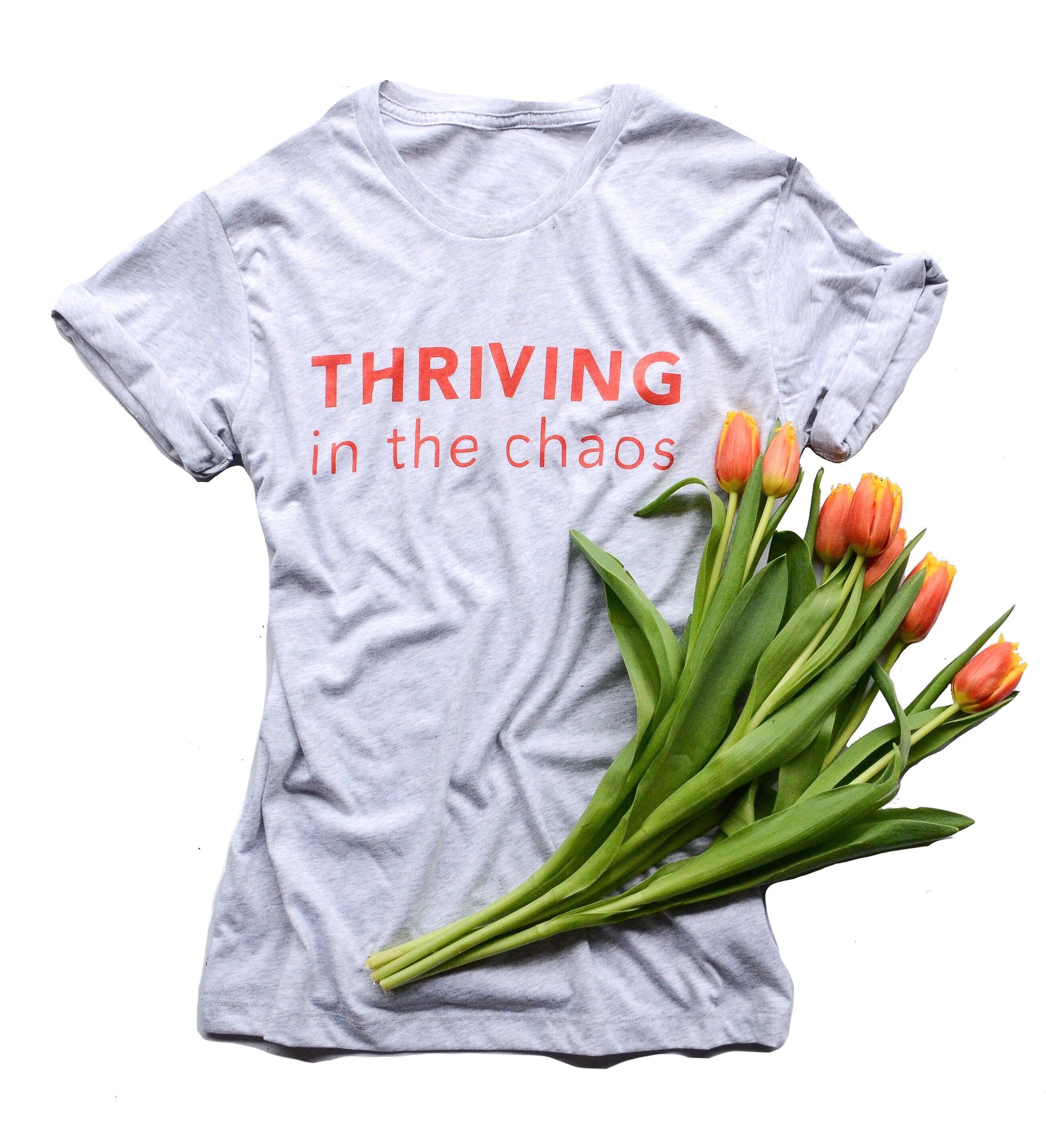 With the official holiday of moms—Mother's Day—coming up on Sunday, we couldn't think of a better time to put Kara-Kae and Ali On the Spot. Read on to learn more about this duo.   
1/ How did you two meet and start Thrive Moms?   
Kara-Kae: Thrive Moms launched in 2013, and Ali and I connected about a year later at a blogging conference. She became a Thrive Moms local leader and I was so impressed with her that I knew I had to sink my claws into her and never let her go :) She's been my ride or die ever since! 
2/ In a nutshell, what is the mission of Thrive Moms? 
To encourage, empower, and inspire moms to do more than just survive motherhood.  
3/ What's your favorite part of Thrive Moms?   
Kara-Kae: Connecting with moms who have been encouraged by our message.   
Ali: Realizing that women all over have so much in common and share so many desires, struggles, etc. Overall, I guess it's the connection.  
4/ Tell us about the feedback you get from moms. How does community—this one in particular—help them to live their best mom life?   
Kara-Kae: This is my favorite part! I love hearing from women who are able to step out of survival mode because they feel like they aren't alone in their struggles. They feel like they can thrive because God's Word is for them in the trenches of motherhood.   
Ali: Community makes them feel like they aren't alone. You aren't the only one who feels like a "bad mom" or a "tired mom." Seeing women support and encourage one another is amazing.
5/ Tell us who all lives in your home.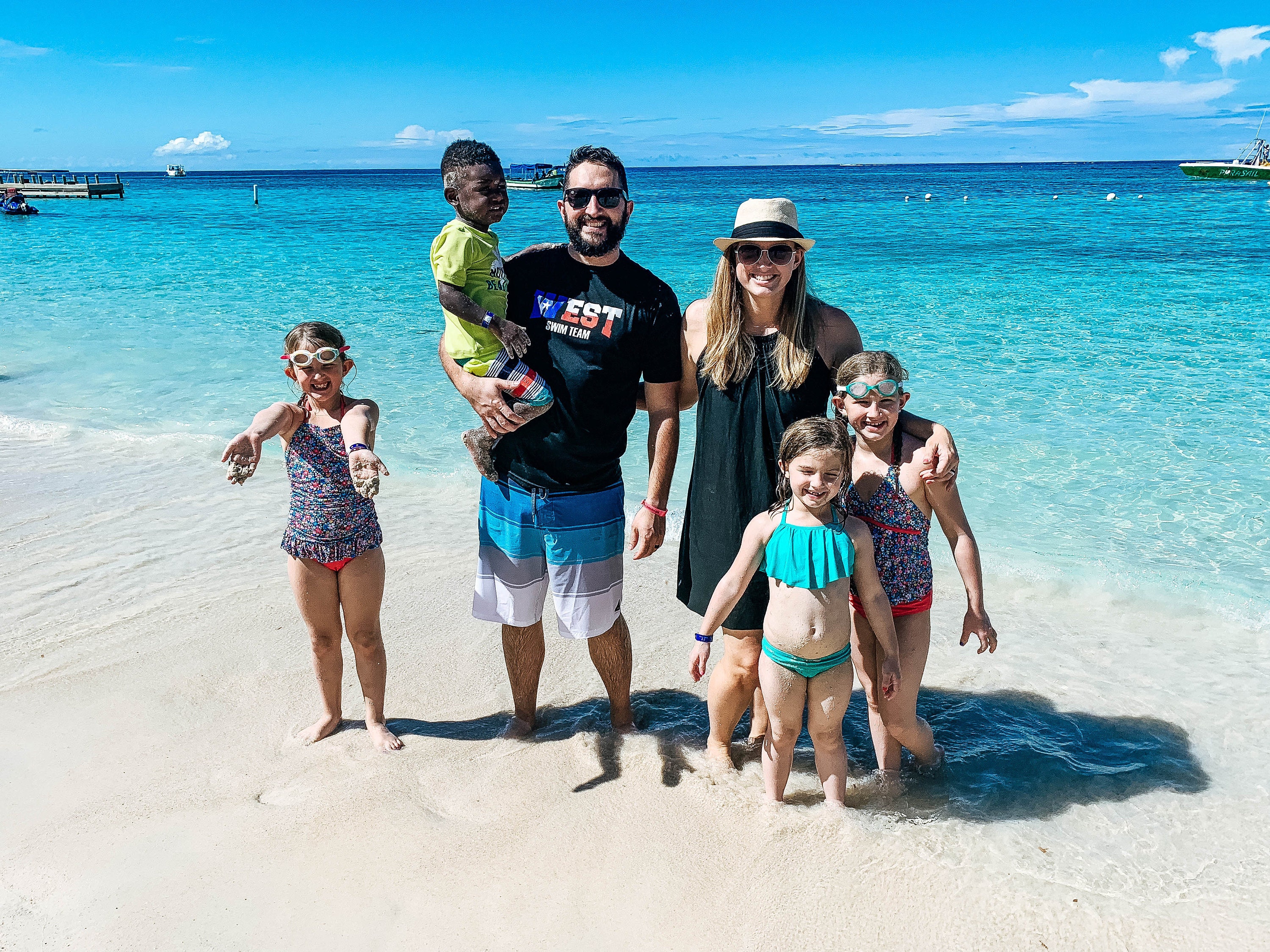 Kara-Kae: My husband Brook and four kids: Jessi (9), Zoey (7), Kenzi (6), and Kendrick (3). And the world's most annoying but most loyal chocolate lab, Duma.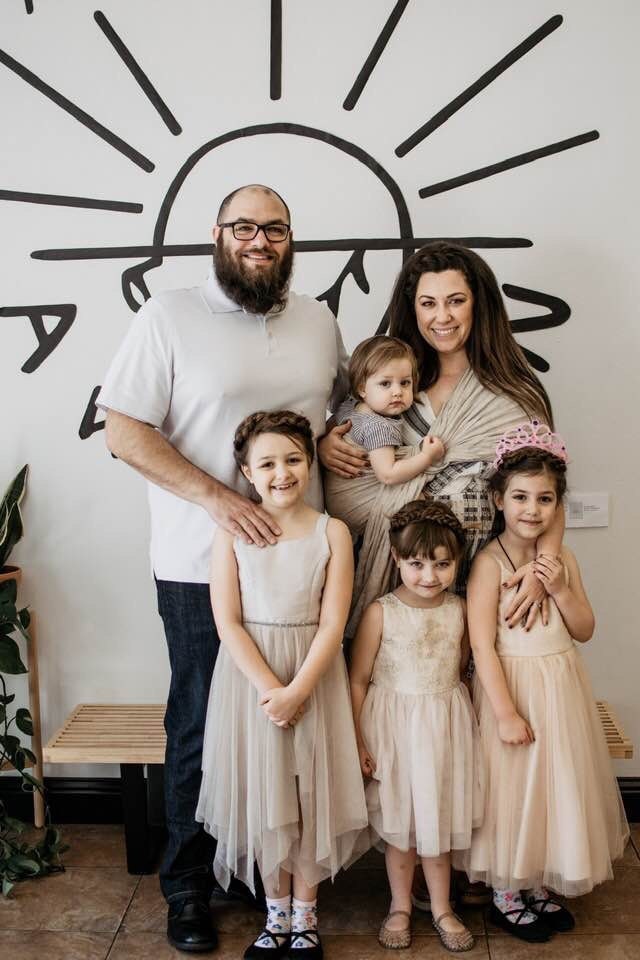 Ali: My husband Nicolai and four girls: Hannah (7), Emma (5), Leah (4), and Ellie (1). We also have the cutest and dumbest dog ever, Murphy.  
6/ Favorite city?   
Kara-Kae: Huntington Beach, CA. We lived there for a few years and miss it every day.   
Ali: San Francisco, CA  
7/ What would you eat if you knew it was your last meal?   
Kara-Kae: Steak. With a side of Chickfila. And some good coffee. (How could I choose just one thing?)   
Ali: Ricotta cheese-stuffed pasta shells and my mom's chocolate pudding. 
8/ Wide open spaces or city streets?   
Kara-Kae: City Streets. I grew up in the country, and I think I got enough of that. I need a Starbucks and a Target within a few miles.   
Ali: I like convenience but lately I've been craving open spaces!  
9/ What's your favorite thing in your closet right now?   
Kara-Kae: Kimonos and graphic tees. Can't get enough of soft layers.   
Ali: Jumpsuits and rompers! Also a good pair of bell bottoms!  
10/ Neutral hues or bright colors?  
Kara-Kae: Neutral hues.   
Ali: Neutral always! 
11/ Snickers or Starburst?  
Kara-Kae: Snickers! Always chocolate!   
Ali: Starburst! Fruity always wins! 
12/ Who would play you in a movie of your life?   
Kara-Kae: Monica Geller. Or Leslie Knope. (I mean, I know they are fictional characters but I relate with them the best.)  
Ali: I've been told I look like Kelly Clarkson and Lauren Conrad...so I guess either of them. 
13/ Favorite all-time movie.  
Kara-Kae: Pride & Prejudice   
Ali: While You Were Sleeping 
14/ Who has influenced you the most in your life?   
Kara-Kae: My Husband. And my son.   
Ali: My parents and my husband. 
15/ What's on repeat on your playlist?    
Kara-Kae: Maggie Rogers   
Ali: The Hunts, a folk band made up of 7 brothers and sisters who were all homeschooled. 
16/ We're putting in an order for pizza. What's on your half?   
Kara-Kae: White Cream Sauce, Pepperoni, Bacon, and Feta Cheese.   
Ali: Olives, Onions and Pineapple.  
17/ Who is the last person you texted?   
Kara-Kae: My husband of course.   
Ali: My husband...we talk all day long. 
18/ How do you recharge?   
Kara-Kae: A day away to relax, read and be alone; or a weekend with just my husband.  
Ali: One day a week my mom takes my 3 big girls, and I clean the house, plan my week and play catch up...having life under control makes me feel rested. 
19/ Jeans or skirts?  
Kara-Kae: Jeans!   
Ali: Jeans 
20/ Describe your style (for fashion or home) in 3 words.  
Kara-Kae: Simple Clean Lines  
Ali: Minimal, Natural, Easy  
21/ What achievement makes you the most proud?   
Kara-Kae: Publishing my first book.   
Ali: Giving birth to 4 little people. 
22/ Favorite quote or verse?   
Kara-Kae: "I'm big enough to admit that I'm often inspired by myself" —Leslie Knope (of "Parks & Recreation")  
Ali: "Little children, you are from God and have overcome them, for he who is in you is greater than he who is in the world." 1 John 4:4 
23/ Time your alarm clock goes off.   
Kara-Kae: 6:30 a.m. (aka: way too early; I'm not a morning person)  
Ali: Depends on the day, anywhere from 5-7 a.m. (I am also NOT a morning person) 
24/ Are you an introvert or extrovert?   
Kara-Kae: I think I'm becoming an introvert. Motherhood does that to you!   
Ali: I'm an extroverted introvert...naturally an introvert but have become more extroverted out of necessity.  
25/ What's your favorite Milk and Honey design?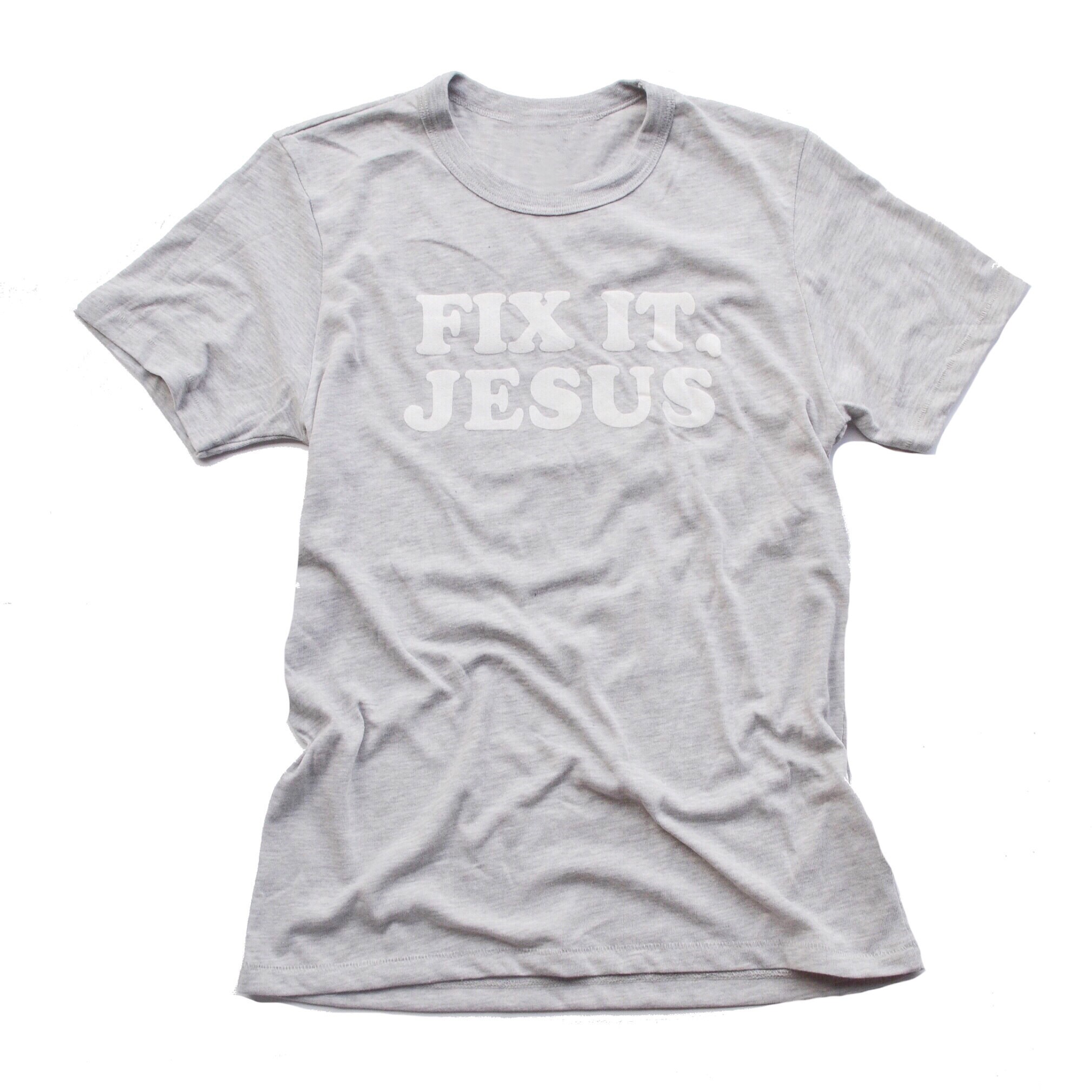 Kara-Kae: Fix it Jesus!   
Ali: Eyes Above the Waves 
26/ Cats or dogs?   
Kara-Kae: Cats are the WORST. 
Ali: Cats are evil...dogs are awesome  
27/ What's on your nightstand?  
Kara-Kae: Usually 3 cups of water (my husband calls me the kid from Signs), my airpods, and my favorite Body Shop lotion.   
Ali: Books, AirPods, candle, half full mug of cold coffee. 
28/ What's your biggest / funniest "mom fail?"   
Kara-Kae: There are sadly probably too many to list. The most recent was apparently not letting my nine-year-old watch "Jurassic Park." Obviously I missed the memo that kids like that movie?   
Ali: One time I forgot to do my tooth fairy duties and had to fess up to my oldest that I was the tooth fairy! She thought the tooth fairy had forgotten her and was SO upset! I had to pay up for that one! 
29/ In fairness, tell us about a mom win or a time when you felt you were really thriving. 
Kara-Kae: When I'm able to juggle everyone's schedule and actually be present for all of my kids in one day. It's rare, but when it happens, I feel like I can do anything!   
Ali: When we actually do all our school work for the day without wanting to strangle each other!  
Thanks to Kara-Kae and Ali for giving us some insight into their lives. Stay tuned to  thrivemoms.com and their Instagram (@thrivemoms) this summer for exciting news about their next collaborative project. 
**GIVEAWAY ALERT** Follow @thrivemoms on Instagram to find out how you can win a Thriving in the Chaos tee.