Good day, sunshine! Are you singing along in your head? I just returned from a week in the sun with my family, and I'm on a bit of beach high, if you will. So, I thought, what better time than now to share my sea-and-sand (and, yes, pool) must-haves? While the categories may seem obvious, I've gone a bit deeper, giving you several favorites for every group. Check them out here!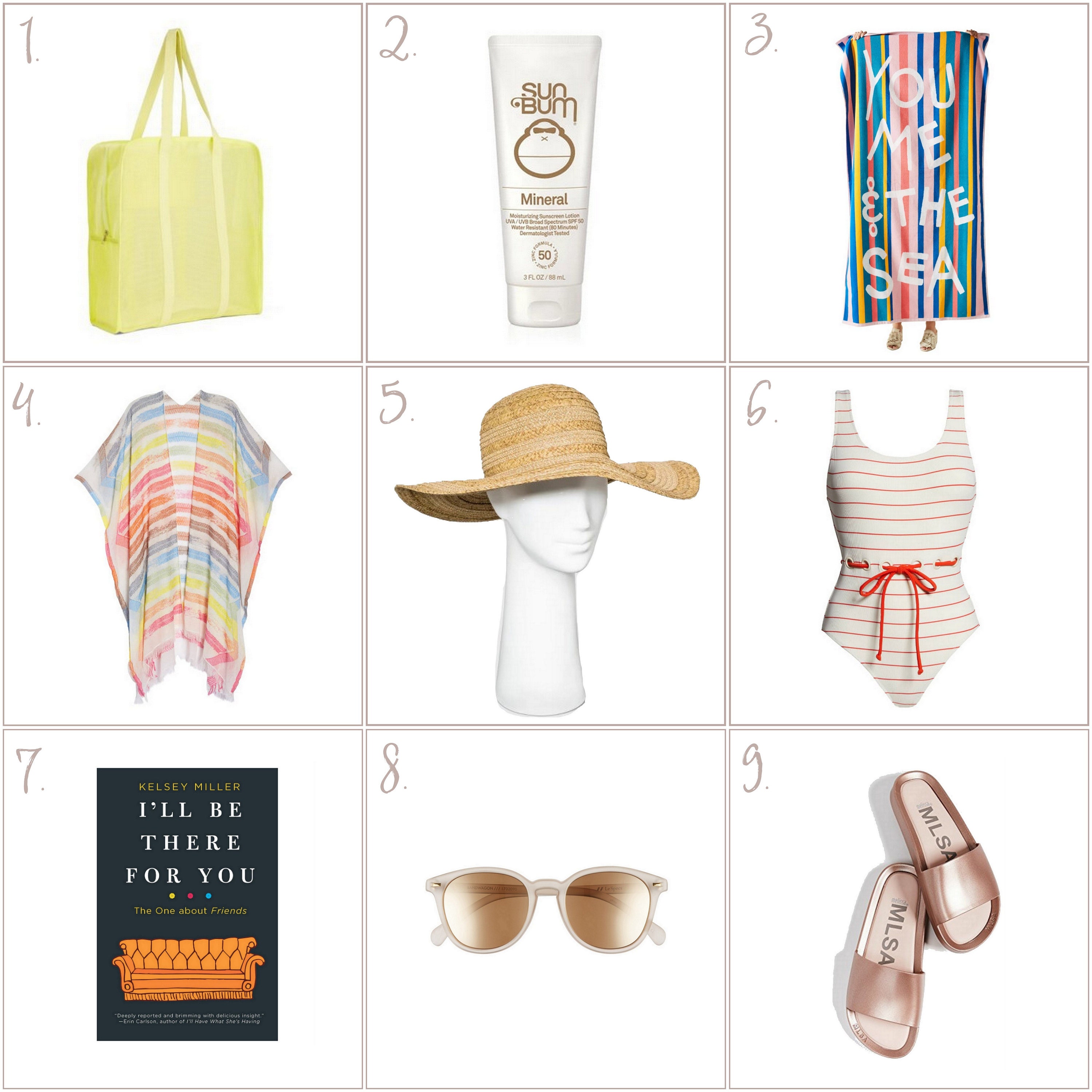 1/ Beach Bag. There are so many out there in . I adore the look of a , but honestly I'm more about practicality on this one. I need a bag that's big enough to hold my gear, has a long shoulder strap, and can withstand the sand and water. Pockets are a must, too! I recently stumbled on a new one (seen above at #1) at—of all places—Walmart that checks all the boxes for me, and it's under $10! I love the side pockets and the bright, beachy color. 
2/ Sunscreen. On my most recent trip to the beach I tried out the new mineral sunscreen from Sun Bum, and I'm officially a fan! It has the same classic, beachy scent as the original but in a new, better-for-you mineral formula. I also love the in Pina Colada. There's just something about that tropical scent!
3/ Towel. For drying off after a dip in the water, I like a , but a or is dreamy for lounging! The are extra cute. And our family loves to have a beach picnic, so we always throw in an beach blanket as well. For style and function, I couldn't resist this "You, Me, and the Sea" one. (P.S. these s were my favorite when my kids were smaller!)
4/ Cover-up. The cover-up is another item where prices—and quality—can vary quite a bit. There are some really cute out there that are great to throw on and off, and some that you might consider more of a fashion piece. There are countless style options as well: m, , , , , , or ! And if you are a cover-up shorts kind of girl, Milk and Honey are obviously the perfect choice!  
5/ Hat. A hat provides extra sun protection and extra style, sounds like a win/win to me! I found this braid-and-straw version at Target for less than $20. I also like this . Other favorites include a chic rancher or , and a . For traveling, look for a that won't get squished in your suitcase.
6/ Cute Suit. I am always on the lookout for fashionable, flattering suits, and one-pieces are generally my go-to. I'm willing to spend a bit more on a suit that I really love, but I have favorites from all over— , , to name a few. When you find a stylish suit that you feel good in, it's like striking gold! This striped, belted one-piece (also seen above) just spoke to me!
7/ Good Book. Reading is my number one favorite beach pastime. Good old or fiction always fits the bill, and more than anything I adore a or memoir. I also typically flip through stacks of magazines on a trip to the beach! I'll Be There for You was a favorite from my Spring Break trip to the shore.
8/ Sunglasses. We have a whole post on sunglasses coming your way soon, so I won't belabor this one too much. Let's just say, I have a thing for sunglasses! I adore the pair of that I've worn for a couple of years, but I also have a pair from the Walgreens endcap that are super fun. You can find and sunglasses just about anywhere! Right now the Le Specs pair above are sitting in my Nordstrom cart.
9/ Pool Shoes. When it comes to shoes for the beach or pool, I say leave your strappy sandals and leather slides at home and go with something waterproof and easy to slide on and off. The good news is, there are tons of cute options in this category! You can't go wrong with Birkenstocks', cheap , classic , or even Dr. Scholls ! You can find the stylish rose gold pair from the grid above here.
So there you have it friends, all my beach essentials in one place. Now, all that's left is to pack up the bags and head south to soak up the sun!