Hello, Spring. Is that you? We sure hope it's for real this time. That's why I put together a little outfit inspo to help coax the sunny skies to stay. Trust me, this is a fun post that's going to have you ready to get out and go places!
I've put together six different looks AND given you items at a variety of price points. Each look has a steal, a spend, and a splurge. Your "steal" is going to be less than $50 and something you can purchase knowing you will wear it throughout the season without breaking the bank. The "spend" will be an item that is slightly more expensive but will be something you will wear year after year, stretching that dollar amount to its full potential. The "splurge" is the category that haunts us. We see that dress or that shoe, and it calls our name, longing to live in our closet, but we shy away at the sight of the price tag. We go without purchasing only to find ourselves dreaming about that that flowy floral or that perfect platform. We save our pennies, we plot our shopping, and finally we can justify the splurge. The splurge item is something classic and fun that will be a fun add and will be relevant for years to come. So, without further ado, let's see the looks!
THE DAILY DRIVER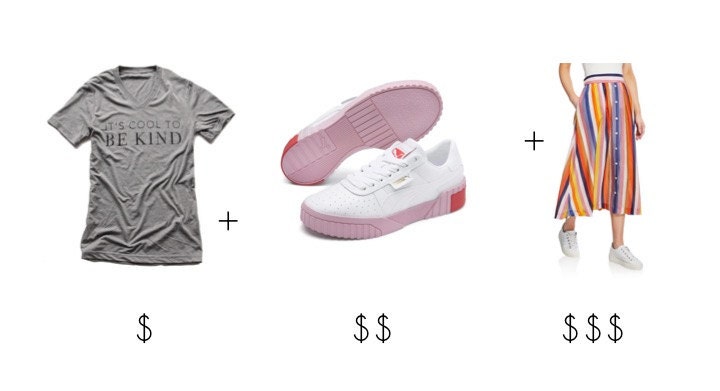 This is a look you can wear every day. A cute T-shirt and fun sneakers can go day to night with the right pairing. To add a bit of a frill, I found this timeless striped skirt that will take you from spring to fall and back again. Add a denim jacket over your shoulders if the temperatures take a dip!
SOURCES: Tee / Sneakers / Skirt 
THE UNIFORM-IST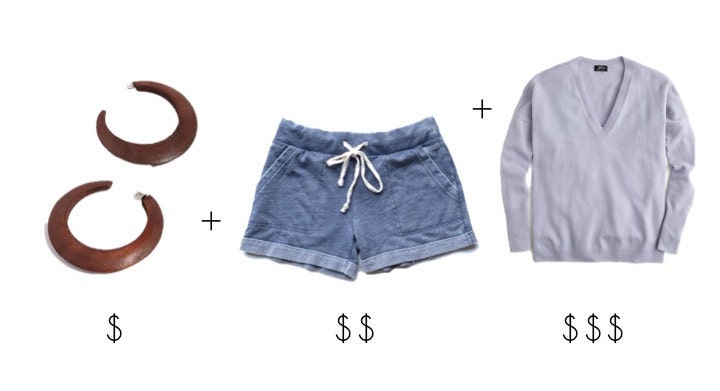 This outfit is definitely one of my go-to uniforms: cozy shorts with a classic V-neck sweater and an easy-to-wear hoop. The sweater is my splurge item here, and it is worth every penny. The color, the style, and the quality will not let you down; you may even find yourself passing this down to one of your kiddos one day—take it from a kid who is currently wearing her father's navy cashmere v-neck with jean shorts!
SOURCES: Hoops / Shorts / Sweater
THE PORCH SEEKER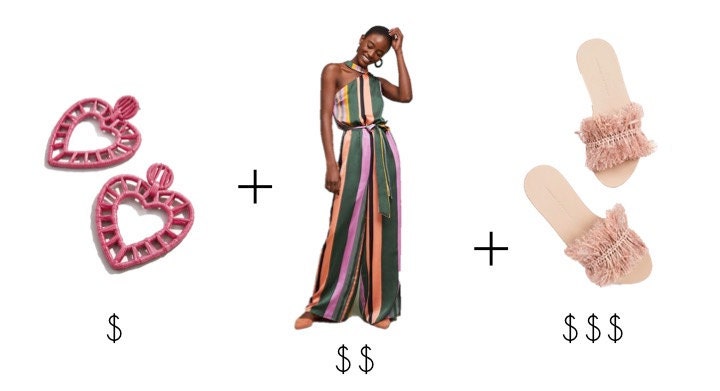 This outfit is fun and fresh and screams "dinner at a fun spot with the perfect al fresco dining situation!!" The shoes are my splurge item here but they are neutral and will go with everything. No matter your shape, the stripe in the jumpsuit will lengthen your line and will go day to night, pairing well with a denim or leather jacket.
SOURCES: Earrings / Jumpsuit / Flats
THE FANCY ONE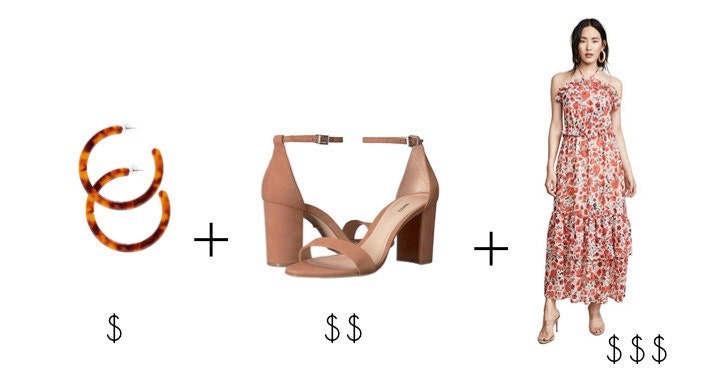 This is my dressiest look with the dreamiest of dresses. The dress is my splurge item, and I'll stand by it. The floral is timeless, the flow of the fabric is show-stopping, and I feel certain it would look amazing on a dance floor twirling around. This look takes you to a wedding, a garden party, or even to church with a light wrap or cardigan. This is a dress your daughters and friends will be begging to borrow for the foreseeable future. Plus, the neutral heel is a classic must-have item that we all need in our closet!
SOURCES: Earrings / Heels / Dress
THE BRUNCH LADY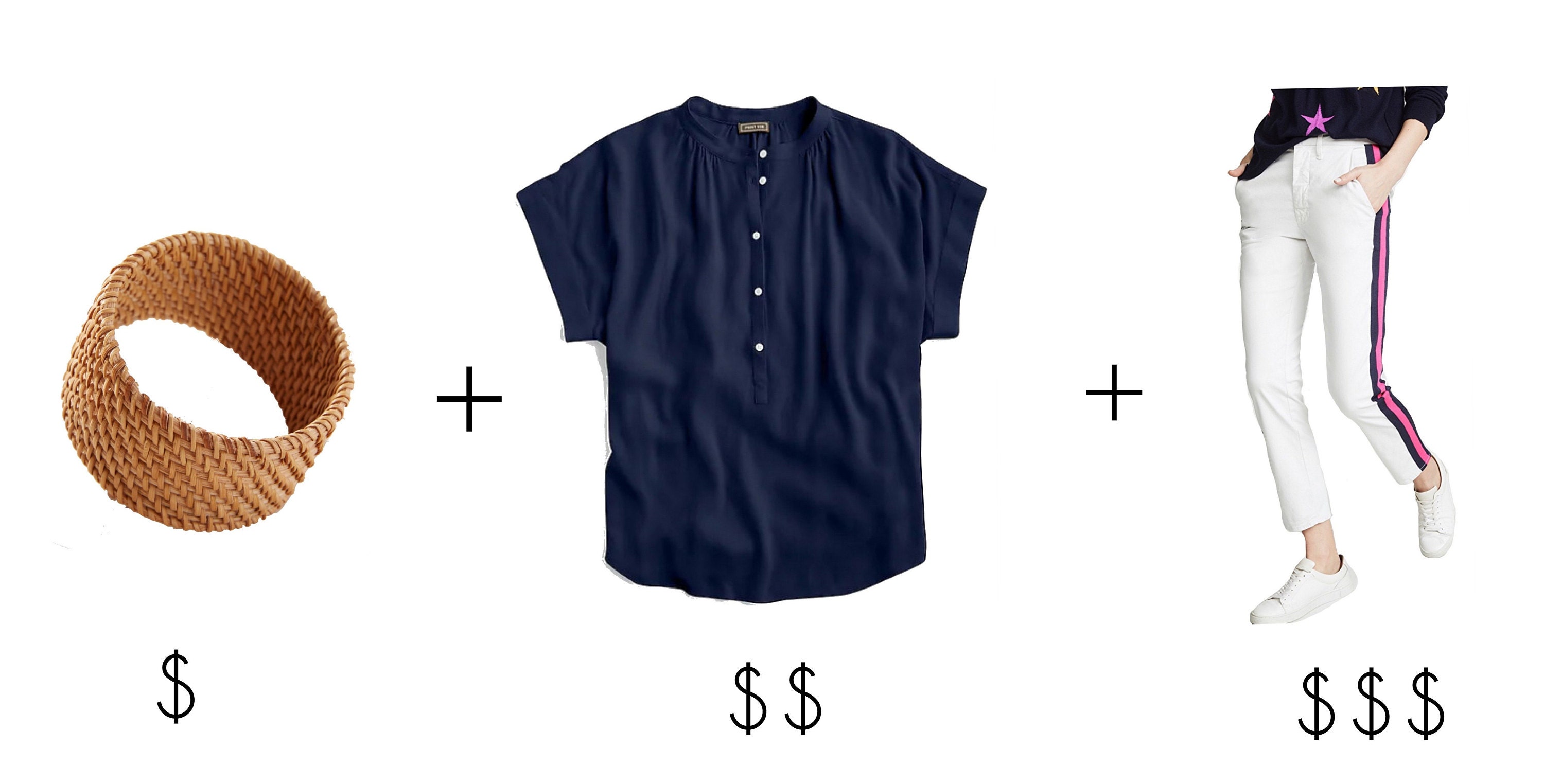 This look screams springtime. I'm a sucker for stripes so you can imagine my excitement when I came across these white Mother jeans. I paired these with a breezy navy top and a cute wicker cuff. The tailored style of these jeans allows this splurge item to have lasting power for many Spring and Summer months to come.  
SOURCES: Bracelet / Top / Jeans
THE VACATIONISTA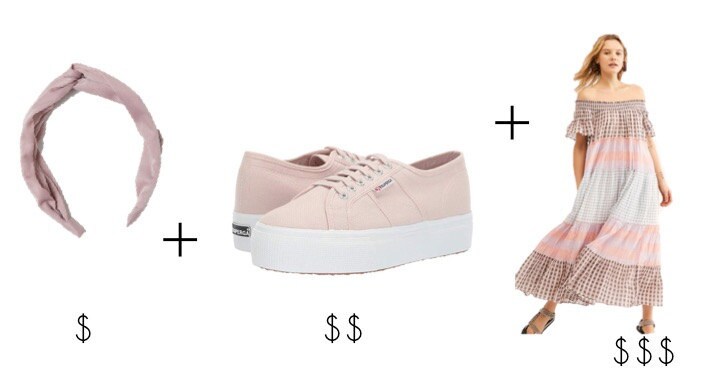 I was only going to share five looks, and then I came across this splurge-worth dress. This dress makes me think of vacation. Poolside with the kids, ocean views at dinner, or a pizza joint in the mountains… it's going all these places and more. My steal is my current favorite trend, the knotted headband. At $6 you can feel confident about dipping your toe in the trend pool. It should be noted that Amazon also has a bunch of great options in this department. Last but not least, the platform sneaker gets more action than you might think. With jeans, skirts, dresses, and shorts, these will quickly become a spring and summer staple with lasting power.
SOURCES: Headband / Sneakers / Dress
Fashion is supposed to be fun and a form of self expression so don't let it stress you too much. Whether you want to steal, spend, or splurge (or all of the above) is up to you! You might even be surprised to find that you already have similar items in your closet—which would be the ultimate steal.  
- by Amy // @apeeples
P.S. Looking for the items from the top of this post? >> Tank / Jeans / Shoes