Last week, for about 37 minutes, the combination of sunshine and climbing temperatures inspired me to indulge in what feels like a beloved pastime: I wore a t-shirt without any other layer accompaniment. Somewhere amidst these 37 minutes I caught my reflection. I saw a super cute 'caffeinated' tee with a blue polka dotted skirt and.... wait...wonky bra cup line poking out??? (Oh dear. Denim jacket instantly reinstated.)
Which got me thinking two things. First, I really do love this new polka dot skirt. And second, maybe I do need to get an actual T-shirt bra! Mandy always tells me about her favorite T-shirt bra and, to be honest, I just always thought I would rather spend $47 on a new pair of Joy Fit Lab pants at Target! But this moment in the mirror had me re-evaluating my financial decisions.
"Will my bra show through this tee?" is hands-down one of the most common questions we get at Milk and Honey—especially when it comes to white and light-colored tees. And the answer is always no, if you're wearing the right bra for your shape and skin tone. To shed a little more light on the subject, I did actual research and got actual (read: useful) answers for you. I know you've all scrolled to get to this bit so I'll get to it.
Our clear winner (and Mandy's favorite) is this Athleta bra. They have done such a great job in the color department (see all of the options for #2 below). When wearing white I do think it's a good idea to let that white shine and keep it neutral underneath. 
If you aren't wearing a white or light-colored tee then the skin tone color match will not come into play; I'll let you be the judge of your direction there. Personally, I need the color closest to the-palest-pinky-color-ever-made, while a friend of mine is in need of the color somewhere-between-yellow-and-brown-with-a-bit-of-orange. And, these are actual options at Athleta! Thankfully the color names are more sophisticated, but you get the idea. Not only do you have a wide array of skin tone options but you also get a comfortable, wearable fit, from AA-DD. The back coverage, the strap alignment, and cup positioning will do you all sorts of favors. The price point is good. Not so cheap that you feel like it might be made of recycled paper, but also not so expensive that you skip grocery shopping for a week to stay in budget.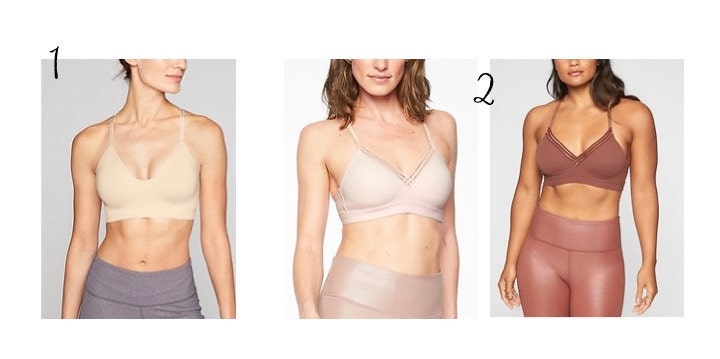 Next up for review are a couple from one of my old faithfuls: Nordstrom. These options only come in two color choices but they have a middle-of-the-road price point and would be a good option if you fall into the color camps they offer or you're going with a dark colored tee. The fit is comfortable and supportive, leaving no hints of a bra line, while keeping all the bits from bobbing.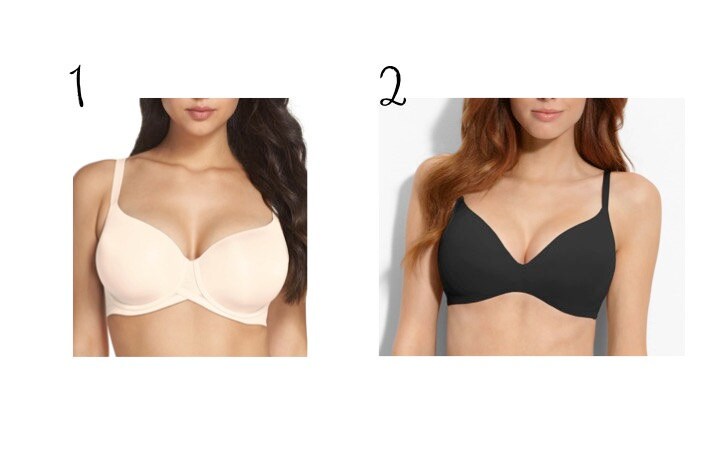 The next bras I found at Target. I went in hunting for color, coverage, lift, and price, and I may have found us a contender. This brand of bra comes in a bunch of different colors, so I was able to get a close match. It also sizes from plus 42DDD, with great back support and smoothing coverage, down to 32A. The band around the ribs is wide without pinching, and it also has the option to cross the back straps for a racerback tank.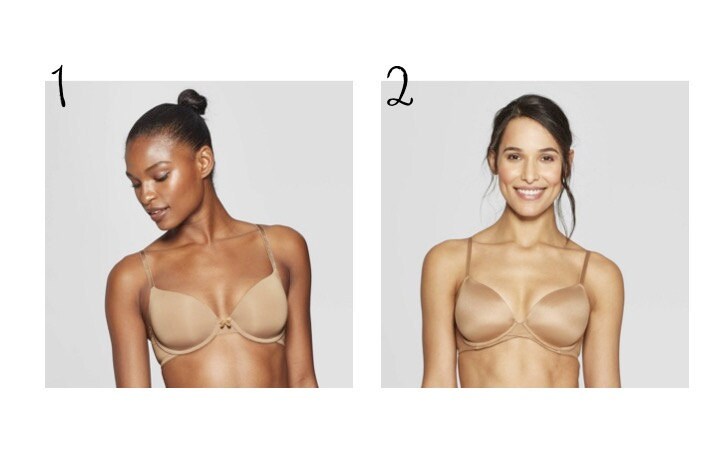 Not sure about the above options? While I was hunting for the right fit, I also found these three shops to have great options:                       
You can also visit any department store lingerie department—if you are the type that is ok with a woman standing in the room with you and chatting about your bra fit, lift, and even how to put on a bra. Most high-end department stores (Nordstrom, Neiman Marcus) will have a specialist you can speak with on this topic. Plan ahead for this adventure, as it will require an appointment. You might also check out their fit guides before you go. You can find Neiman's here and Nordstrom's here. 
Sometimes it's hard to think about spending money on things that no one will really see or notice, so I tried to give you a few options in terms of price. Although I must add, I'm now a believer in investing in the right undergarments! When I look at art or a photo of my children in a frame, I want to see the beauty in the creation. I don't want to be distracted by a lumpy, bumpy, unsuitable frame that's holding it all together.
Do your frame a favor, do a little research of your own, and find the support system that best suits you. T-shirt weather is nearly upon us so it's time to get this sorted out!
- by Amy // @apeeples