Hip, hip, hooray! Our spring collection is here. Fingers crossed, sunshine and blue skies are soon to follow. Am I right or am I right??  
Each of the pieces in this collection has a story all its own—kind of like me and you. Today, Mandy's dropping some behind-the-scenes knowledge to give you a peek into what inspired these designs and the meaning of each tee's message. Read on to learn more about your favorites.   
"When I look at your heavens, the work of your fingers, the moon and the stars, which you have set in place, what is man that you are mindful of him, and the son of man that you care for him?" – Psalm 8:3-4  
For some reason, I've always been fascinated by the sky, the stars, and the clouds. They remind me of how big and creative our God is. I love that the Bible has so much to say about the sky and the stars (Check out > Psalms 8, Psalms 147:4, Isaiah 40:26, or Gen 1:14-18). Lately my favorite song on repeat is "So Will I" by Hillsong Worship. The line "if the stars were made to worship so will I" inspired me to create a tee with a star image as a reminder that all creation is made to point us to God in worship. It helps that stars are such a trend right now! I wanted this design to look rough and imperfect, and it works perfectly on the equally trendy gray burnout tee. Each shirt looks just a little bit different, which is part of their beauty.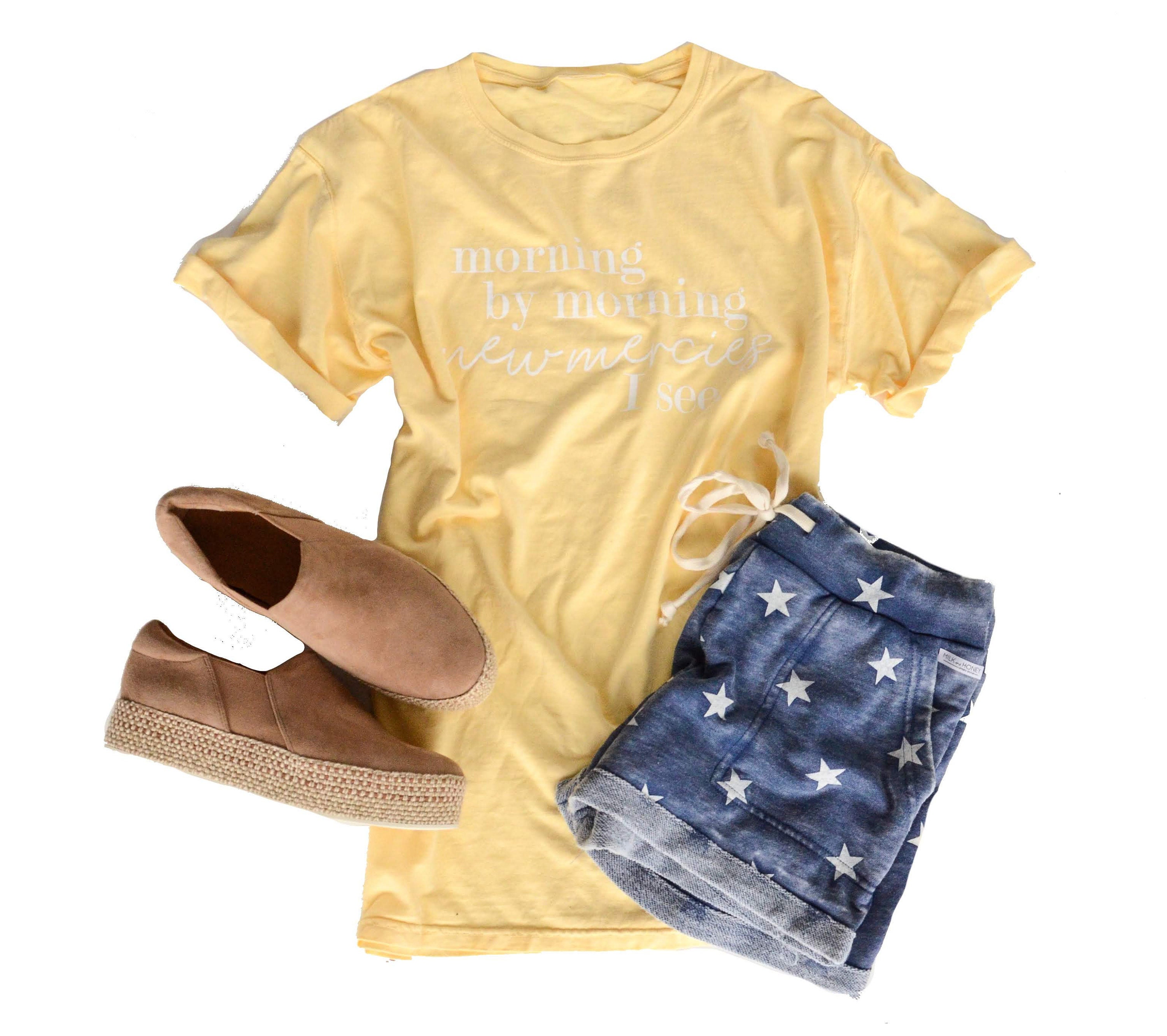 "The steadfast love of the Lord never ceases; his mercies never come to an end; they are new every morning; great is your faithfulness." - Lamentations 3:22-23 
You probably aren't surprised that this design was inspired by the lyrics of the classic hymn "Great is Thy Faithfulness." Are you singing it your head now? I wanted to include a pop of color in this collection, and right now I am all about this buttery, soft yellow hue. The color was just right for this particular design. This tee has a garment-dyed cotton style and slightly oversized fit, which makes it easy to knot on the side for added style. 
3/ It's Cool to Be Kind V-neck 
Kindness is always the coolest! I like this shirt's fun phrasing of such an important message. We've had lots of requests lately for a new V-neck style, and it felt like the right style for this slightly edgy, black-on-gray design that gets the point across.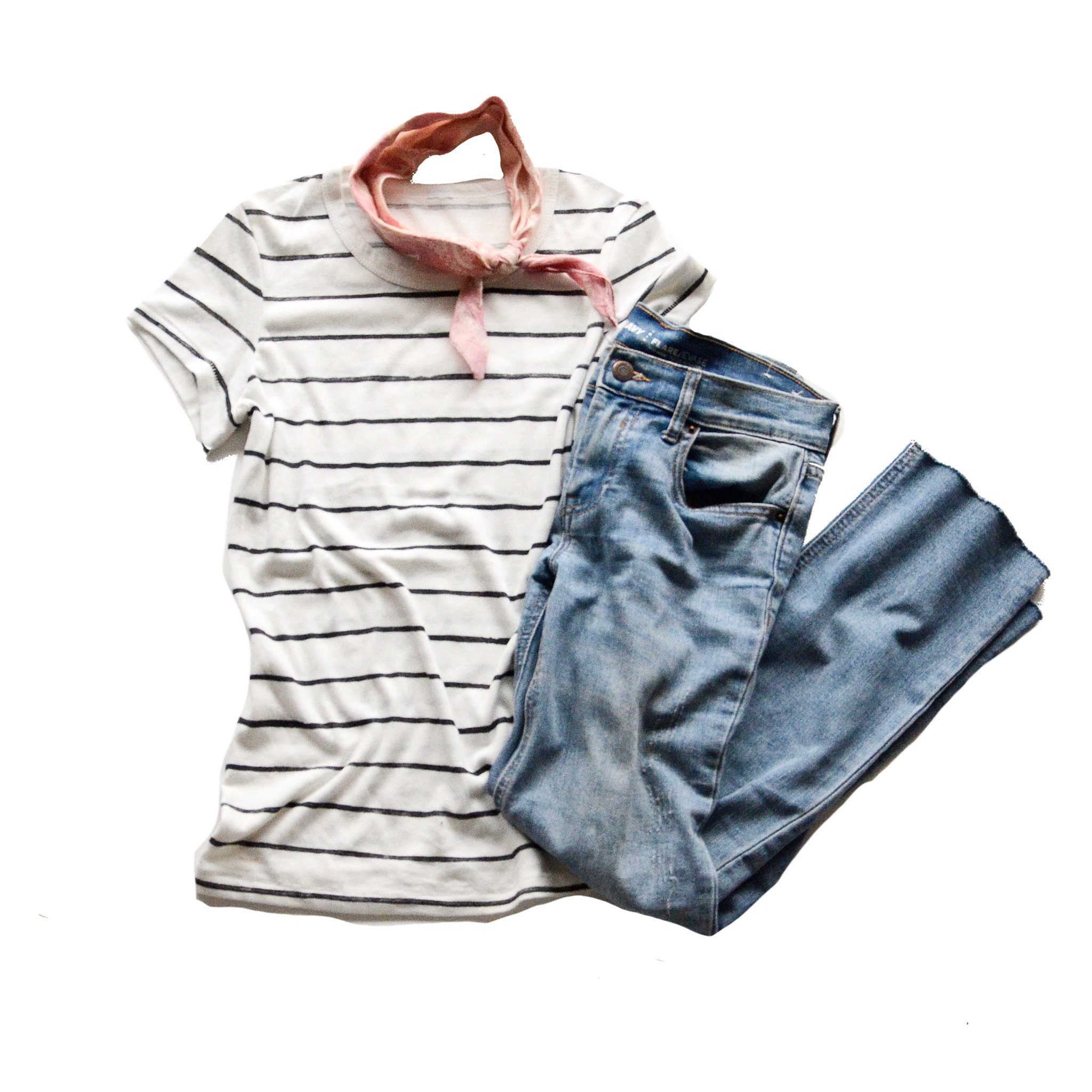 Black and white stripes are one of my all-time favorite "neutrals." They will never go out of style! This tee perfectly rounds out the spring collection, which has a mixture of color and shades of gray. Plus, it's super versatile; it can be dressed up, dressed down, layered, or worn on its own. There is literally no limit to how you can wear this classic!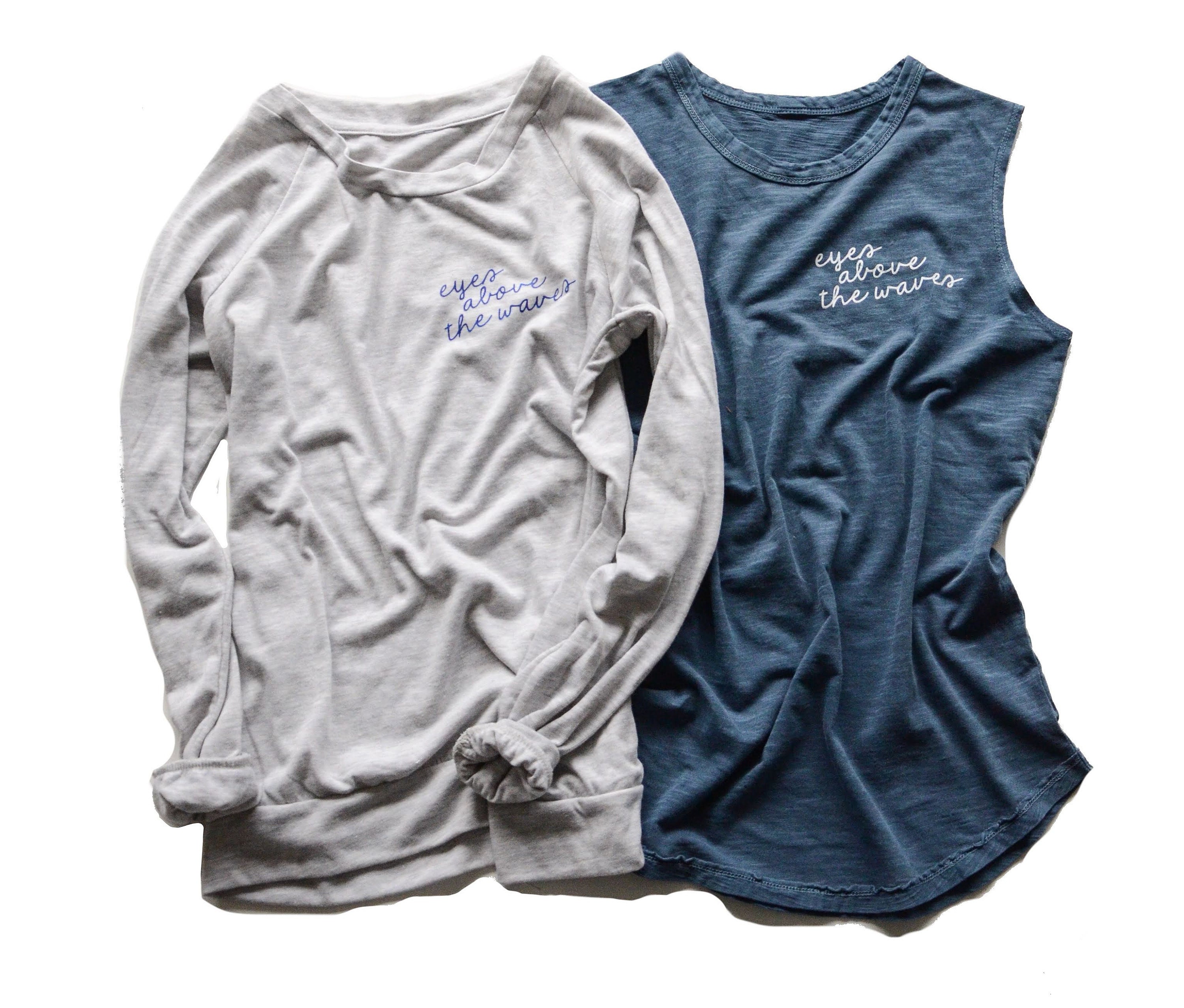 5/ Eyes Above the Waves Muscle Tank & Pullover 
We had to bring this design out of retirement! It was first released a couple of years back, and we get requests on the constant to offer it again. The phrase "eyes above the waves" was inspired by a lyric from the hit song "Oceans" by Hillsong. It's a reminder to keep your eyes and heart focused heavenward regardless of your circumstances. Both the slub cotton muscle tank and the lightweight jersey cotton pullover are perfect for spring, so we couldn't choose just one to bring back!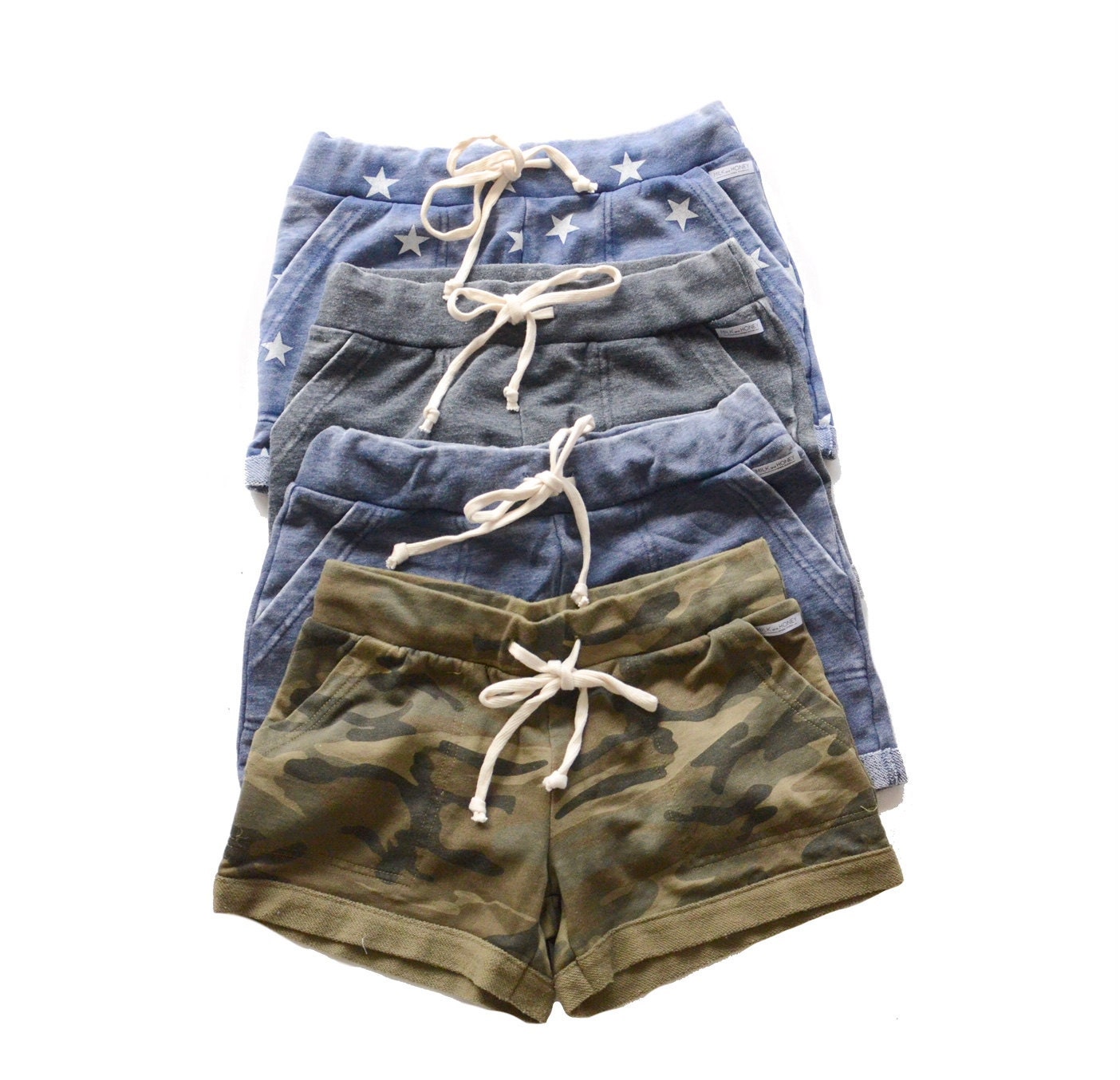 With this collection, we're bringing back last year's ultra popular lounge shorts, including an all-new star print. We love the way these pair with sweatshirts and pullovers during the transition season, and with tees and tanks all throughout spring and summer. They're the perfect everyday piece: cozy and comfortable but still stylish and flattering. What's not to love about that?    
Find a favorite? Shop the full collection on our site now. And, keep following us here and on Instagram as we show you how we're styling our spring collection.