That's right! White jeans can be year-round! When I was growing up I always heard people say, "no white after Labor Day." This, of course was simply an invitation for me to figure out a way to break the "rule." I'm not typically a rule breaker, but this felt more like a challenge than defiance.
White is my favorite color to wear because it goes with everything, and denim is my closet's star performer; how dare I limit the combination to just 5ish months a year?!  
The important thing when dealing in white denim is to remember to not fully ignore the actual season your experiencing. You can do white jeans as long as you give the cooler temps a nod with a sweater, jacket, or scarf. With that being said, I do think the white denim jackets, skirts, and shorts need to be tucked in tight while visions of beach trips, lake days, and summer soirees dance in their heads.
Because white goes with everything, you can put your white jeans with just about any sweater you have in your arsenal. My favorite look is white jeans with a big, chunky white turtleneck (watch that make up though girlies!) and big gold hoop earrings. You finish this off with any shoe: cowboy boots, flats, sneakers…depending on the weather, you be the judge. Here's one combo I love.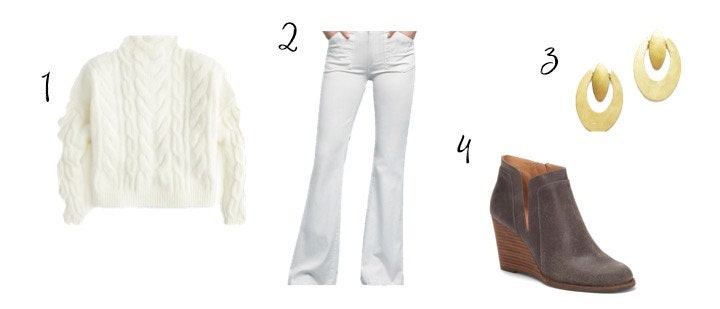 Anything camel or tan-colored is always pretty with white jeans. And, it's a staple hue many of us have in our closets. Throw a camel wrap over your denim shirt with a pair of loafers or slides.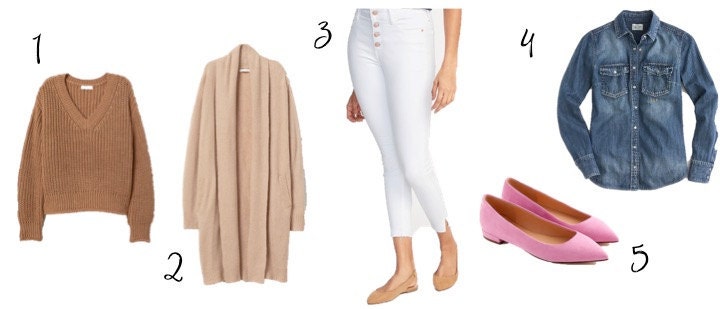 One of our forever favorites is a simple tee with a blazer and flats. If you want to feel dressed up without a lot of actual dressing-up effort, try this on for size. It's an instant and easy home run.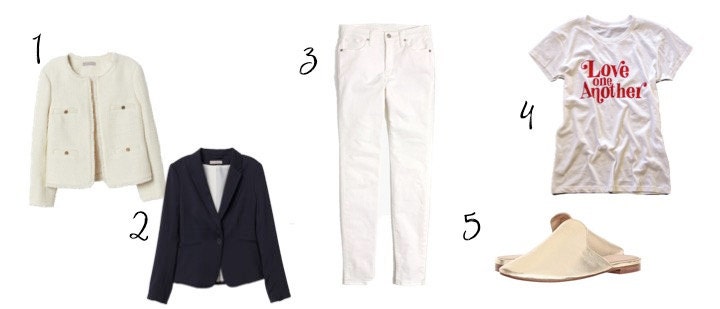 Flannels and plaid shirts look great with white jeans, too! You can add a little interest with a popped collar or by buttoning it all the way to the top. Wrap it or vest it. Finish it with a sparkly earring and boots or flats, and you're out the door.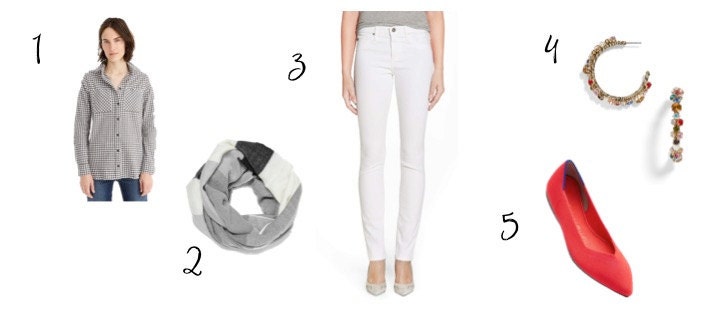 ALL ABOUT THAT CUT
In terms of the cut of your jeans, I love the fitted look, cropped just at the ankle with a flat or loafer. You can also do the super skinny jean tucked into a riding or western boot. The flare in the white jean is definitely still a thing, too. To give you a little height under all that volume, pair your flares with any kind of platform shoe, from a sneaker to a clog or even an oxford for height under all that volume. 
And, as always, my advice when jean shopping is to check those pockets in the back! We need to make sure that pocket is working for us not against us. Some pockets are small and sit higher up on the back end giving more of a curve and some pockets are bigger and create a flatter look. Insert your personal preference of how you would like to present your shape (or lack thereof) and there you will find your feelings on pocket size.  
Go get those white jeans out of the box where you stashed your straw hat and swimsuits, and accept the challenge!
- by Amy // @apeeples