Erin Moon fancies herself a "Creative Swiss Army Knife," and her resume backs her up. Erin is the COO of the (which produces the popular podcast "The Popcast"), the creator of a hilarious monthly newsletter called , the co-author of a , a coach and director for Birmingham's , and a former Bible studies editor. Whew! Everything she does mixes smart humor and infinite creativity, and we personally can't get enough.  
Erin dives into everything from Red Ribbon Week to Zac Efron's hair on her binge-worthy , and has even written an on Chick-fil-A sauce protocol, but today (February 6) she's showing us a little more of her serious side with the release of , a digital guide and devotional for Lent. She calls Lent the "most unsexy of the church seasons," but in OHL, Erin invites us to hold the tension that knows rejoice and lament in the same space.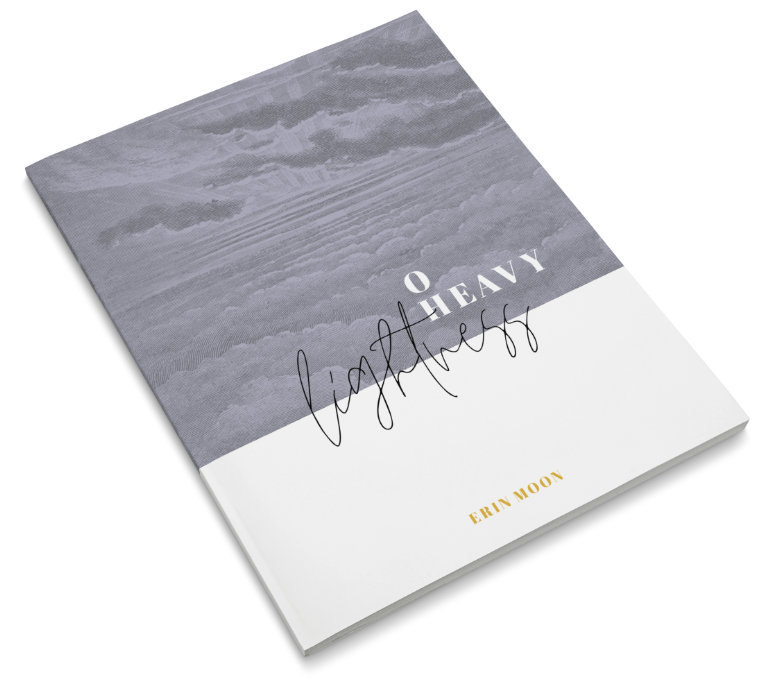 In honor of today's release, we put Erin "On the Spot" to find out more about the purpose behind OHL, not to mention the answers to hard-hitting questions about her movie preferences and favorite pizza toppings.
1/ What made you want to create a resource for Lent? Lent feels very sacred to me. It's a time on the church calendar when you can ask the hard questions; You can sit with the difficult parts of humanness, where you don't have to have the answers. I'm not a naturally introspective person, and what I like about Lent is that it gently guides me to places I'm uncomfortable with, and allows me to sit in them. 
2/ What do you hope to accomplish with O Heavy Lightness? I really hope to make Lent, which is an observance I knew nothing about 10 years ago, accessible for people of all denominations. Even if your church family (or if you don't have a church family) doesn't observe, these liturgical holidays are so rich.
3/ Now, tell us a bit more about you, personally. Who all lives in your home? I have one husband, Ben, who I've been married to for 13 years. We made three humans: Holland (3rd grade), Marlo (Kindergarten), and Cy (very small).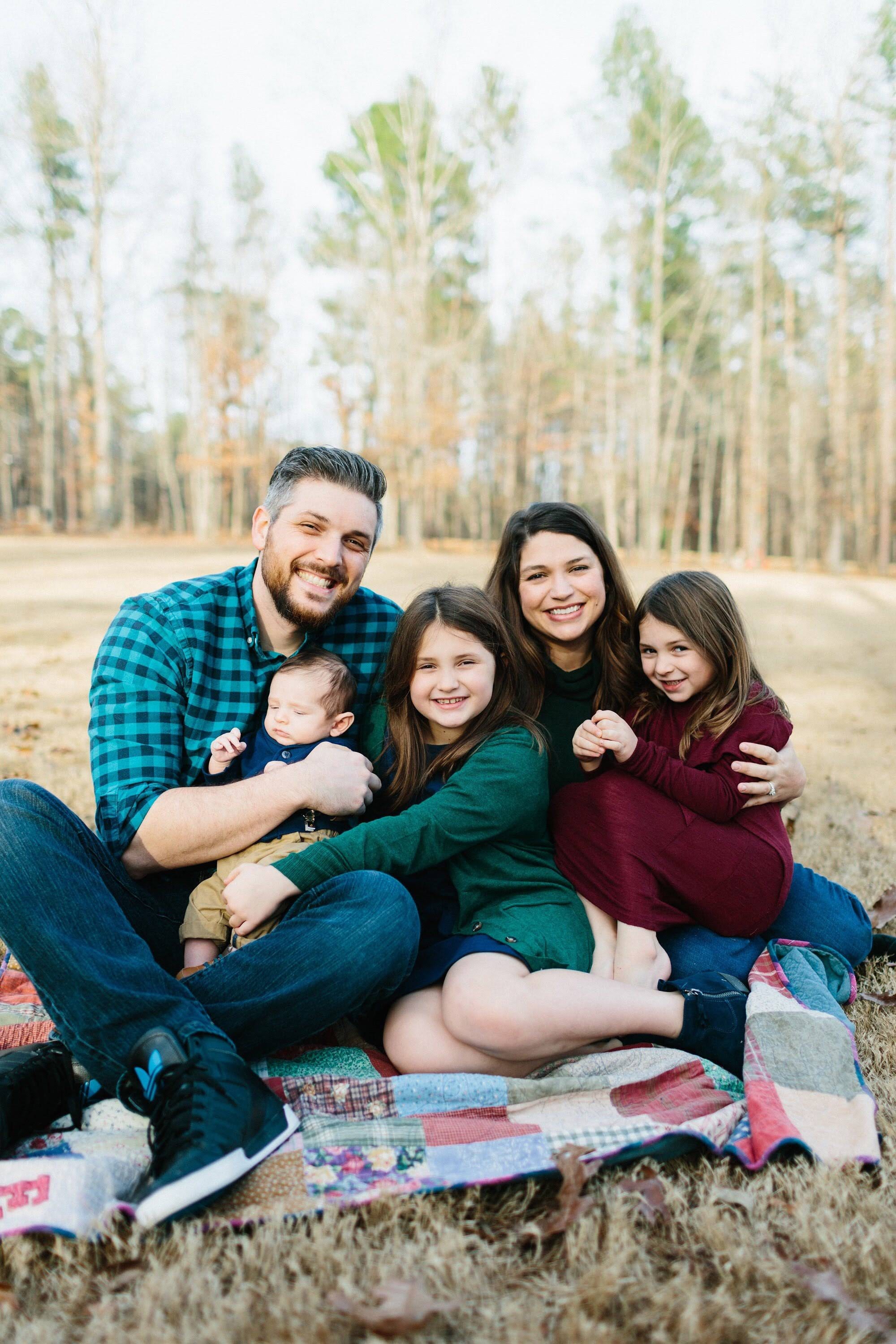 4/ Favorite city? I visited Chicago last year for the first time and loved it. I think that was mainly because I saw Hamilton there and ate the absolute best burger of my whole life while I was there, but I'm a simple lady with simple tastes. All it takes to win me over is food and being Lin-Manuel Miranda-adjacent.
5/ What would you eat if you knew it was your last meal? A medium rare steak, a giant baked potato with butter, sour cream, and ranch dressing, and a piece of apple crisp. I eat this often just in case I die suddenly.
6/ Wide open spaces or city streets? I grew up in the Texas Panhandle and wide open spaces are definitely my thing. We live in Birmingham, Alabama now, and it took me a good ten years to get used to all the trees.
7/ What's your favorite thing in your closet right now? In my closet, it's my army-print, button-down. In my dresser, it's my Milk and Honey joggers. Oh Lord, thank you for these joggers.
8/ Neutral hues or bright colors? I wear some version of denim, black, blue, gray, and green pretty much every day. I very rarely wear bright colors.
9/ Snickers or Starburst? Snickers. Fun sized. 400 of 'em.
10/ Who would play you in a movie of your life? Gina Rodriguez—who is the prettiest and has the prettiest hair. If Julia Roberts can play Erin Brockovich, Gina Rodriguez can play me, right?
11/ Favorite all-time movie. It's probably Kiss Kiss Bang Bang or The Godfather II. I watch KKBB and get so mad I didn't write that screenplay. I watch The Godfather II and want to never write again.
12/ Who has influenced you the most in your life? It's my parents, who are so wonderful. We have not always had a great relationship (because I was once a teenager), but they are such quality people. They strike that perfect balance of "we believe you can do anything" and "you're acting like an idiot, please check yourself."
13/ What's on repeat on your playlist? I'm all up in Maggie Rogers right now. Her new album is incredible.
14/ We're putting in an order for pizza. What's on your half? Italian sausage, bacon, and mushrooms. 
15/ Who was the last person to text you? My husband to tell me I forgot to set the chicken out to thaw. I'm killing it.
16/ How do you recharge? Every night I sit in bed and play Candy Crush until my lives run out. It's the perfect way to decompress. I also do yoga and Zumba, but Candy Crush is considerably more fun.
17/ Jeans or skirts? Jeans.
18/ Describe your style in 3 words. Elastic waistbands forever.
19/ What achievement makes you the most proud? I'm pretty proud that I understand how to pay my property taxes and go to the DMV with the proper documents.
20/ Time your alarm clock goes off. 6:15 a.m.
21/ Are you an introvert or extrovert? I'm ambi-verted! I think at my core, I am probably an extrovert, but I also just like me some alone time. My MBTI is ENFP.
22/ What's your favorite Milk and Honey design? I love Fix it, Jesus. It works for so many occasions.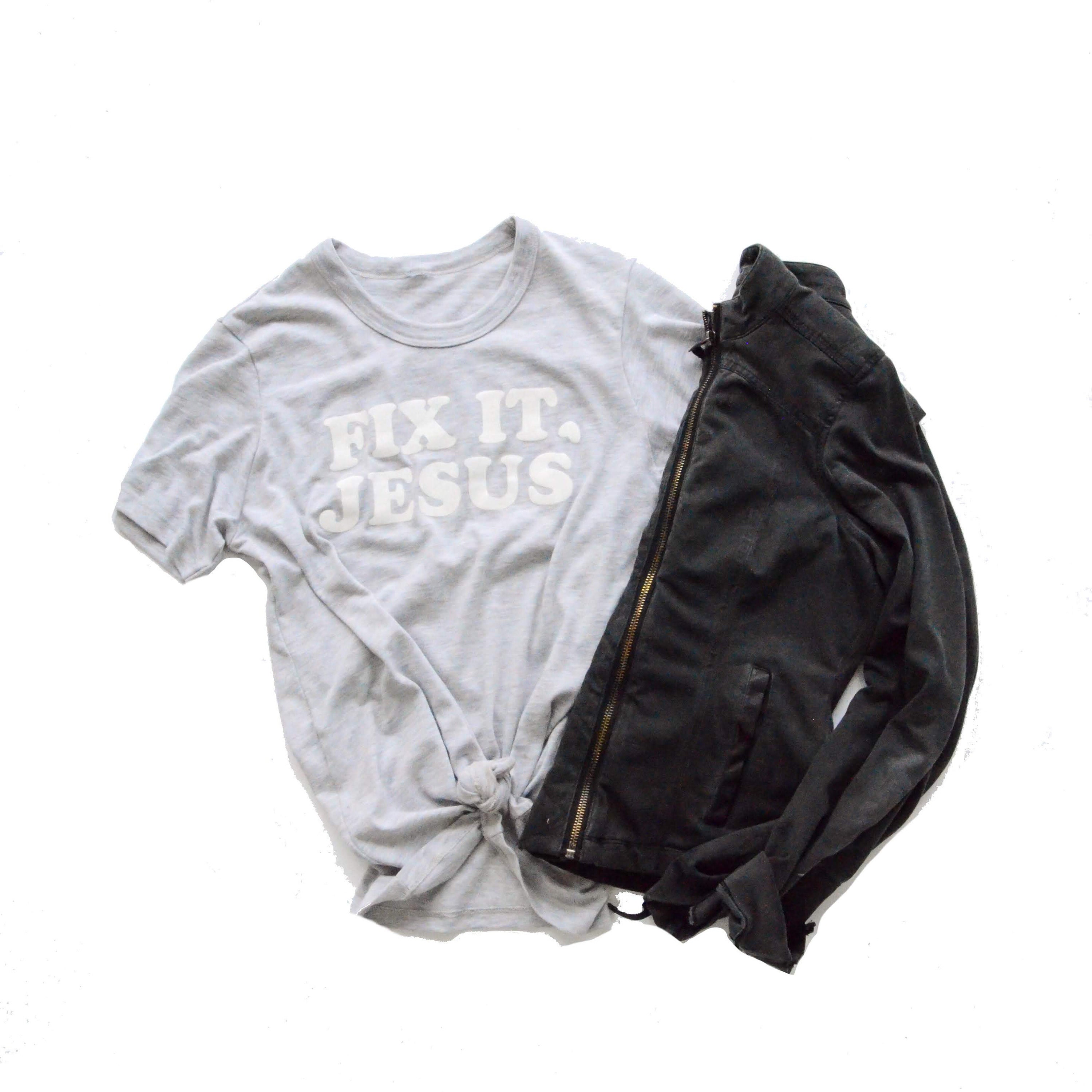 23/ Cats or dogs? Dogs. We had hunting dogs growing up, and Ben and I had a dog named Phyllis (after Phyllis from "The Office") when we first got married. We underestimated Ben's ability to sleep heavily, and overestimated my ability to sleep lightly, and so Phyllis had to go to a farm (a real farm, not a farm like we put her down). Phyllis is much happier and so is Ben. I think.
24/ What's on your nightstand? A stack of books. Two 5-year memory journals. A jewelry dish my kid made me that includes: a cork from a champagne bottle I opened on the day of my sister-in-law's wedding, a broken necklace from a child, two bobby pins, and cough drop wrappers.
25/ You wear a lot of hats. If you had to create a title describing all of your roles in life, what would it be? I like to say I am a creative Swiss Army knife. I can do a lot of things passably, because I've had jobs where I needed to learn a skill, so I just figured it out. Whatever I'm doing, I'm using my theater degree, and for that, my parents are very proud.
26/ What do you love most about the Internet? Some of my dearest friends came from the Internet!
27/ What part of the Internet needs to die? Pretty much all of Facebook can go shave its back.
28/ What's your best "Popcast" memory? We did a live show in Louisville, and when we walked in to see the venue, we realized several things at once: 1) there was no air conditioning in June, 2) a graffiti interpretation of Pluto peeing on the wall was painted on the stage, and 3) there was a giant wooden sculpture of a phallus that one could (should they feel the need) ride, complete with saddle. I was also 6 months pregnant. Looking back, it really is funny how terrible that show was, but at the moment, I thought it might be best to just quit and go home. 
29/ Ballpark guess: how many Instagram DMs do you get in a day? Depending on what I post, probably around 50. Unless I say something controversial like "it's cold here today" and everyone in Minnesota feels like they have to tell me it's -60 degrees there. Then it's more (love you, Minnesota).
Head to learn more about O Heavy Lightness and grab a digital copy for yourself, and be sure to give Erin a follow over on . And last of all, don't miss the we have going on today—you could win a copy of OHL plus Erin's favorite Fix It, Jesus tee from yours truly.