Recently we discussed fun date-night looks and in the process of all my painstaking research for said post I realized: wouldn't the daytime like to see a little bit of fancy, too? Why should the evenings have all the fun?!  Today we are chatting about "daytime fancy" and a few trends to try before the sun goes down.
SEEK SOME SEQUINS
Sequins aren't just for the starlight anymore. We've all been seeing sequin skirts, joggers, and tops that are catching our eye and making us feel a little brighter. A sequin skirt with a tee and booties is perfect whether you're in front of a classroom or in a board meeting. Pair a sequin top with jeans; then add sneakers, a top knot, and hoop earrings, and suddenly you're ready for that last-minute girls lunch you've been trying to squeeze into everyone's schedule. If full-body shimmer is too much for your taste, you can dip your toe in the pond with a headband, shoe, or even a pin on your denim jacket.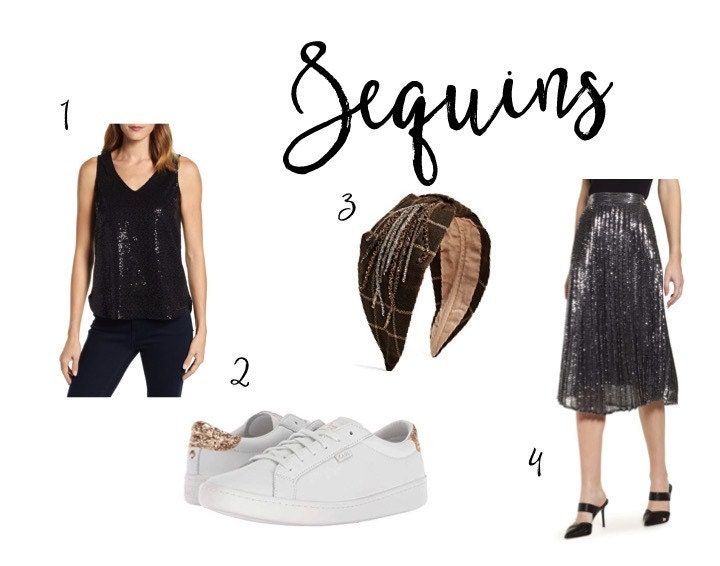 LET IT BE LEATHER
Personally I'm drawn to a little more of an edgier look: leather! You don't have to break the bank to get this look. You can wear coated denim, leather-look leggings, or vegan leather—which has come a long way in the past few years and is also a great option. Leather pants, jackets, and even skirts are great with everything from a silky feminine blouse to a simply stylish tee and all things in between. When it comes to your feet, you have relatively no boundaries when pairing with leather. Sneakers, flats, simple heels, or booties are all great options! 
If you're going with pants, soften it up a bit with a cozy sweater or tunic on top. A simple button-down or denim shirt is always a no-brainer with a leather pant. Skirts are cute with sneakers and tees, and you can top it off with a denim jacket or cardigan. If you're reaching for a leather jacket, know you can wear it with almost all things EXCEPT other leather items. Throw it over a flirty dress, add it to a white V-neck and jeans, or pair it with a pretty black jumpsuit, but please, oh please do not commit any leather on leather crimes; "too much of a good thing" does indeed apply in this case.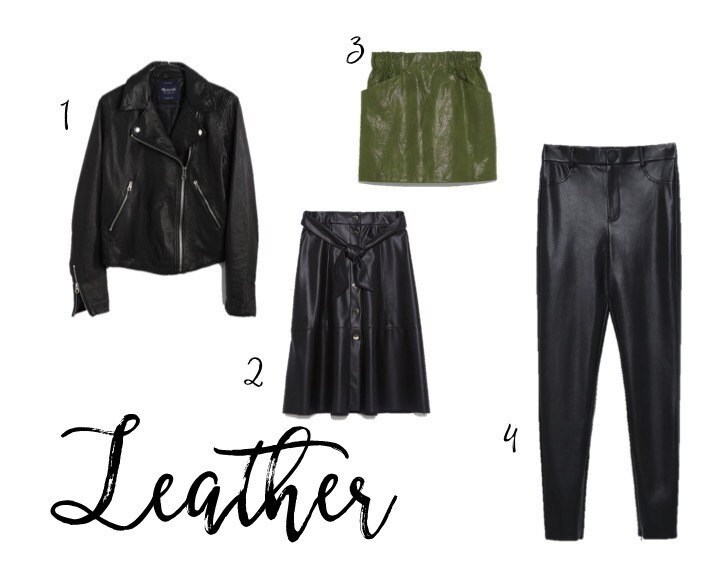 GO FAUX FUR 
Because I like things in groups of three, I'm highlighting one more fancy frill that wants to see the light of day: the fur. Faux fur is showing up everywhere right now. It's on the collar of your jacket, at the cuff of my daughter's sweater, even on our shoes and our athleisure. Let it be! By all means, we should definitely been leaning into this cozy embellishment that amps up our everyday items. This trend is easy and affordable and, whether you like it or not, it may induce hugs. Fur goes to work, to lunch, to sporting events, and, yes, even the grocery store. The only hindrance would be that pesky rain.
So there you have it. Don't waste the day away dreaming of floral prints and sunshine, here's your one chance (to be daytime) fancy, don't let me down. Yep, I had to.
-by Amy // @apeeples