When my husband and I were newly dating, and then soon after as newlyweds, we had different interpretations of a date. I thought he should ask me on a Wednesday for a Saturday night dinner. Then I thought he should plan the dinner and bring me fresh flowers the day of the date. I wanted to plan ahead and anticipate the event, picking out my outfit and looking at the menu ahead of time. He, come to find out, considered it a date if we went grocery shopping together. Naturally the discovery of our differences ended in me irrationally crying and blaming him for not being a mind reader.
Now, 13 years, 3 kids, and 8 moves later we have redefined the date. Between sports practices and games, dance class, homework, and piano… on top of feeding everyone that lives under our roof, we have learned to squeeze in a date whenever we see an opening.
Sometimes the outing is sprung on me at the last minute and sometimes we are able to plan ahead. Regardless of the time frame I'm protective of my time away from our routine. I like to celebrate the fact that I'm out to lunch without my kids or squeezing in at the bar table at the newest restaurant. I change out of my athleisure, grab a bag that doesn't have toys and snacks in it, and remind myself of my "interesting adult" status. 
Your date might be lunch with your best buddies, dinner and a movie with your favorite guy, or ice cream and an arcade with your son. No matter the agenda or company, it's an excuse to celebrate the event and wear those lovely things you have hanging in your closet.
In order to alleviate any kind of outfit stress, we've put together a few looks you can create from what you already have. Paying attention to the winter temperatures, we are layering and looking cozy—without hiding your cute little self under it all. Check out these four ideas.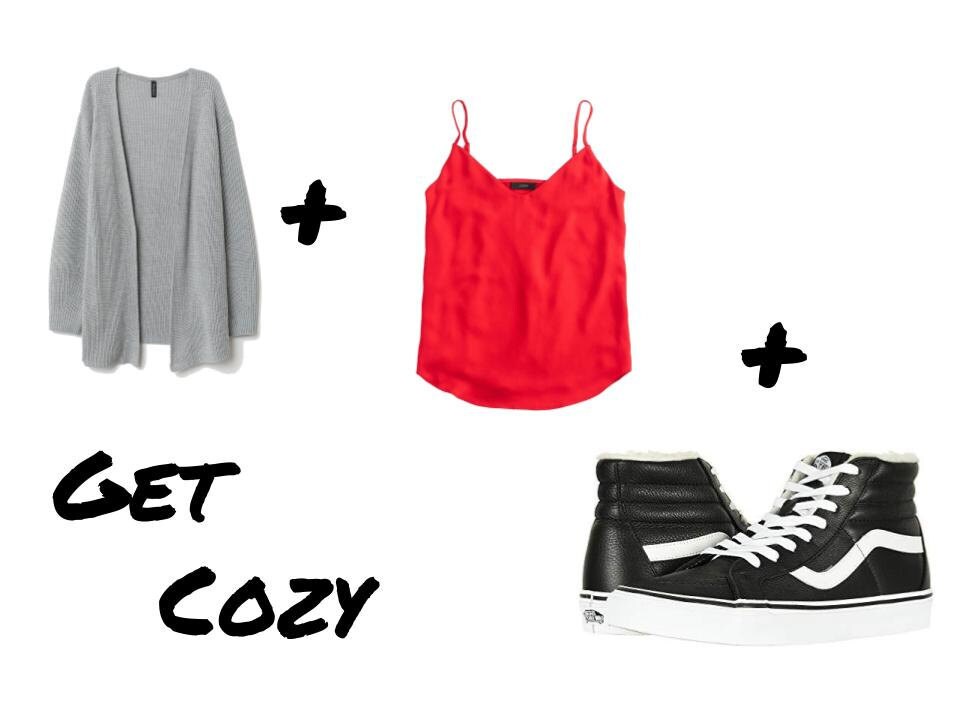 GET COZY
One of my favorite looks for a day or nighttime date is skinny jeans, a silk cami, and a big cozy cardigan. Depending on the weather and activities my feet are either in high-tops or flat metallic mules to finish out this outfit. Simple gold or acrylic hoops give a perfect laid back shine to punctuate it all. 
SOURCES: Cardi / Camisole / Shoes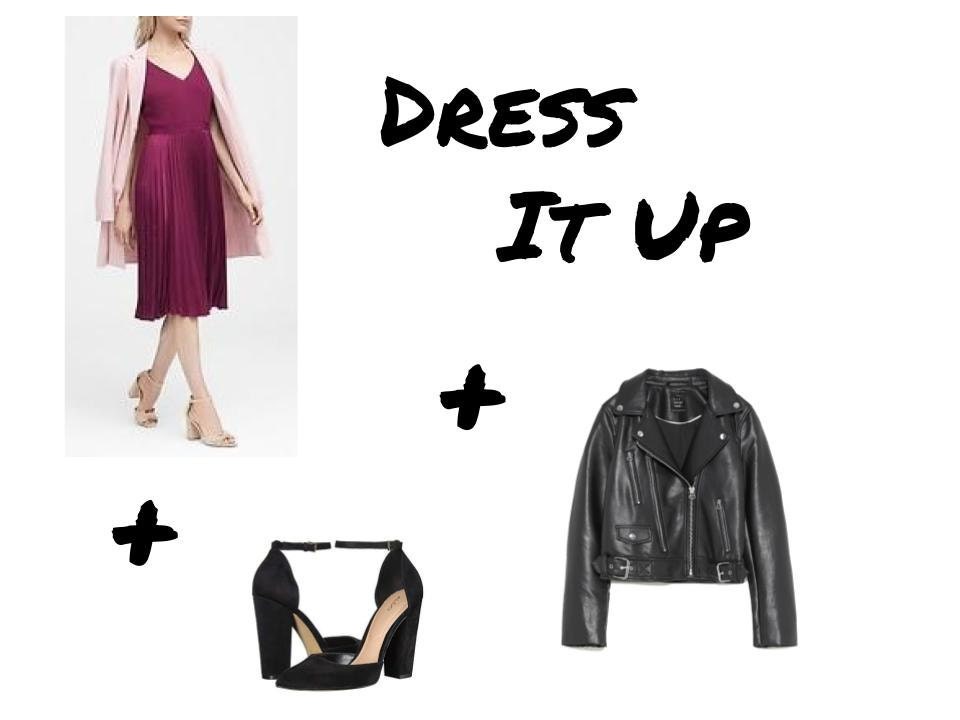 DRESS IT UP
Getting a little dressed up gets tricky in the winter but we won't let that slow us down. A silky slip dress or a fit-and-flare option with tights and a block heel, boots, or even sneakers will do the trick. With the slip dress throw on a leather jacket, cozy cardigan, or even a cropped chunky turtleneck sweater; it's effortless, chic, and still warm. The fit-and-flare dress will need a jacket and maybe a scarf; denim, leather, or even a blazer tops this off perfectly. You can also throw on a simple shirt dress with the same cozy cardigan and sneakers; definitely a day-to-night look!
SOURCES: Dress / Jacket / Shoes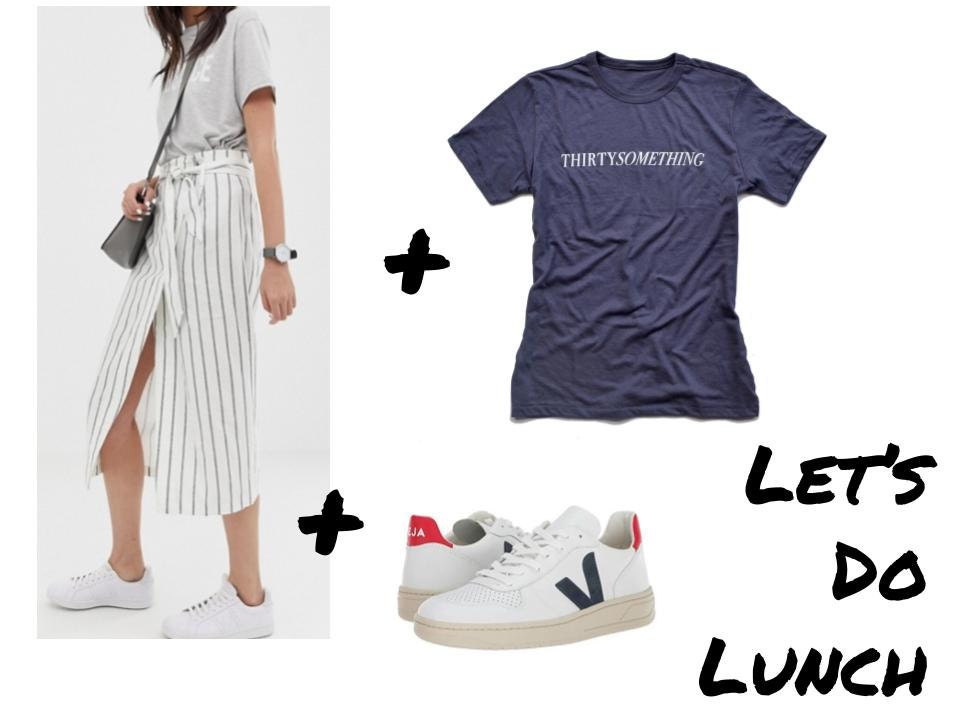 LET'S DO LUNCH
Lunch dates—whether with my husband or friends—always leave room for a little more creativity. I'm a fan of a pencil skirt with a sweater and sneakers, mules, or boots accessorized with a sparkly earring, ponytail, and a red lip. I also love a pleated midi skirt with a cozy T-shirt, a denim jacket, boots, and simple hoops. 
SOURCES: Skirt / Shirt / Shoes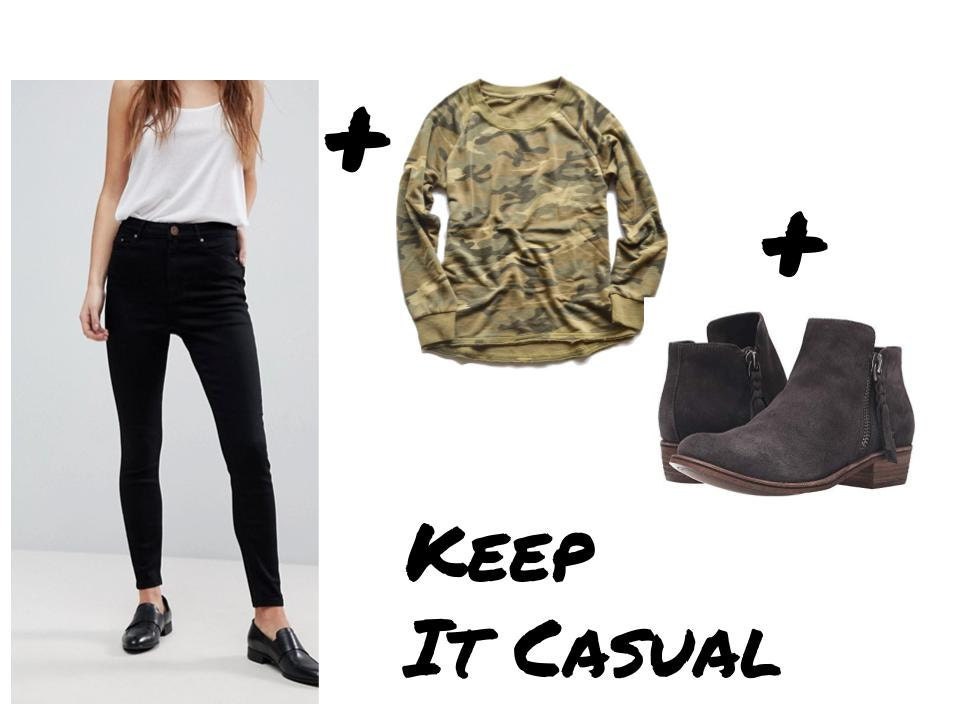 KEEP IT CASUAL
A cozy V-neck sweater or a sweatshirt with black jeans or leather pants is another versatile winter date night look. If the "V" is low cut, add a lacy camisole under your sweater to add a little flirt and femininity. I like to do a statement earring with this and whatever shoe catches my eye that day. 
SOURCES: Jeans / Pullover / Booties
Remember date attire doesn't have to be stressful or feel fussy. We can look amazing and give off the impression of low maintenance! We spend so much time and effort trying to actually get out, we don't need to waste any time wondering what we should put on to get there. OH! And please carry a bag smaller than a child-sized suitcase! We don't need the whole Paw Patrol and three packs of fruity gum tagging along.