My denim history is deep—dark at times and acid-washed at others. Some memories are baggy and ill-fitting, and some are too tight for sitting down. Denim and I have been been together in moments of vintage, designer, discount, and maternity. I have been high waisted and hip hugging, flared and sprayed on. I love my jeans and I feel certain they have loved me in return for a good bit of my time.  
The quest for the perfect jean is a chapter in nearly every life story. For some of us, the chapter is boring; telling a story of a shopper falling in love with the first pair of jeans she tries on. She buys 4 pair of the same style and never shops again.  
However, for most of us, it is a saga—an odyssey of sorts—as we toil and stress over the rear-pocket size and the fact that it fits around my thigh but it's somehow baggy in the knee!? We become overwhelmed by descriptive words like bootcut, flared, and wide leg, suddenly leaving us wondering if these aren't all actually the same thing.
The art of the denim hunt can be daunting, so we have tried to cover every base in this post. We're talking washes and waist heights at every price point. Whatever style you're searching for, we've done a bit of the leg work for you…pun most definitely intended.
WIDE LEG
The wide leg jean is more versatile than you would think! I like these with a cute simple sneaker or mule slide. On top you just need a button down or T-shirt of choice, to be layered as needed. School meeting, movie night, or laundry day: these jeans go almost everywhere!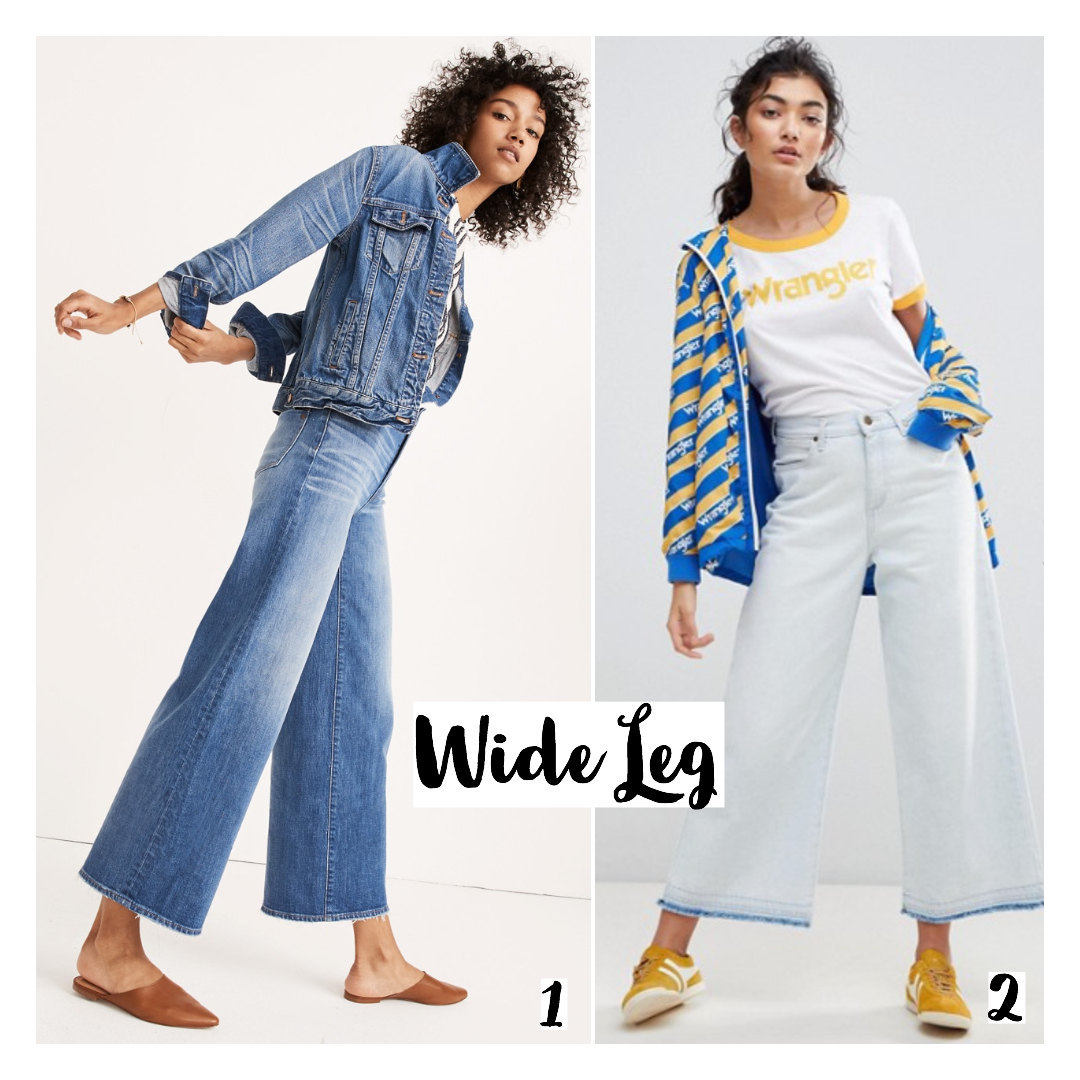 BLACK
Black jeans used to get a bad rap but they are back! Slimming and dressier at times, I feel that every jean-wearing human deserves a great pair of black jeans in her closet.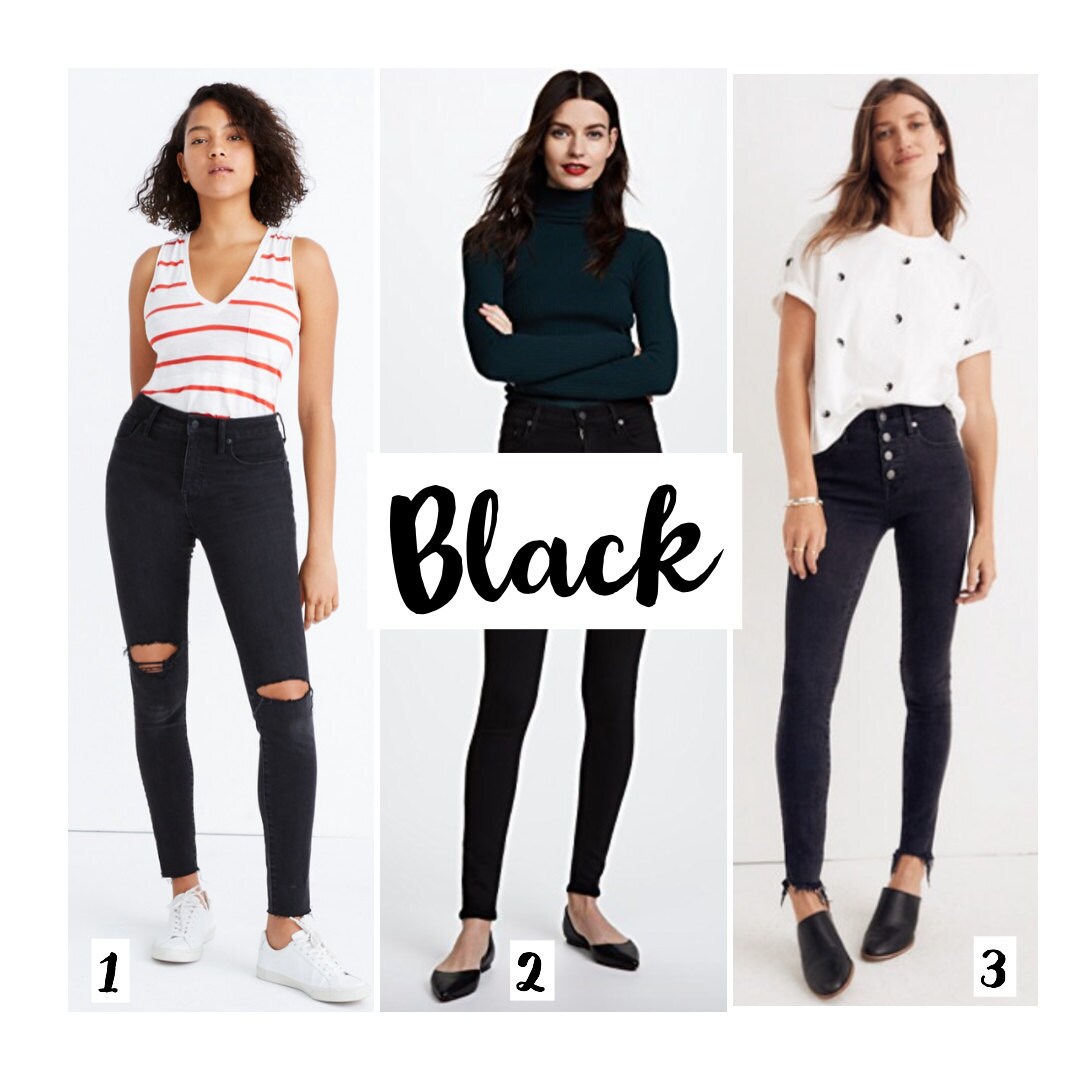 COATED 
Coated denim doesn't have to be reserved for a night out on the town! I'm currently wearing my black coated denim with a sweater and shortie cowboy boots, and it's 1:15 on a Tuesday! (I'm also wearing it with my sweet "Homebody" tee at the start of this post!)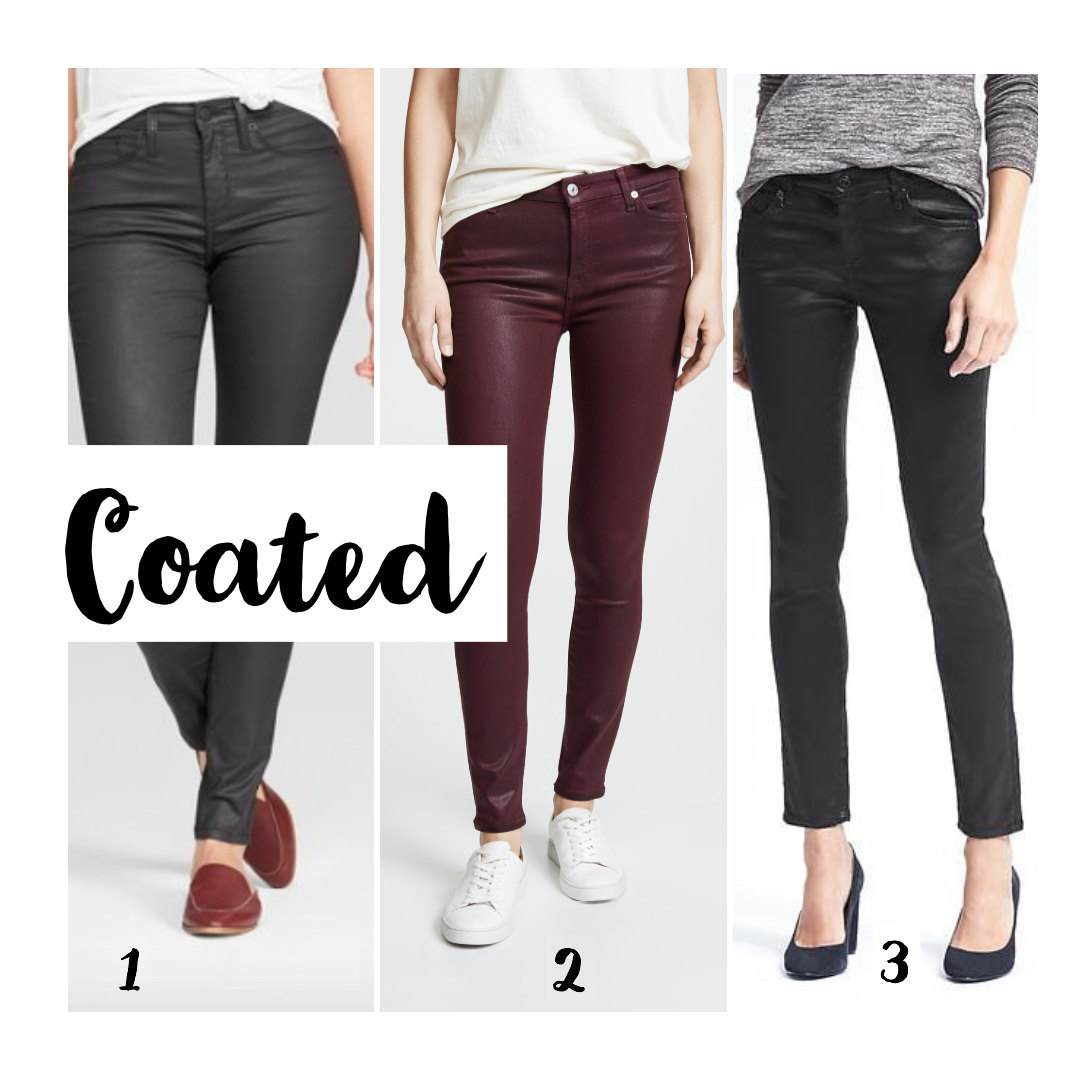 SKINNY
Guess what? Skinny jeans ARE for all body types! I'm personally a fan of the high-waisted skinny jeans and front tucked t-shirt. Add my high-top sneakers and you have my mom uniform! If you are looking to get into the skinny jeans game but you're worried about the back end of things feeling exposed, pay attention to the pocket size and positioning. Some brands have a larger back pocket which creates a slimmer rearview.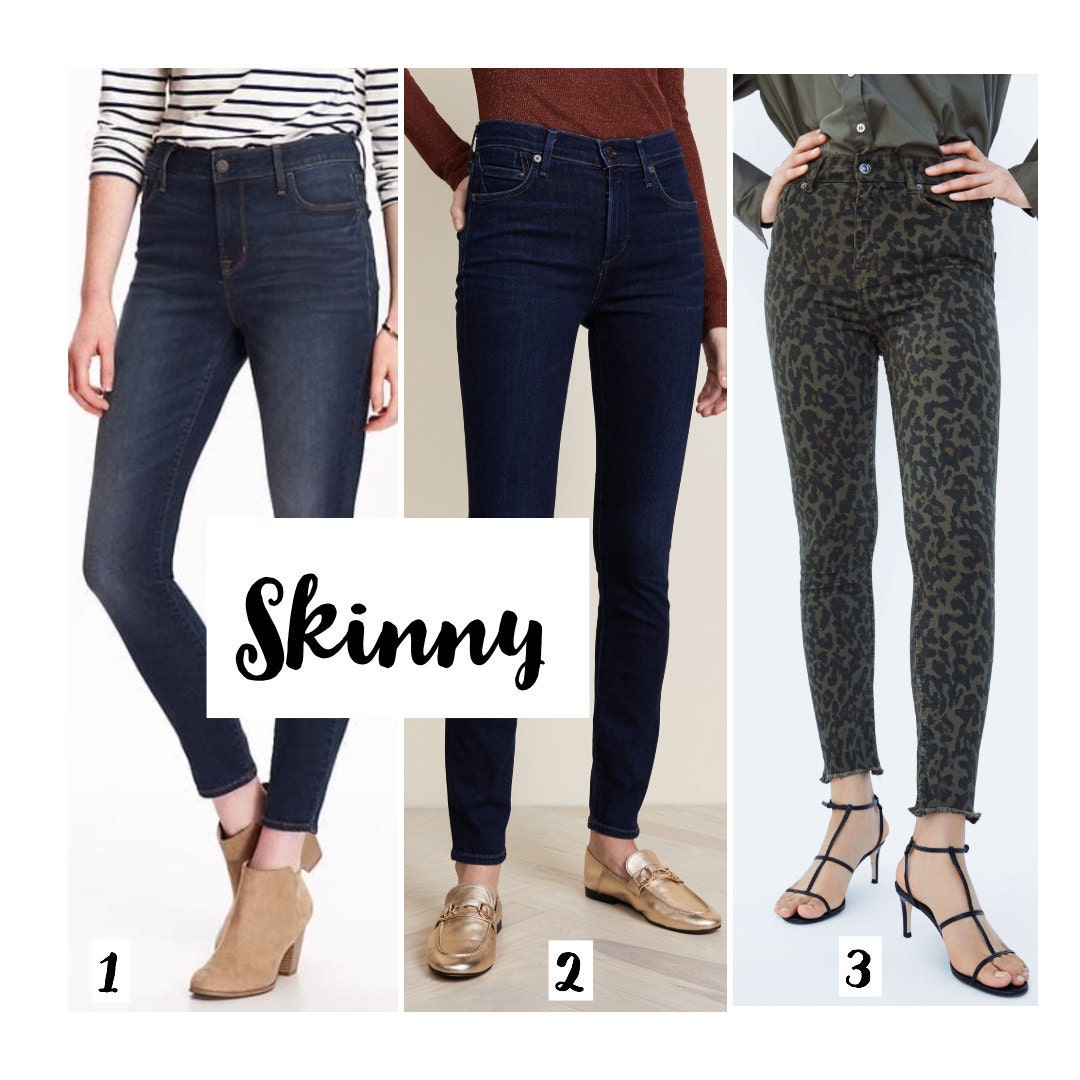 FLARE The flare is not for everyone, I will admit that. It's a louder look and requires specific shoes and destinations. ***If flared jeans are what you're after, pair them with a silky button down and a heeled boot, add a cropped sweater for cooler temps.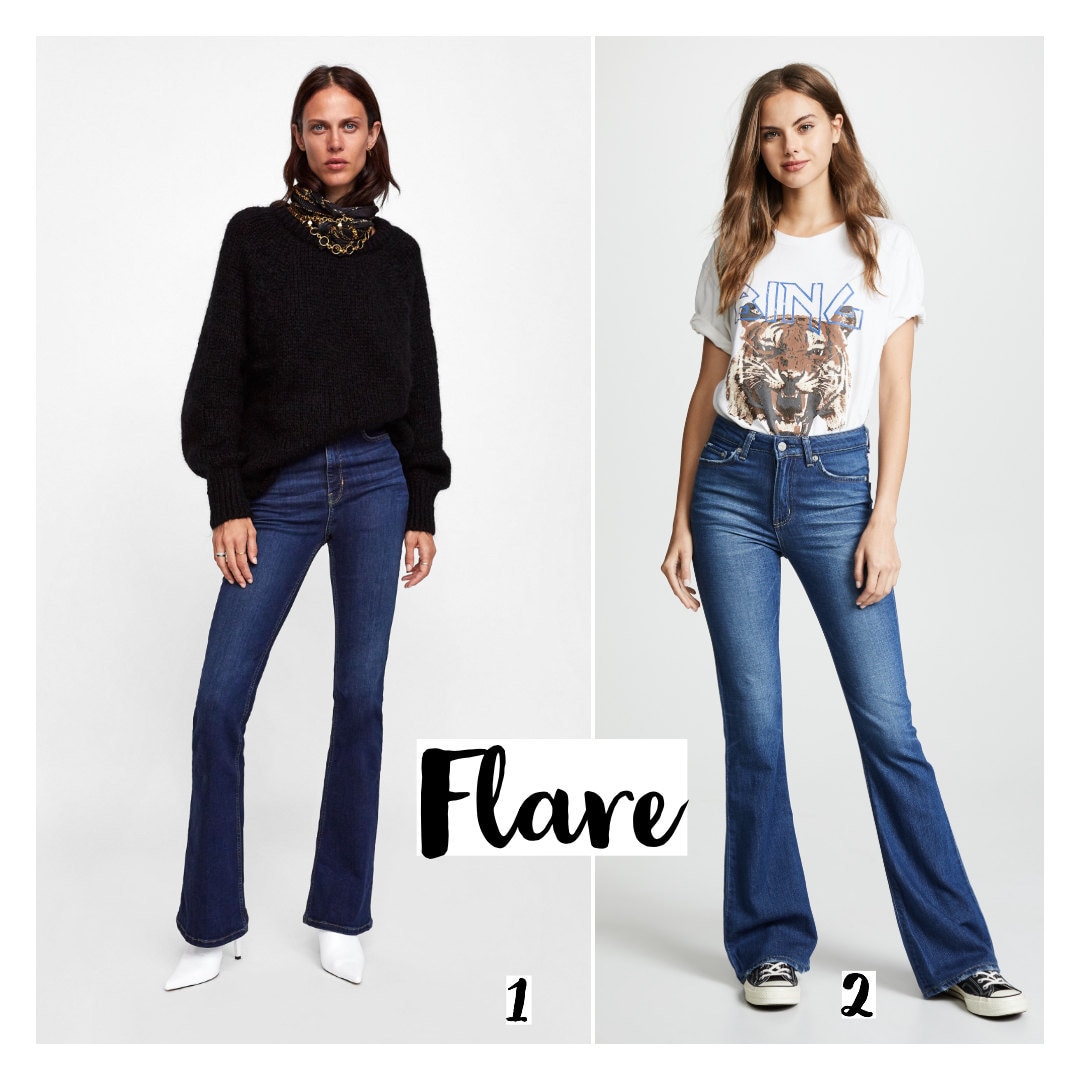 Don't be too sheepish to try the latest trends, but be advised that these are indeed trends so not to worry if you're forever "bootcuts with flats." My hipster friends are loving the "mom jean" with the big white sneakers but this is not a look I carry well so I admire it on others and stay in my lane.  
My advice is to try on, try on, try on, and then try one more pair to find the right fit. I might be "high waisted coated denim with high tops" and you might be "cropped wide leg with clogs," while your best friend is totally "skinny jeans and sneakers."
Jeans are personal; too personal to be one size fits most. Once you find your favorite style don't be afraid to buy them in a few different washes. You might even simplify your personal denim department from 17 pairs you "kind of, sometimes like a little bit" to 4 pairs you can wear every day and to all places, which is truly simply stylish!