Oh hello, fall! Pumpkin Spice is invading all our senses. Your neighbor's porch is now hidden under corn stalks, mums, a scarecrow, and a couple hay bales. And finally, the five-day forecast shows the temperatures going down.
The seasonal changes can bring slight "what do i wear?!" anxieties due to the fact that it's 45 when you leave the house after breakfast and by lunchtime you're looking at 75 and sunny. This can only mean one thing: layers!
We live in the southern part of the country so when we see anything below 60, my kids think they need mittens and beg for hot cocoa. As adults we get excited about the crunchy leaves, football season, and thinking about trying out that felt hat trend your sister wears so well. Personally, I jump at the chance to change up my uniform a little bit. I love re-introducing myself to the lightweight jackets and sweaters that I've had tucked away since April. But, I'm still into my favorite tees with jeans. I just need to warm them up a smidge with one of these layers. Check out my four favorite ways to layer over a tee.
Kimono? KimoYES!
Don't be intimidated by the kimono. This can be a very easy layer. There are no big fancy knots or special skills involved. You're essentially wearing a silk bathrobe with big wide sleeves over your clothing. I love to wear my red kimono over a t-shirt with my high waisted flare jeans and cowboy boots. Add a hoop earring and a top knot and you're going actual places. You can find kimonos in a lot of different places; from Target to Anthropologie you'll have plenty of options. 

The Art of the Jacket
Everyone needs at least one lightweight jacket so pick your poison: denim, camo, leather, tweed, printed bomber, trench coat …you may need one of each! I won't insult your intelligence and tell you how to wear a jacket, but i will insert a few helpful tips: Pay attention to the length of your sleeve, where the seam hits your shoulders, and look for a good strong collar you can pop in the event of a blustery day. If you're searching for camo or anything in the fatigue family, don't forget to consider your local Army surplus store!  And don't forget about that denim shirt!! You can wear a denim shirt open with a tank or a tee or even a T-shirt dress as another timeless and simple way to warm up your look. 

*This jacket comes in so many color options, and it's only $36 so you might need to throw a couple in the cart!
The Always Classic Blazer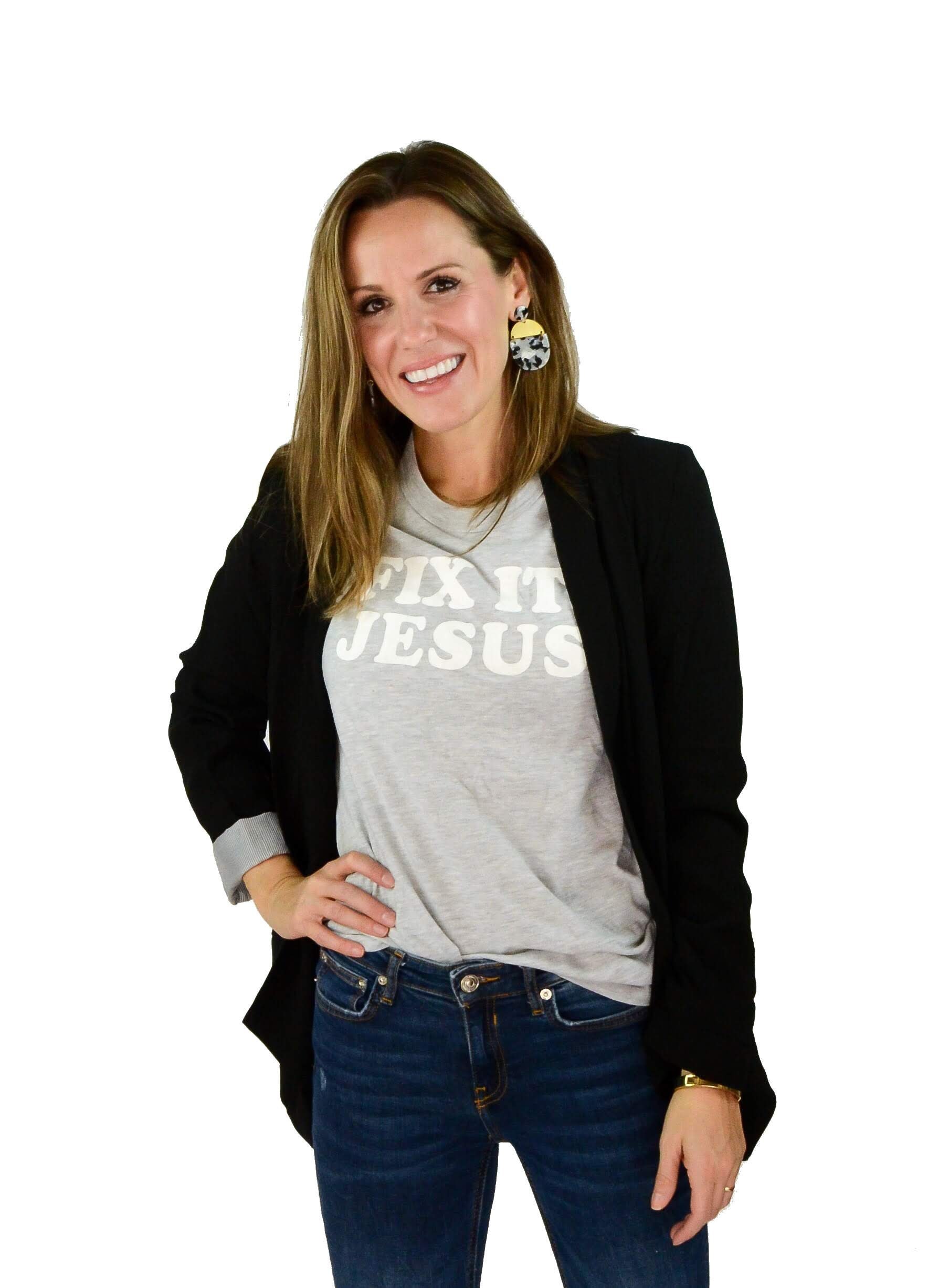 Mandy is wearing a Milk and Honey Tees "Fix It, Jesus" shirt with the "Cornerstone" blazer from Anthropologie. 
The blazer gets its own category because it's timeless, and classic and goes with all personalities. It can span the fabric and color spectrum, so my advice is to allow a little splurge in this department. Look for good construction, fit, and fabric. Blazers are also having an early 90s moment so if you like the longer length and scrunched up sleeve I advise not spending over $100 unless you feel confident that this is a trend with lasting power in your closet. My hot tip would be to check sales. This is a great item to buy on sale!! My current favorite is the J.Crew Regent Blazer (#1). With my white v-neck, distressed jeans and gold slides i can go from a meeting to date night without pause. 

The Blanket Sweater Situation
I am currently one wear away from this look being declared my uniform. The blanket sweater is sometimes called a poncho. It's cozy, it's one size fits all, and goes with probably everything in your closet. Over leggings and a T-shirt or with that little black dress that's going straight to girls night after work; if you look up "seasonal transition clothing" in the dictionary, you might see a picture of the blanket sweater situation.

Regardless of how you feel about the temperature changing you still need to get up, get dressed, and go change the world, or go change the diapers. Just know that you can still roll out of bed, throw on that favorite T-shirt, add a layer, and little something extra (maybe earrings, or maybe a lipstick?) and boom: you've got a simply stylish outfit, fit for going places.
In the first image, Mandy is wearing a Milk and Honey "Love is Kind" tee topped with a "Freewheeling" jacket.