Do you ever feel like you have online shopping carts filled up all over the world wide web, and a camera roll overflowing with product screenshots? Maybe that's just us? 
Regardless, there is plenty to love out there--from funky home goods, to cute shoes, to genius products that solve a problem--so this summer we're rounding up our five favorites once a week to share with you here. 
Best of all, we're including a weekly favorite product from yours truly, complete with a discount code just for you dear blog readers. 
Read on for our favorite finds from this week!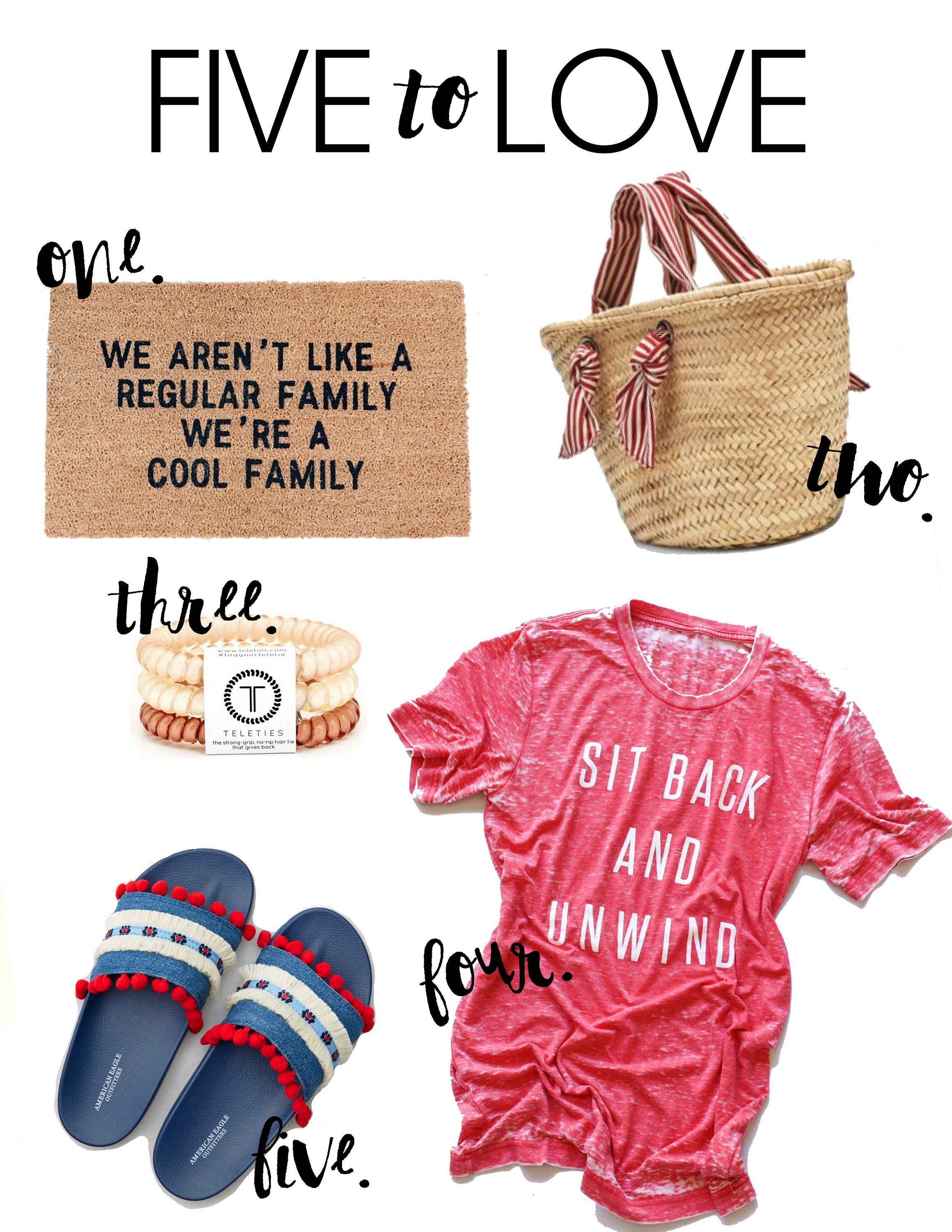 1. Cool Family doormat from Fox and Clover Boutique
Why we love it: What's not to love? Let people know what kind of family they're dealing with when they enter your house! Quirky doormats are the latest craze, and this one has our whole heart. These doormats are super well-made, and Fox and Clover has lots of fun options. Check them out on Instagram @foxandclover.
2. Striped Handle straw tote from Zara
Why we love it: Straw bags are a classic must-have for summer, and this one gets extra style points for those adorable knotted, striped handles. Blue and white stripes are everywhere this season, so we love this little twist with the red. 
3. Hair bands by Teleties
Why we love them: Well for one thing, they WORK! Pull your hair back without ripping it out, damaging it, or leaving the dreaded "ponytail kink" when you're ready to let it back down. As an added bonus, they come in lots of fun colors that look cute stacked on your wrist. Local friends, go grab a pack or two at Pout in Pleasant Ridge!
4. Sit Back and Unwind tee by Milk and Honey
Why we love it: This tee epitomizes what we mean when we say "simply stylish". It is ultra comfortable with extra doses of style from the oversized fit, burnout fabrication, and retro 90s design (yes, friends, the 90s are now retro). Save 15% now through June 15 with the code SITBACKBLOG at checkout!
5. Pom and Fringe slides from American Eagle Outfitters
Why we love them: Slides aren't just for the pool or the dorm showers anymore! We're seeing slides all over this summer, and have been surprised to find so many cute styles at AE, of all places. This pair has it all, from poms to fringe to chambray. And at less than $12 (!), who cares that we're likely to move on to new trends next summer?!
- by Mandy @milkandhoneytees