It's Mandy here, and I'm stealing some blog space today to talk to you about my personal kind of style: simple style.
Amy is our resident style blogger and I honestly have no place taking over her world. She is an actual, real-life stylist: as in, people pay her to purge their closets and go shopping for them. Me, I just play with style on the Internet. I fill up online shopping carts with items I'd never have occasion to wear, I follow fashion bloggers on Instagram, and I love seeing other people's personal style.
But I'm taking over the blog today because we're talking about Milk and Honey's tagline: Simply Stylish. I know simple style. I've built a company around it because I love style but I also love ease, comfort and simplicity -- and I don't believe the two are mutually exclusive. 
You might be wondering what exactly "Simply Stylish" means, and honestly it can be difficult to define. That's because it's a little different for everyone. But when you get dressed, consider this: Are you comfortable? But do you also look in the mirror and think "wow, I look good! This outfit is cute!"? Boom. You've nailed it: you're simply stylish. 
For some people that means a dress and 4-inch wedges. For others it's a new workout outfit. However, nothing is more universally simply stylish than tees, jeans and sneakers. I adore this look. My jeans drawer overflows, and I'm a self-proclaimed sneakerhead, as evidenced by my ridiculous collection of sneakers and sneaker-adjacent shoes: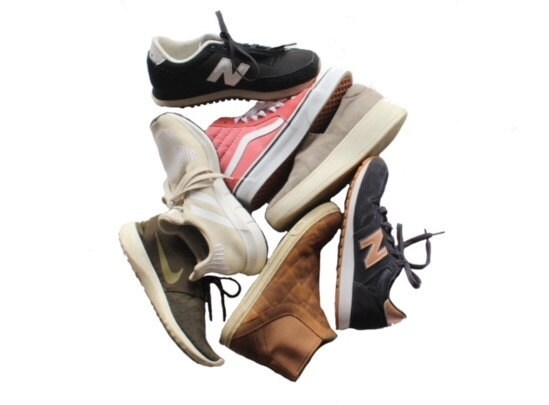 Anyone can pull off the tee + jeans + sneakers look, but there are a few tips and tricks that can take you from semi-frumpy to Simply Stylish. 
AMP UP YOUR SNEAKER GAME
I say this with love: stop wearing your gym shoes with your jeans! There are so many cute sneaker options out there, why make your trainers do double duty?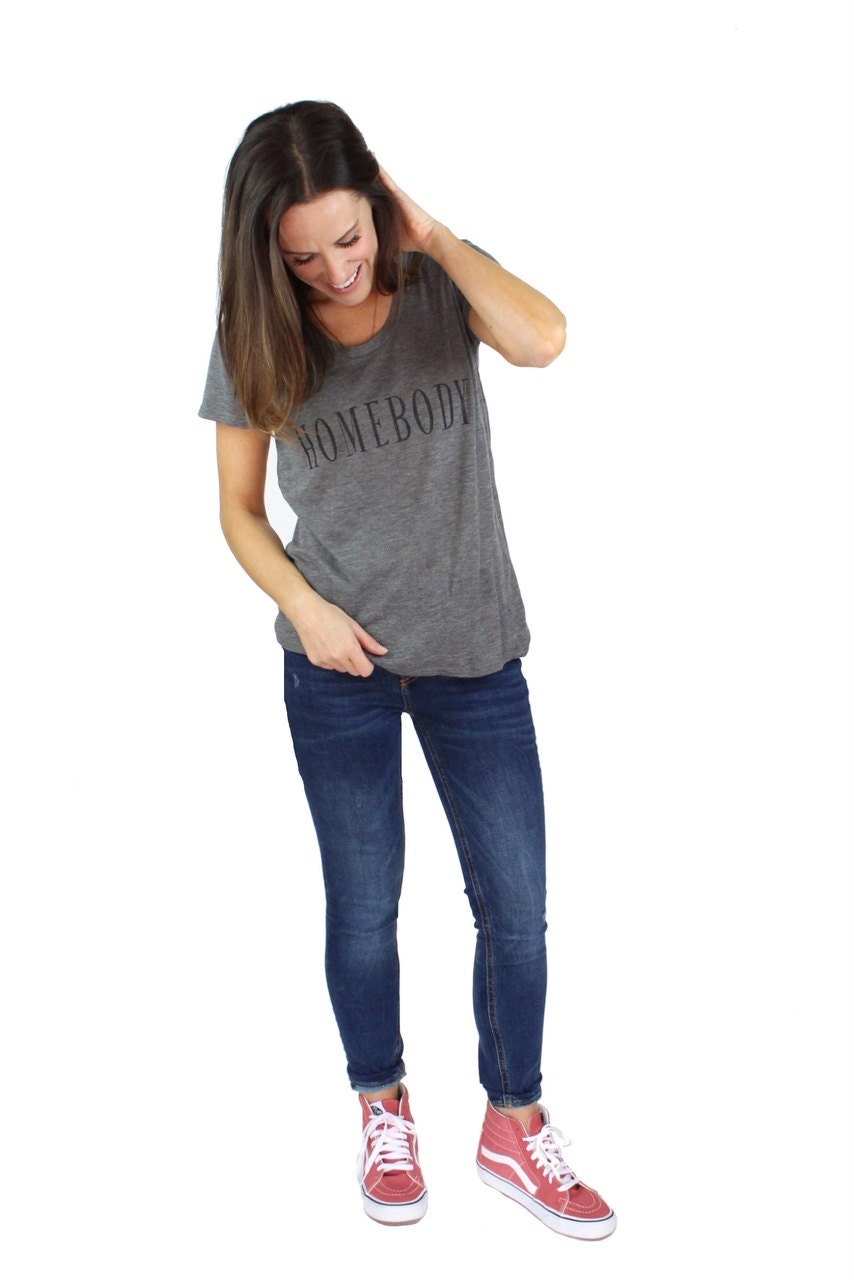 Pink high tops? Sure, why not!?
Look for sneakers with an extra pop of style -- details like platform soles, gold zippers, perforation, and fun colors.  Here are just a few favorites for Spring to get you started on your search: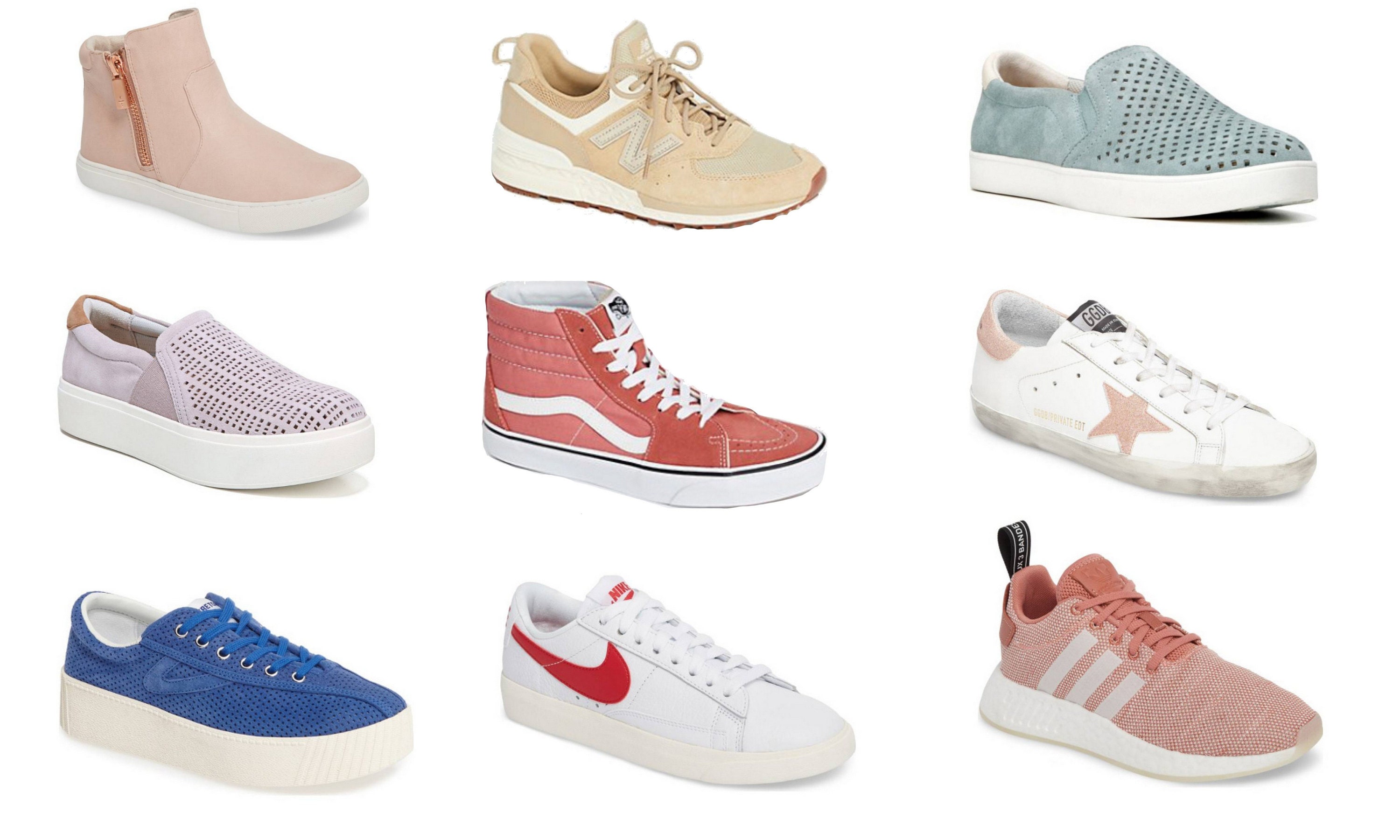 Sources (L to R, from top row to bottom row): 1 / 2 / 3 / 4 / 5 / 6 / 7 / 8 / 9 
ACCESSORIZE, ACCESSORIZE, ACCESSORIZE
My favorite way to add style to a tee is with fun accessories. Different accessories can completely transform your look, and the options are endless!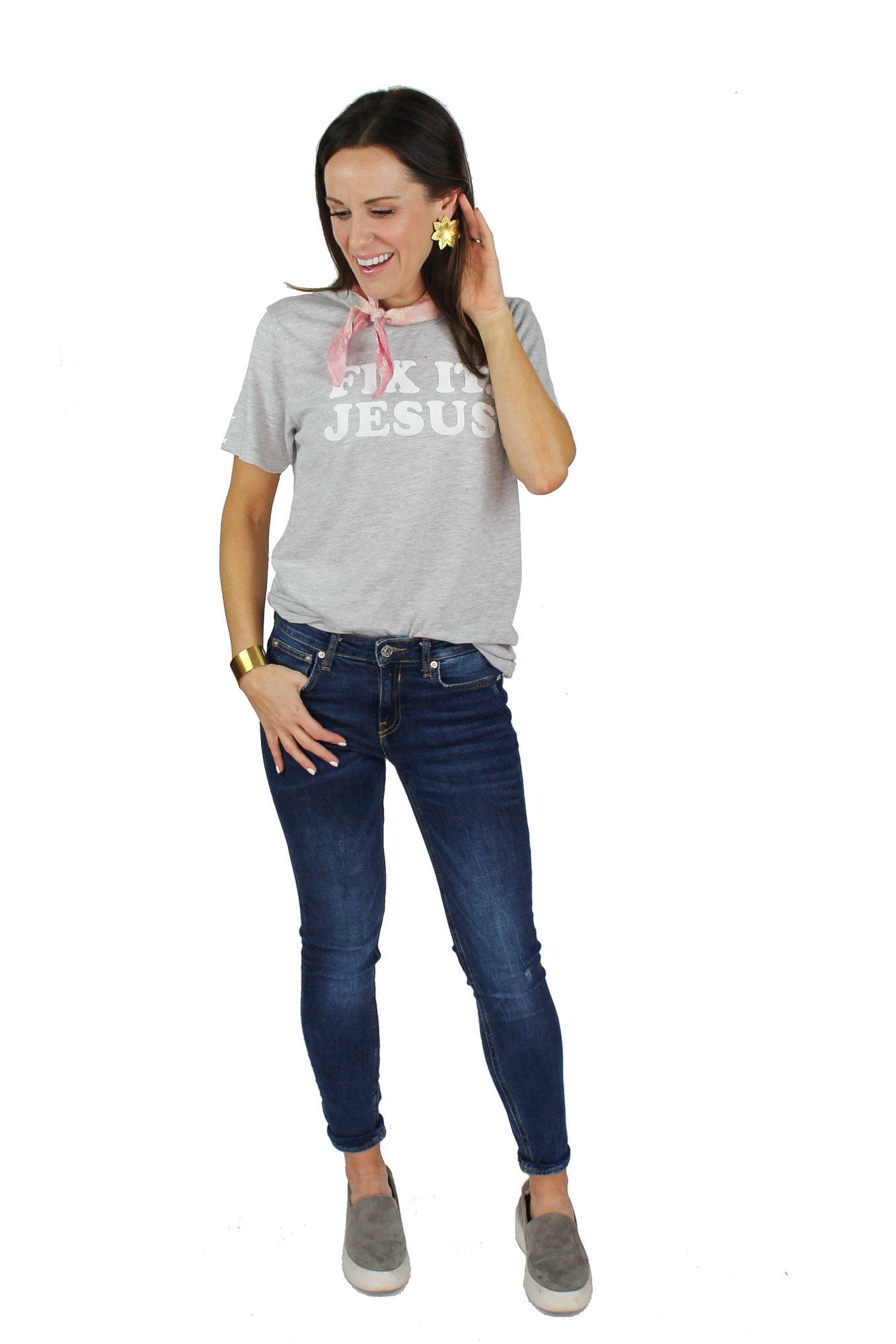 Yes you can (and totally should!) wear big gold flower earrings with jeans and a tee! Here at Milk and Honey we love bold accessories. Check out Amy's last post for more of our favorite jewelry options this season.
Ready to take it a step further? Tie on a scarf or bandana in a pretty color to instantly update your simply stylish look. Some of my favorites come from Anthropologie and Madewell, and of course even good ole Target has some great options! 
CHEAT ON YOUR JEANS 
Though denim trends come and go, jeans themselves will never go out of style. Your denim collection should be well-rounded with a few different cuts and styles. But have you also tried the simply stylish cousin to jeans: chinos?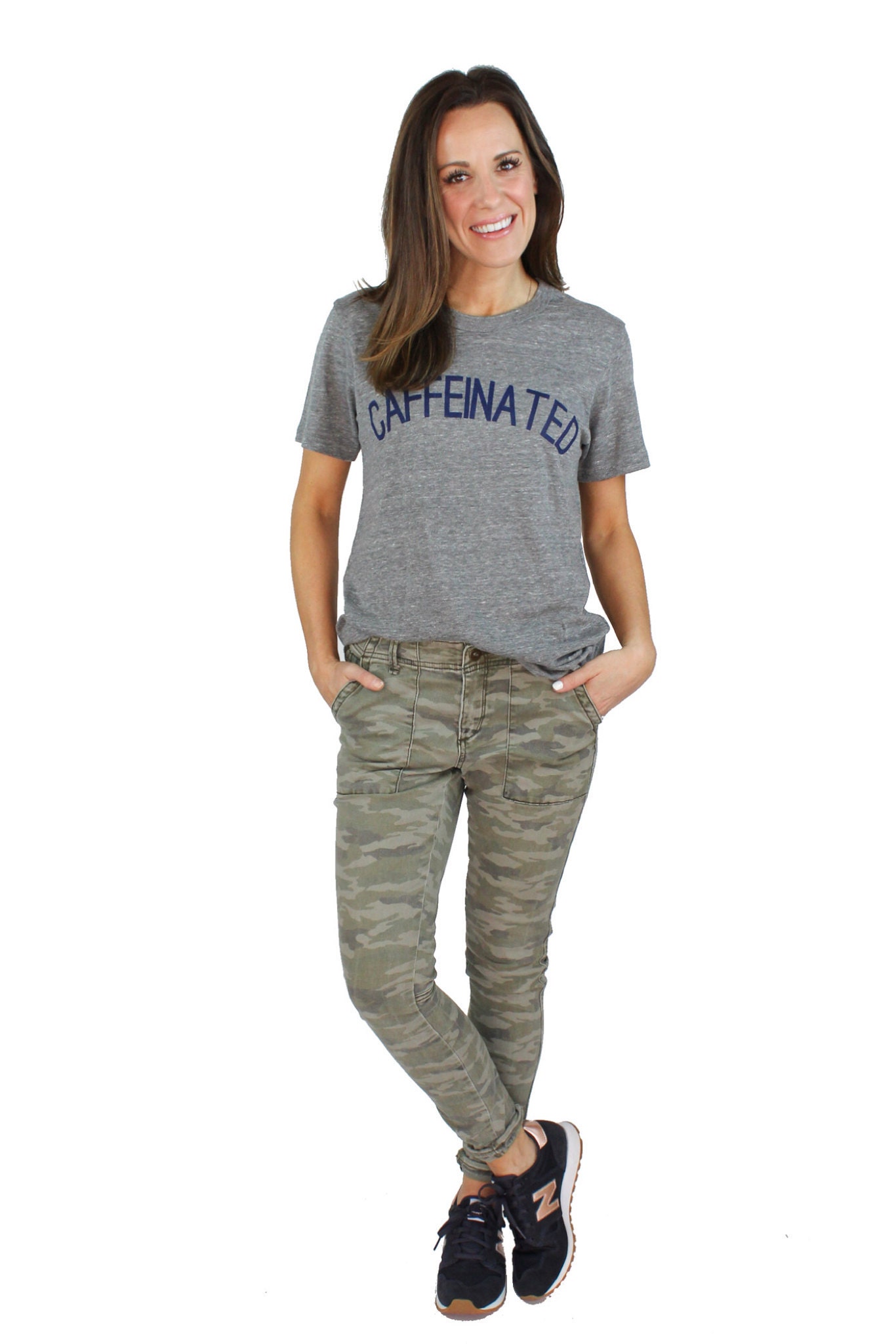 Chinos are a great way to switch up your day-to-day look without sacrificing the ease and comfort you get with jeans.  And with the different color, print, and fit options when it comes to chinos, they make it easy to take your look from simple to simply stylish. 
Right now I am especially loving both slim fit and relaxed/boyfriend fit chinos. Camo print as well as shades of olive, pink, and blue all have me swooning this Spring.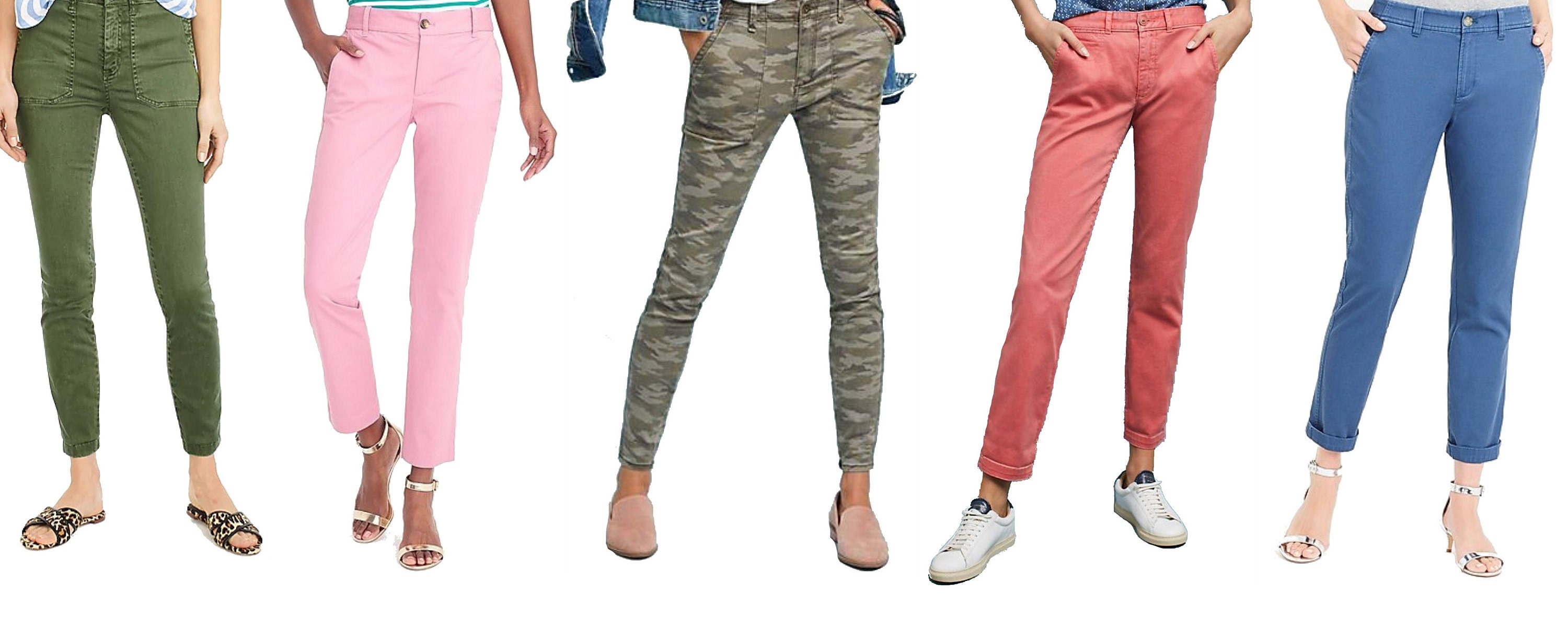 Sources (L to R):  1 / 2 / 3 / 4 / 5
ADD FLAIR TO YOUR TEE
Your response was priceless when Amy taught us how to tuck, tie, and roll our tees. So many of you reached out to thank us for sharing tips and tutorials for mastering these simply stylish tricks.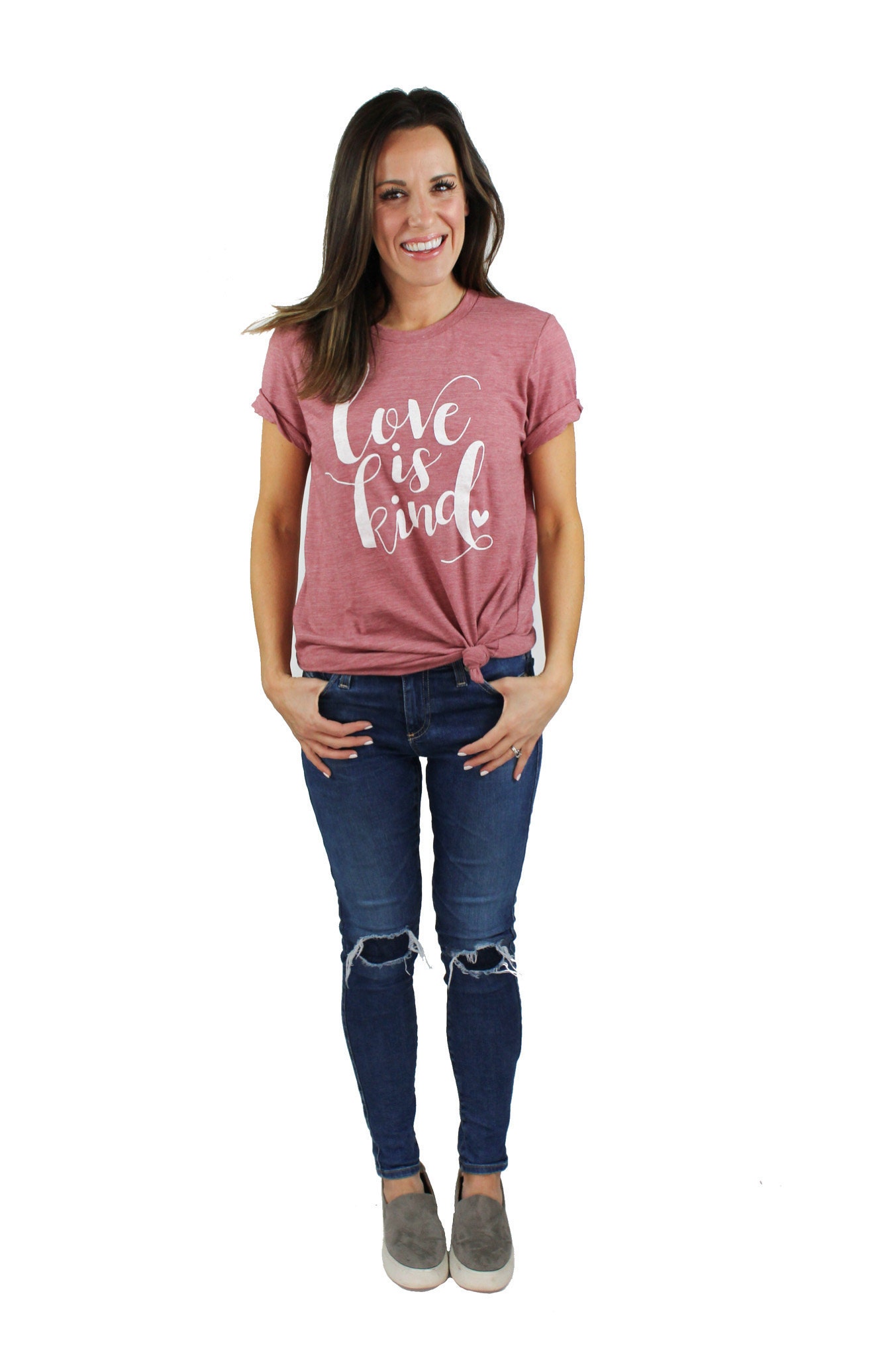 A quick knot in the hem or roll of the sleeves can completely change the style factor on your favorite tee. If you're like many people we hear from, you love this look but you're not totally sure how to pull it off.  Read Amy's tutorial and let us be your guide!
Here are Milk and Honey, our goal is to create and curate collections of tees that are simply stylish in their own right.  But try out any of these tips for bonus style points and an extra dose of confidence when you walk out the door, whatever the day holds!