In my nearly humble-enough-to-keep-things-interesting opinion, the power of a good accessory is unmatched. 
I know you. You and I have a lot in common.  
Three days out from the last shower.  Yesterday's eyeliner is giving you today's smokey eye. And you went a whole day without seeing other humans, so 36 hours in the same t-shirt is serving you well.  You're feeling less than presentable, but the fridge doesn't subscribe to an autofill situation so out into the public you venture.  
Just as you reach for the keys, you see those earrings.  
You wore them last Thursday to grab a drink with your best girls. You took them off as you walked in, leaving them along with your keys in the catch-all by the back door.  Now on a Tuesday, there they still sit, begging for another wear.
As you head out into "the public" you grab those earrings, and suddenly you're complete and capable of conquering actual tasks.  The sunglasses and tinted moisturizer aren't hurting either, but there's something about jewelry that puts the punctuation on "pulled together".  
In my own experience, I may have forgotten to pack a kid's lunch, or showed up late to a meeting, or left the clothes in the washing machine for the fourth day in a row; but give me jeans and a t-shirt with a statement earring, and a fine feeling of adequacy washes back over my psyche.
Today we've highlighted a few of our favorite pieces for Spring that will go with absolutely everything and pack the perfect punch for your simply stylish look!  This season we are all about bright happy colors, lucite, flowers, and those tassels still have us swooning.  Along with the classic favorites, we're loving lariat necklaces, wood bangles, beaded bracelets, and fun cocktail rings.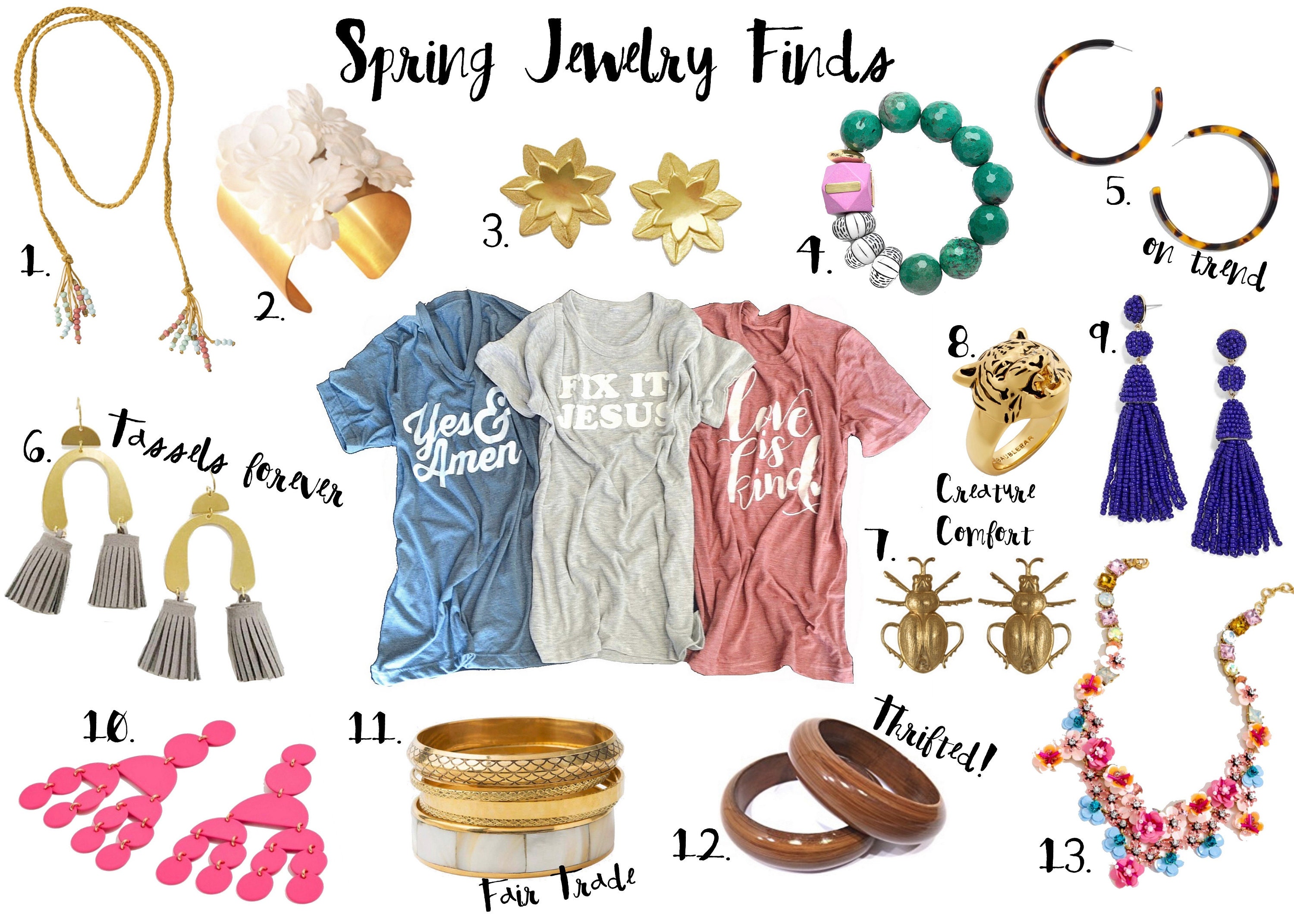 Sources: 1 / 2 / 3 / 4 / 5 / 6 / 7 / 8 / 9 / 10 / 11 / 12 / 13 
When I'm on the hunt for jewelry I search high and low, far and wide.  I look for what's trending in magazines and on the runways and then try to find the more affordable version.  I'm more of a style loyalist than a brand loyalist, so I survey all my options. I look at my local boutiques and my favorite small businesses like Millie Mae Collection, Neely Phelan, and Summer Steinfeld. And I also check out my regular hotspots like J.Crew, Anthropologie, H&M, and Bauble Bar. 
You can also think outside the box when it comes to how you acquire your jewelry!  This past weekend I found three wood bangles for $4.50 apiece at an antique mall.  Another time I found a bejeweled tiger face pin that now lives on my denim jacket.   
Go rogue and stack your all your bracelets and mix your metals!  Remind yourself that costume jewelry DOES go with t-shirts and Birkenstocks. It's ok to make a little noise when you walk around and to let people know you're coming with a clink or a jingle; they will be so glad they got to see you!