January felt so long and all I could do is think about bright colors and fresh flowers and all things warm!  Now we are in the middle of February and zooming ahead toward Spring.
HALLELUJAH!
Personally, I feel like every time we turn seasons I almost forget how to dress myself.  I forget about every transitional item I have in my closet and in moments of weakness, I go shopping. 
Granted, we don't need a whole new wardrobe with every season, but sometimes we just need a bright little something to rescue us from all the grey that accompanies Winter.
Today on the Milk and Honey blog, we've put together a list of some things we are loving right now that we think will help get your wardrobe transition juices flowing! And best of all, everything is under $50!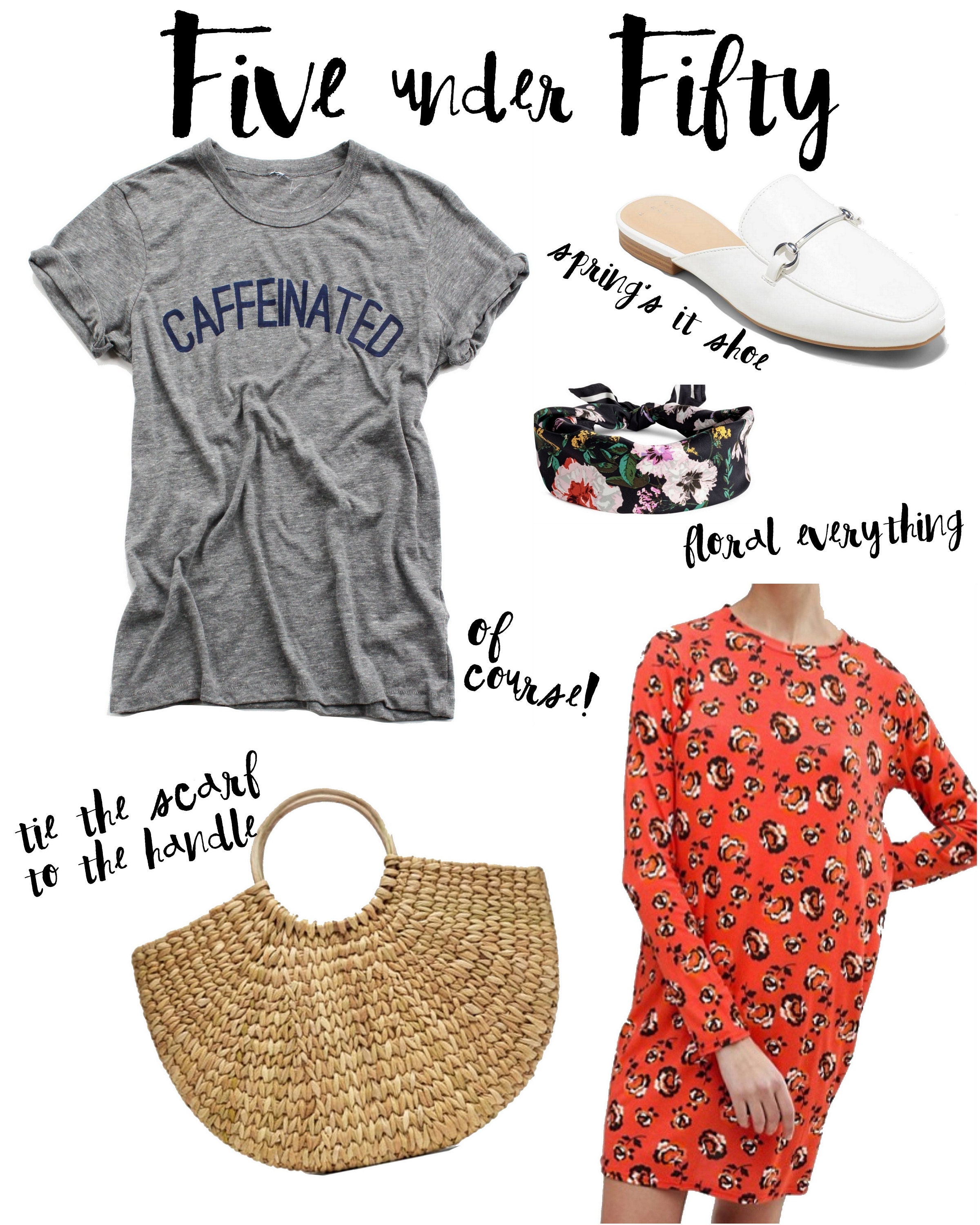 Tying a scarf around your neck or in your hair is one of the easiest ways to amp up that outfit you've been wearing once a week since November -- plus it's the perfect way to add style to your tees!  This scarf from H&M is under $10 and comes in so many fun colors; although I'm a sucker for that floral print!
While I'm loving everything in the Milk and Honey shop right now, this Caffeinated Tee really speaks to my heart at 6 AM when it's cold and dark outside.  Almost as if it's reminding me, "you've been caffeinated, you can do hard things!" This simply stylish tee is easy to layer now for warmth, plus you can add a little style with a quick sleeve roll or front tuck. 
Floral print is going to be everywhere in all the best ways this Spring.  This dress makes it almost too easy for you to incorporate a floral print into your wardrobe.  It's $29, it has long sleeves and it's tomato red which is just so bright and happy; if all of that together is wrong, then I don't want to be right.  Pair this with sneakers, flats, or heels, and throw on a denim or leather jacket: possibly perfection.
These are just a must.  I don't care how you feel about metal buckles on your footwear or white leather or the fact that your great grandfather's lady friend in the nursing home had a pair just like these. These mules are cute and  comfortable and are such an easy way for women of all ages to jump into a fun trend and not feel like it's over the top.  Not to mention they will go with everything!  Click "Add to cart" right away because they are selling fast!
Straw accessories make me think of the beach and warmth and all things easy breezy. I love the ring handle and the oversized basket of the bag.  A classic timeless piece that will take you from April to September and from morning to night!
Have a great weekend and have fun thinking about that Spring wardrobe and all of the flowers and warm sunshine ahead!  

- by Amy Peeples @apeeples